« June 2004 | Main | August 2004 »
July 31, 2004
I'm still looking for a "No Rock and Roll" poster!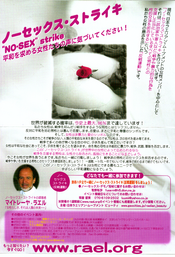 Translation:
Posted by rxu at 03:35 AM | Comments (0)
New York Trash
From the moment I stepped off the plane, I realized how incredibly gross American cities are. In hindsight, I don't think Bangkok was all that bad...
Posted by rxu at 02:07 AM | Comments (3)
July 30, 2004
Nipponese Nancy
Japan's version of 'Just Say No' (found outside a police station):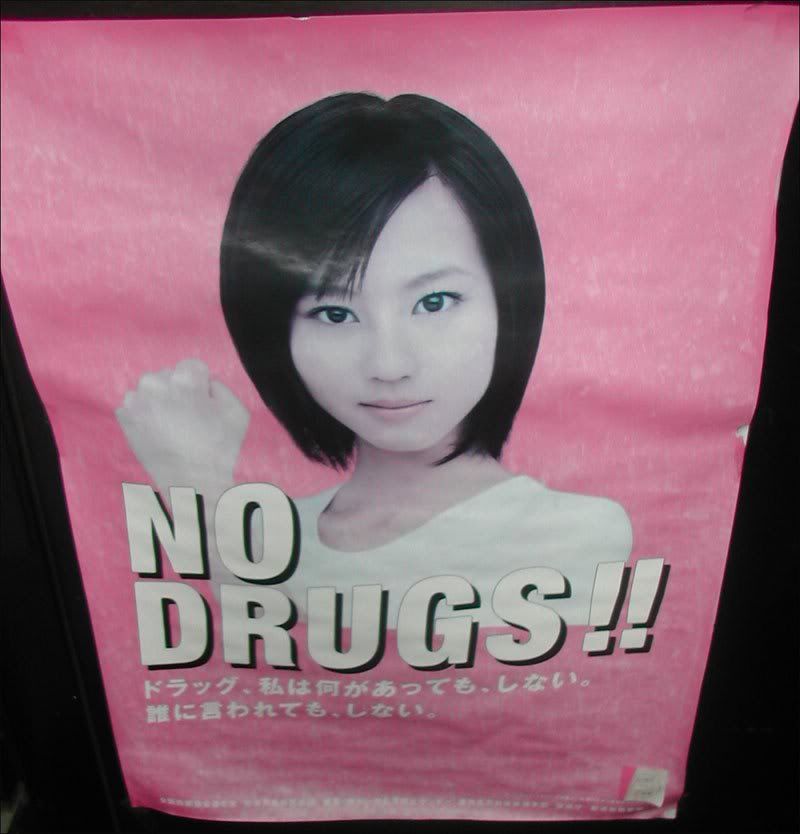 Posted by rxu at 03:59 AM | Comments (0)
July 29, 2004
http://www.friendster.com/user.php?uid=4279260
I met Tiffany for the first time in her life today: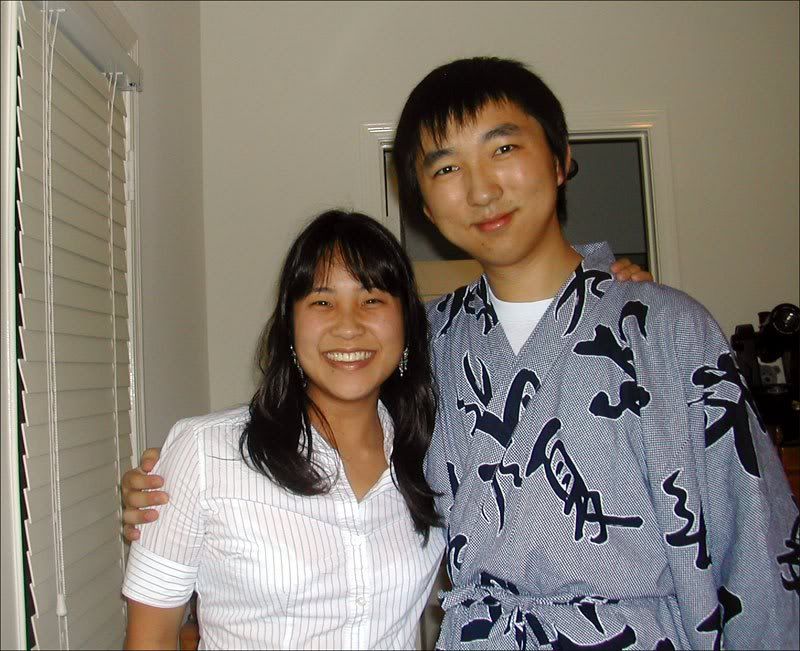 We went to Murphy's Irish Restaurant and Bar: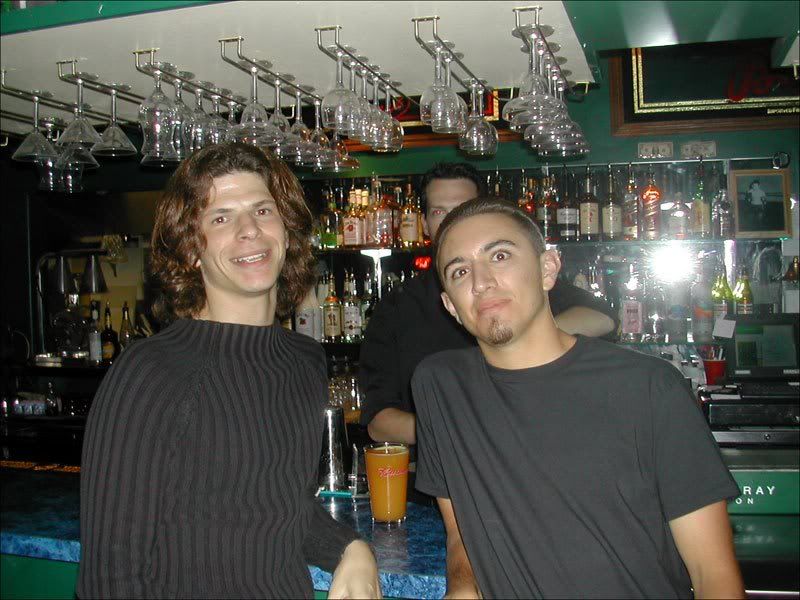 Posted by rxu at 07:39 PM | Comments (0)
July 28, 2004
Home is where the abode is
No sooner than I leave and it's sooner than when I left.
July 27th, 5:24PM - Simi Valley, CA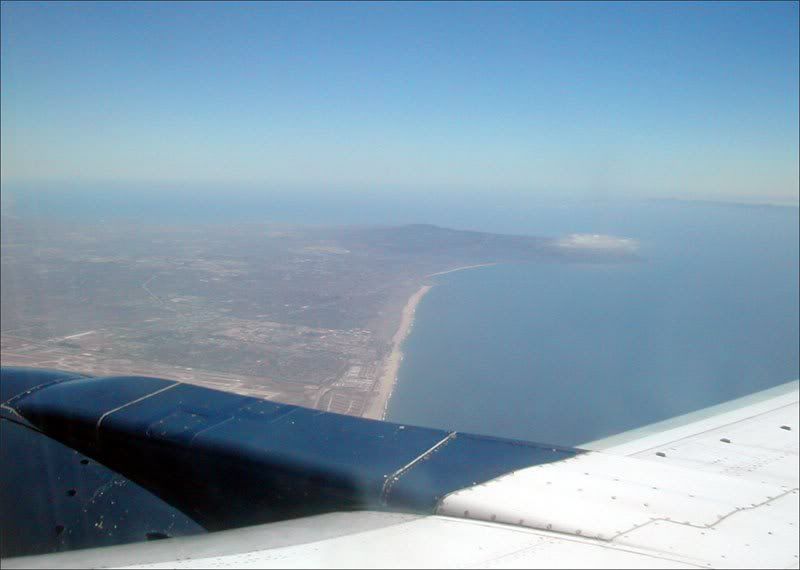 Posted by rxu at 09:25 AM | Comments (0)
July 27, 2004
Siyanora
I'm about to leave Tokyo. See some of you back in the real America.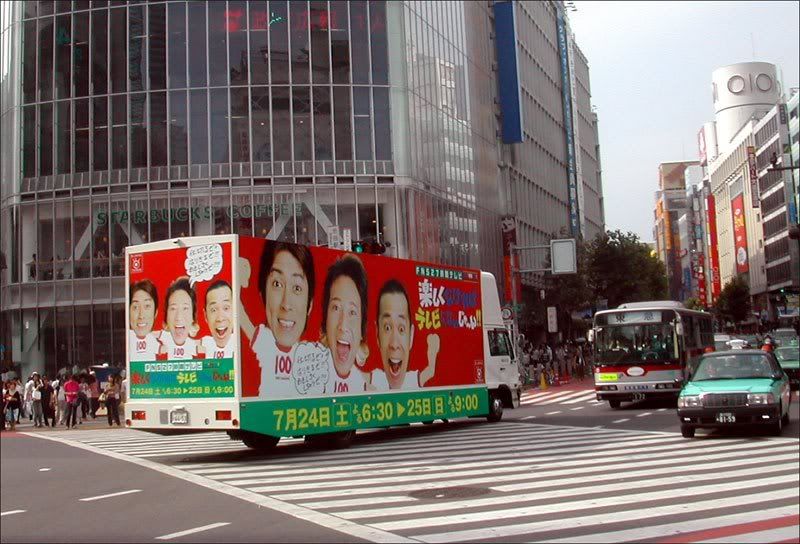 Posted by rxu at 01:04 PM | Comments (0)
Breakfast of Champions
July 24nd
Breakfast: Kimchi, a Japanese rice breakfast and Corona.
Lunch: Kaiten-Sushi in Shinjuku.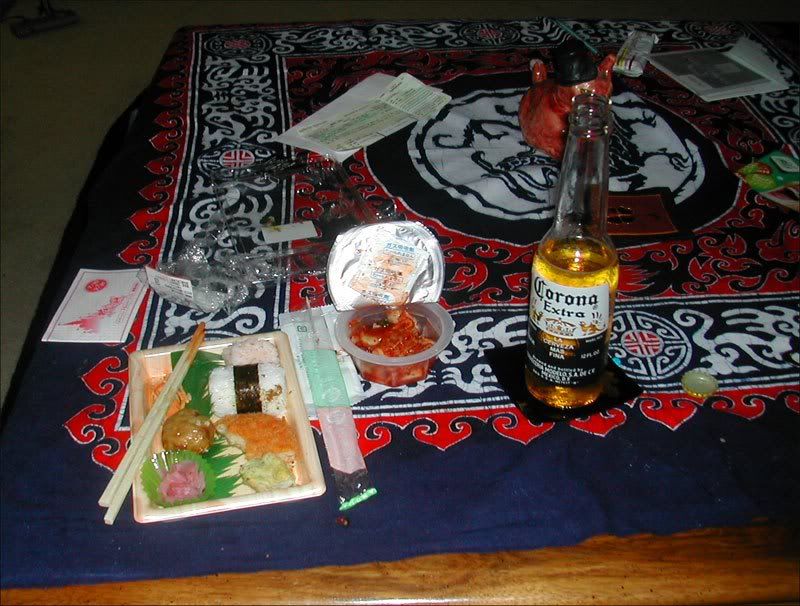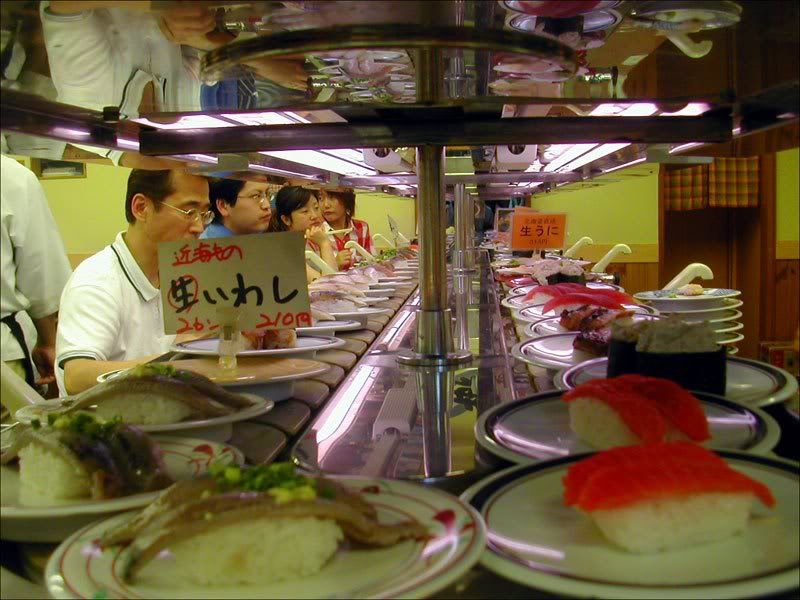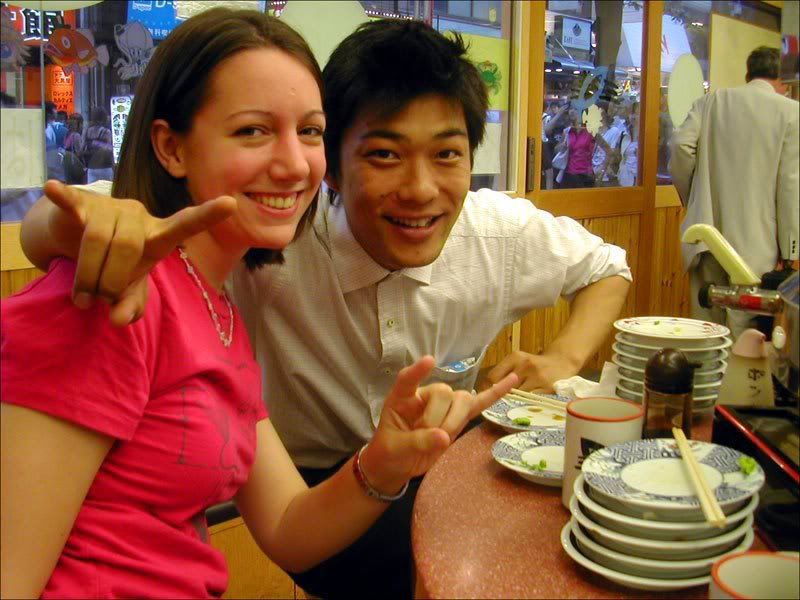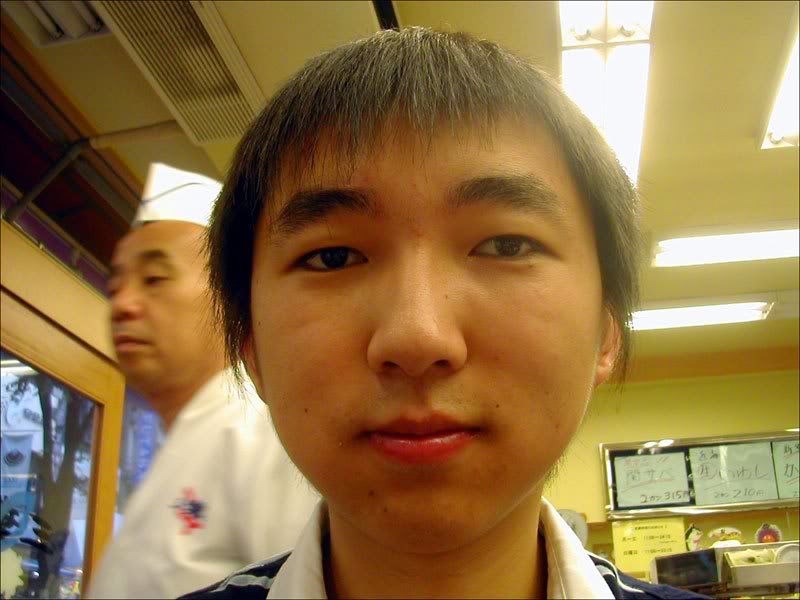 Posted by rxu at 12:59 PM | Comments (0)
Highlights for Children
Hey kids, it's 5:40AM in the morning - I'm not sure if this'll make any sense to the awake and sober, but try to pick out the differences between the two pictures, both taken at Dan's apartment near Waseda station. The answer key is below them: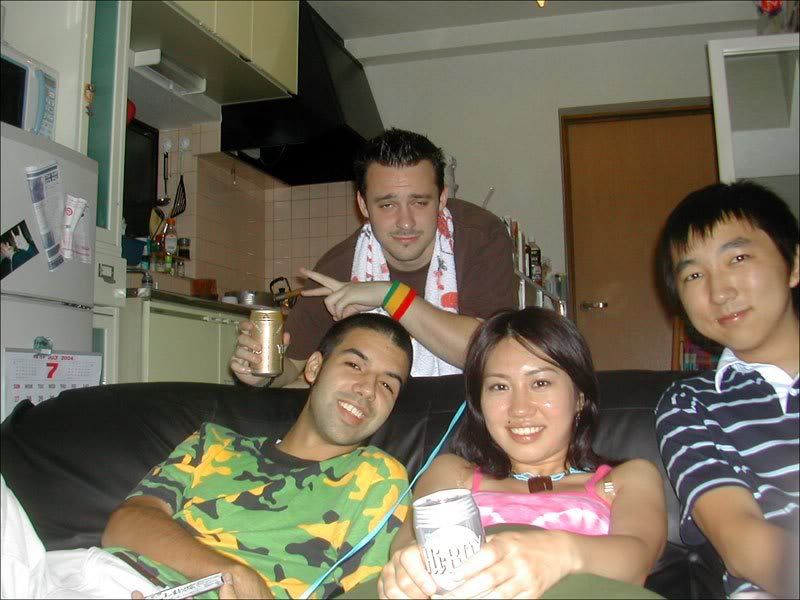 1. In the first picture, Dan looks like drunken peace-nik hippie from Oxford. In the second, he looks like a drunk astrophysicist from Cambridge.
2. The second picture was obviously taken after the fridge was stolen.
3. Ditto for the cupboard.
4. Kayo is doing something sexually suggestive with her hands in the first picture. In the second, she is doing something different with her hands. But still sexually suggestive.
5. We are all sexier in the first picture, except for Dan and Kayo. I am equally sexy in both pictures.
Posted by rxu at 05:42 AM | Comments (0)
Roppongi contd.
I shifted gears (and shirts) around midnight and went to the soul bar down the street. We almost confused Felicia's cravings for 'soba':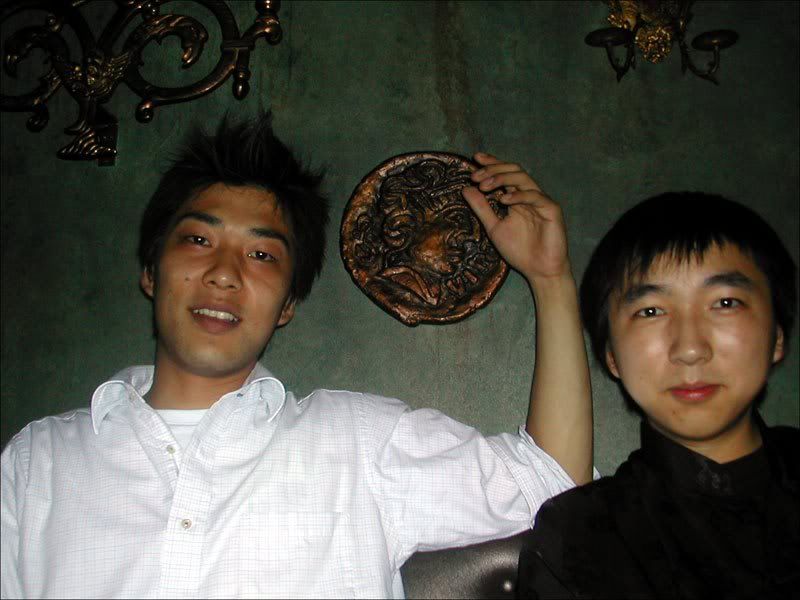 Posted by rxu at 05:32 AM | Comments (0)
July 25, 2004
The Magic Eight Bar
Websters Dictionary has this to say about Roppongi:
Roppongi wins the intensity award but is it as sketchy as they say? Loaded with foreigners who believe it, legend becomes reality. Scattered huntresses and human billboards form the kernel of truth; obnoxious drunkards provide snow for the snowball..."
On Friday, I made the trek to Roppongi again after coming back from Odiba. I started the night at the Number 8 sports bar with some people from Japan Inc who I met in a random fashion the previous week (who happen to own the domain Japan.com):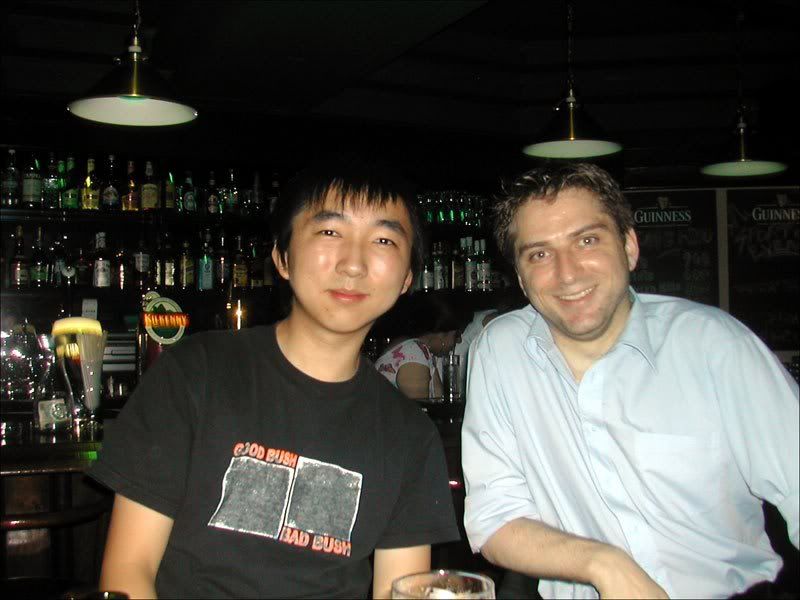 David, the underpaid, overworked Canadian slave to Japan Inc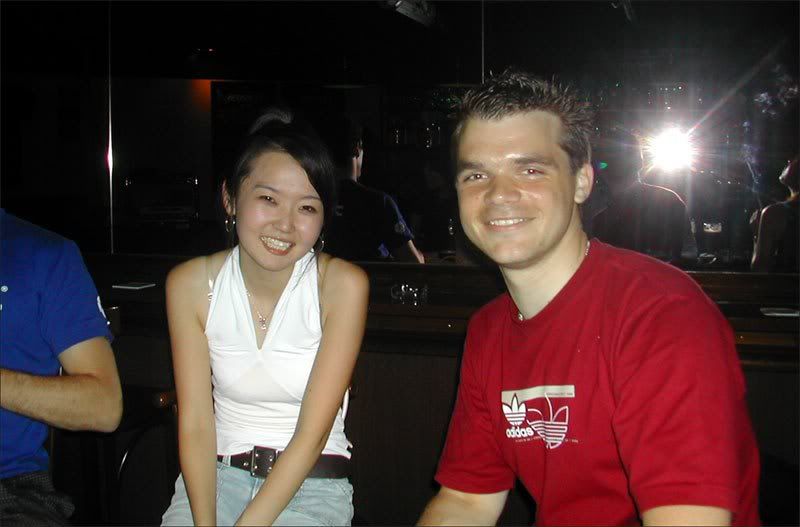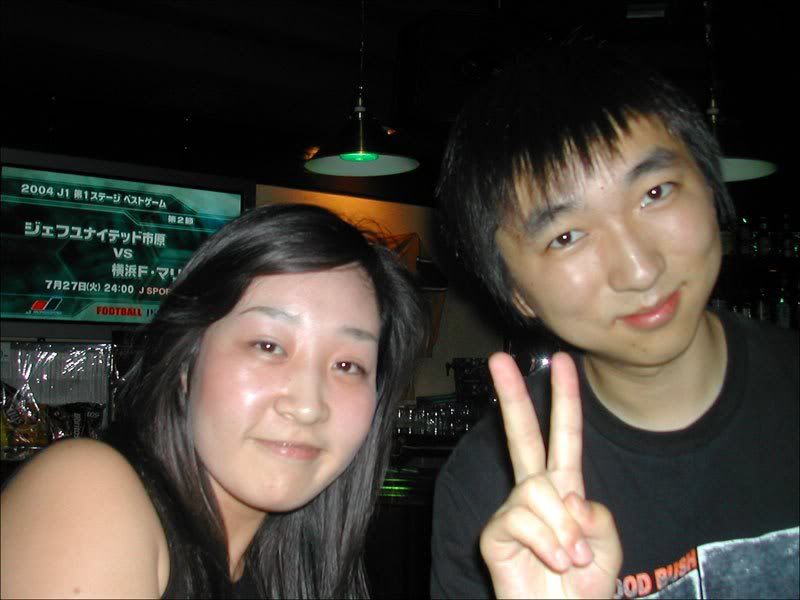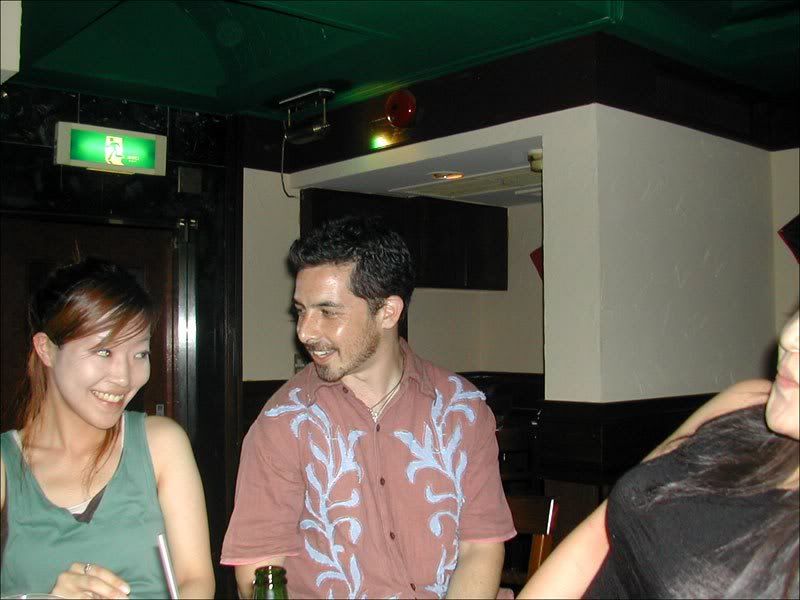 Posted by rxu at 11:57 PM | Comments (0)
Kuso Kikai!
I was walking aroun Ikebukuro after hours on Thursday when I ran into what must be the Japanese version of Bum Fights: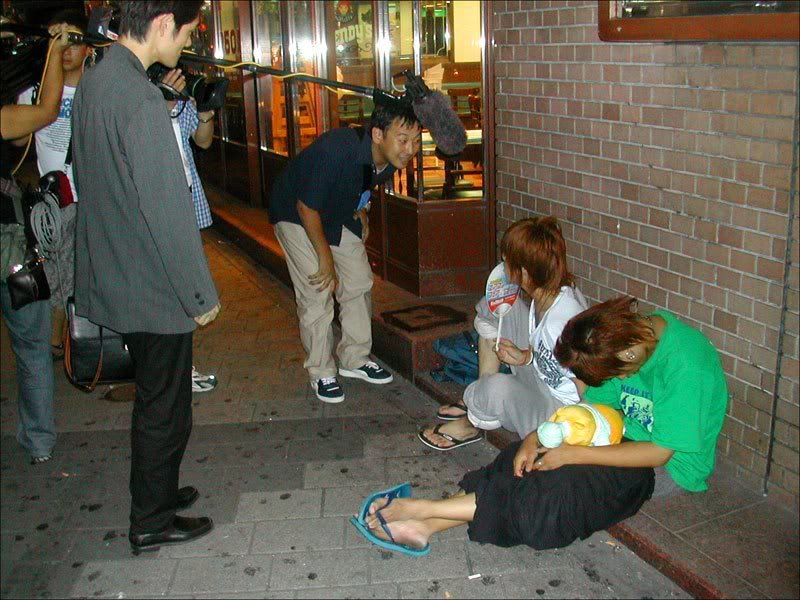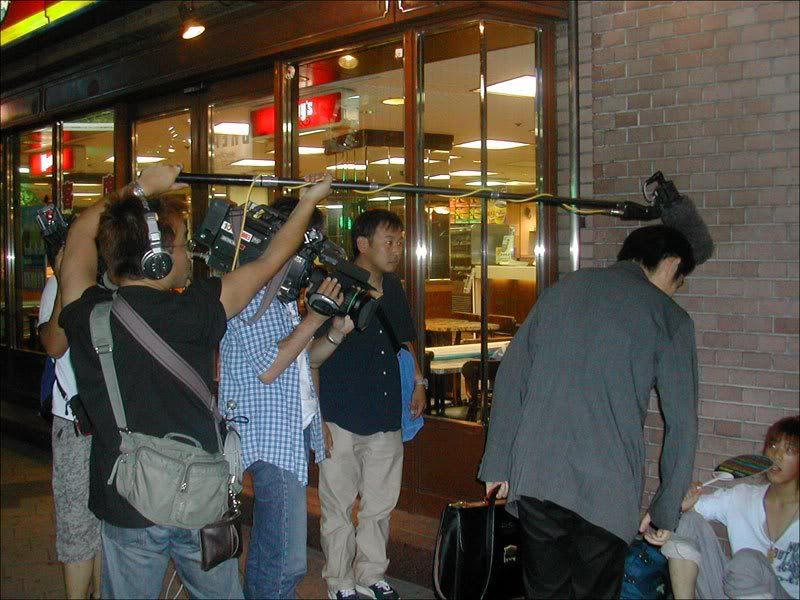 Posted by rxu at 11:54 PM | Comments (0)
Dan Dan you're the man, if everyone else can do it then do it Dan
On July 22nd, 2004 Daniel Robert Morales shaved a most fastidious shave . . .
Before: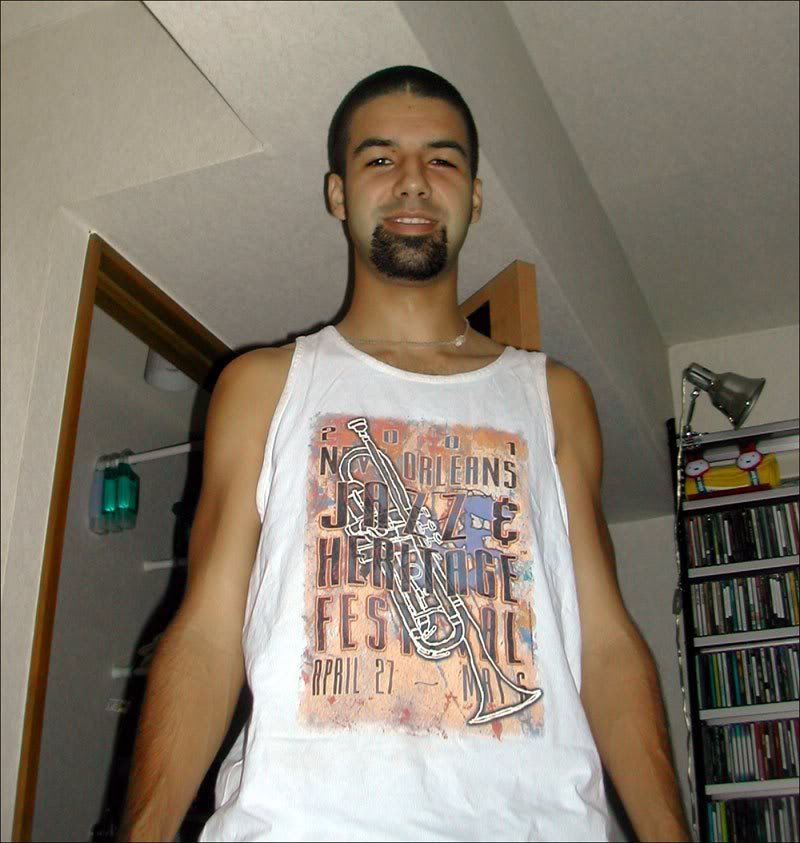 After: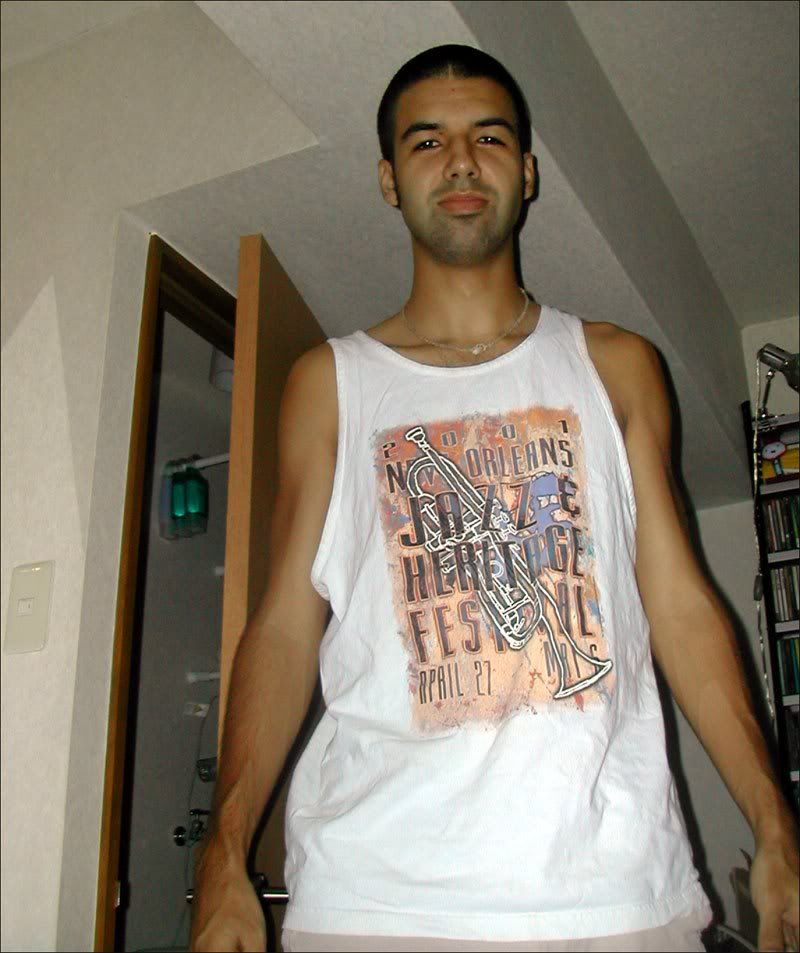 Posted by rxu at 04:12 AM | Comments (0)
For hate sake, I spit my last breath at thee . . . (Part 1)
7/22/2004
I visited Yasukuni Jinja today.
Yasukuni is the most famous and controversial Japanese shrine devoted to the military dead, who are regaled as 'heros' giving their lives to the defense of the country. In doing so, Yasukuni pays a disquieting homage to a militarism that reshaped Asia, killing thirty or forty million along the war. It also offers a retelling history that many outside of Japan consider farcical. Yasukuni is all the more controversial because it enshrines the seven military leaders of Japan who were executed by the Allied powers as Class A war criminals. These include Japan's wartime prime minister, Tojo Hideki, the general who was largely responsible for carrying out the Pacific War. Tojo rose to power shortly before the Pearl Harbor attack, which was carried out under his orders (against the advice of Admiral Isoroku Yamamoto).
Yasukuni created a media stir in 2001, when Japanese prime minister Koizumi Junichiro paid an official state visit to the memorial. The visit prompted diplomatic protest across Asia, most noteably from China and South Korea - two of the countries most affected by Japanese military action during World War II.
My visit to this shrine was motivated mostly for curiosity. Japan's denial of its wartime past is something I've often read about, but I wanted to see it for myself.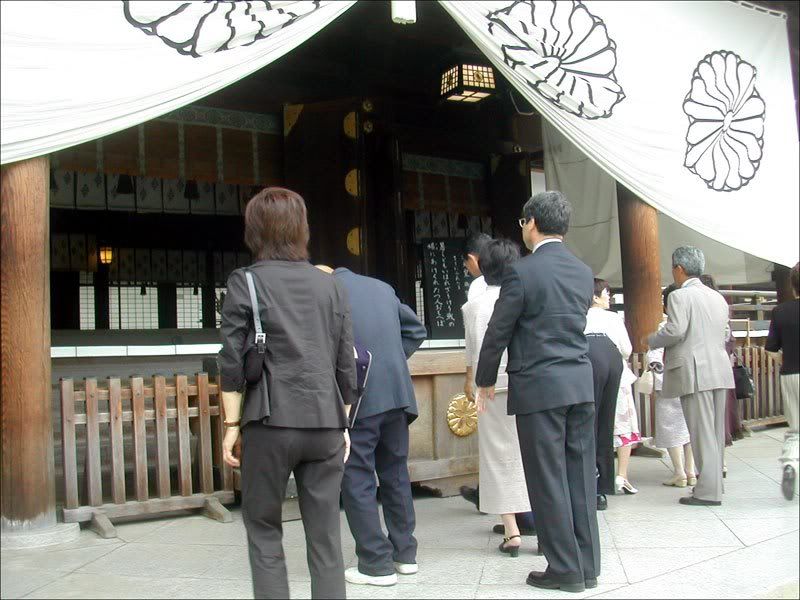 The actual shrine - you can see people bowing and giving money in respect. Dressed in my Chinese shirt and Chairman Mao hat, I walked up to the prayer box, finished off a can of orange soda and spat it into the box in symbolic protest. That was probably the highlight of the day for me.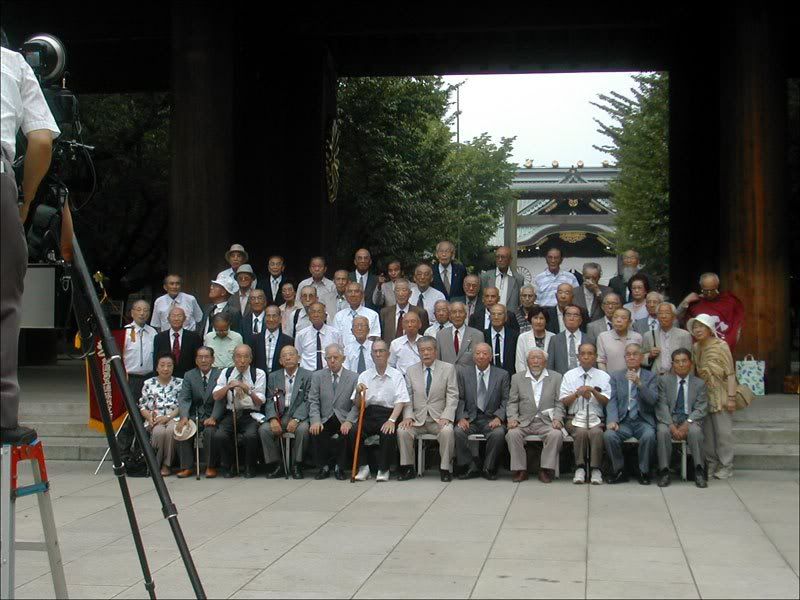 A group of veterans post in front of the shrine.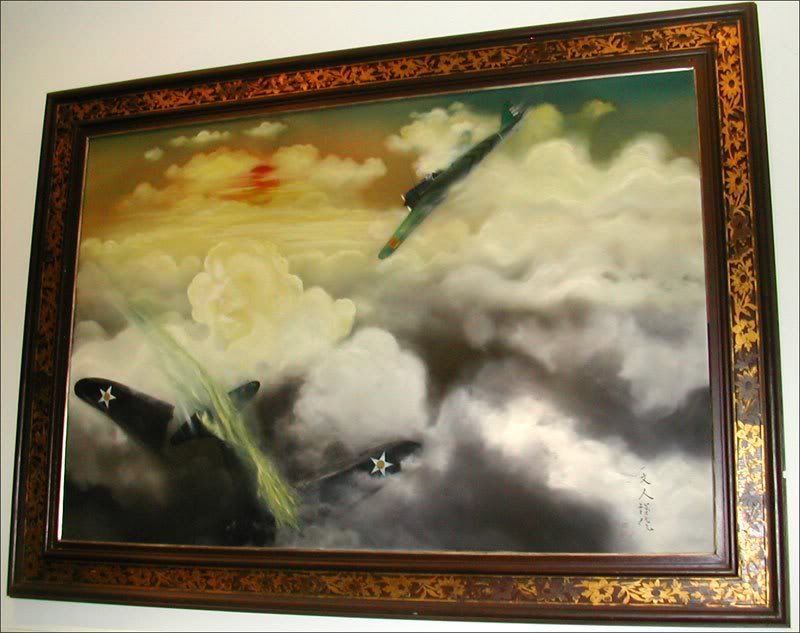 An American plane going down in flames in a dogfight with a Japanese Zero.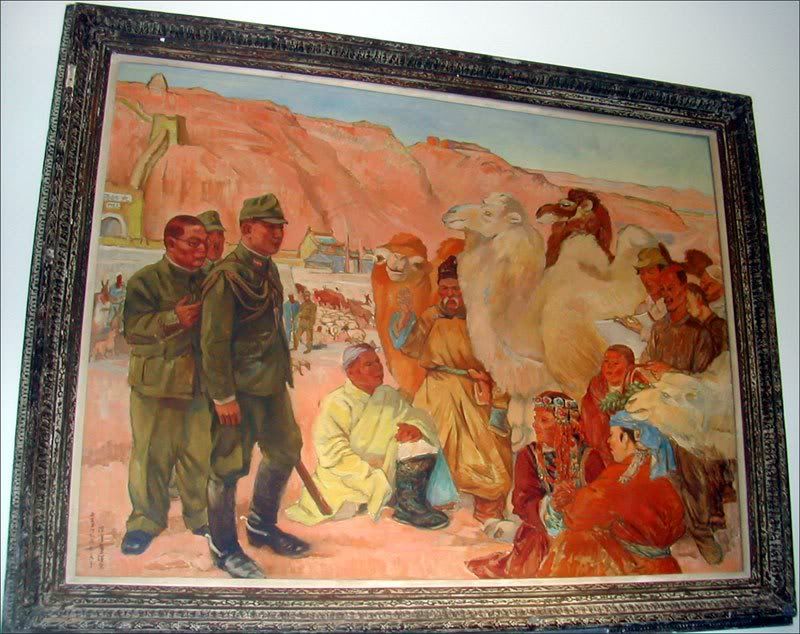 A ridiculous painting - among Asian minority groups, the Japanese are even more hated than the Chinese.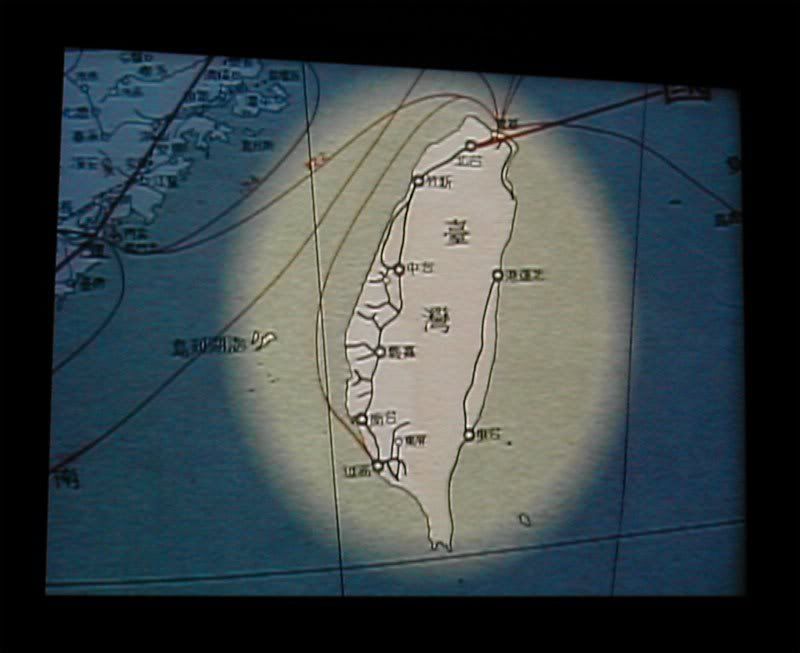 One of Japan's many imperialist crusades...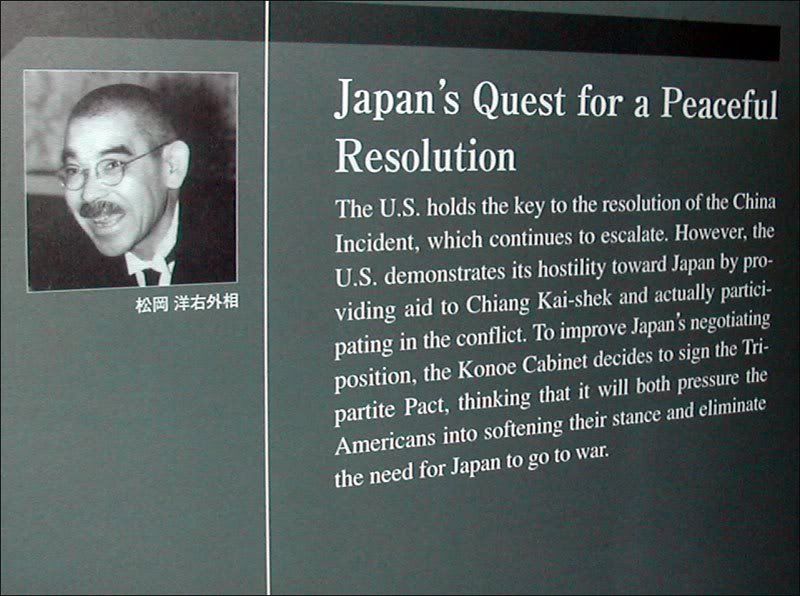 Yes, the US shouldn't done more ... to help China.




You can judge a person by the company they keep...




A documentary out of touch with history...




What the rest of the world refer to as the "Rape of Nanking"




A reminder to a homogenous people that they are not alone in the world...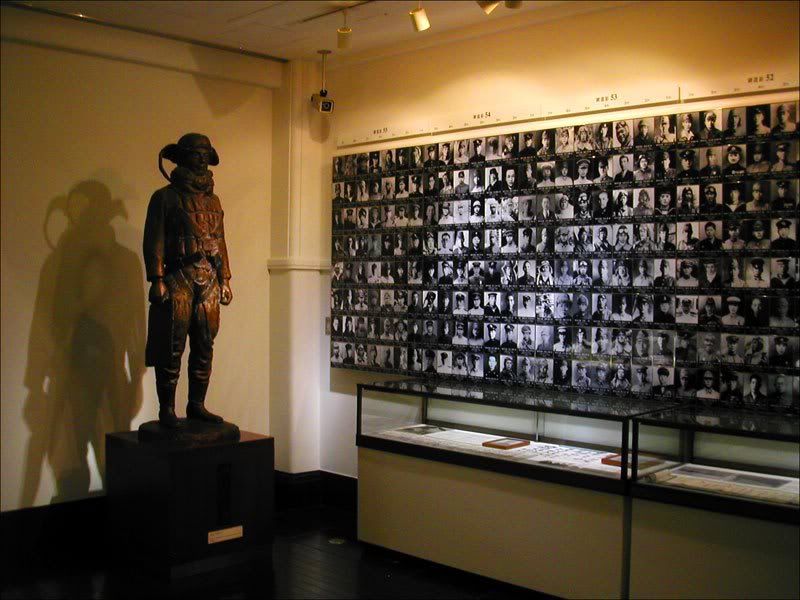 War criminals? History be the judge...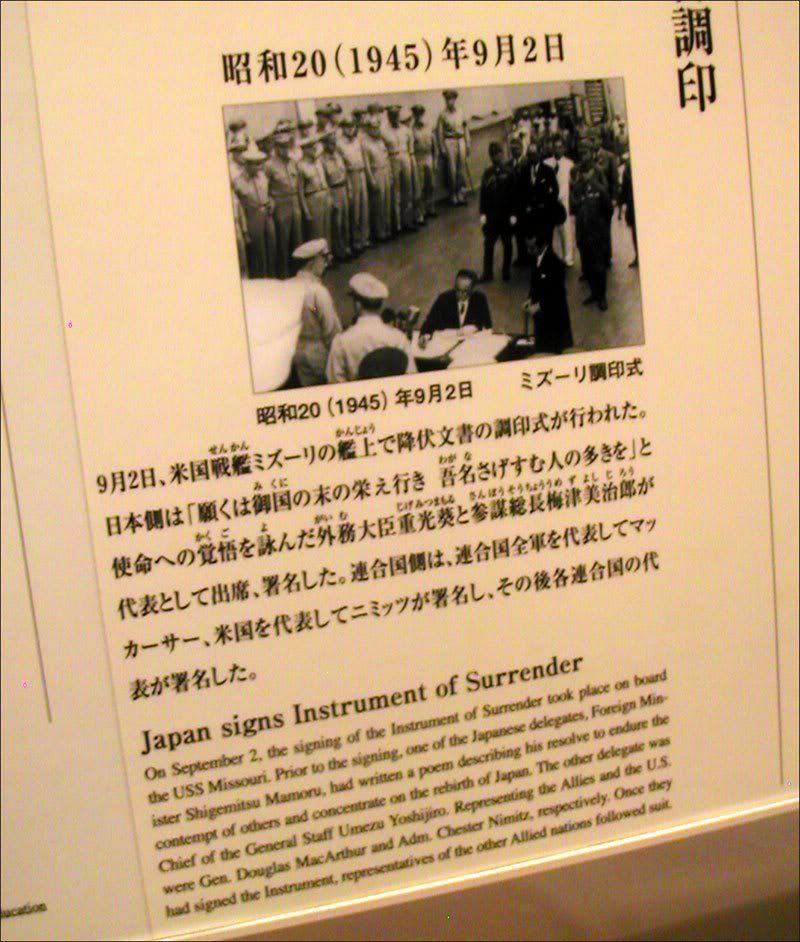 V-J


Posted by rxu at 03:54 AM | Comments (0)
July 23, 2004
where the technological faithful come to worship...
National Museum of Emerging Science and Innovation...  quitefittingItookthemonorailhere...ack,damnJapanesekeyboard...
Posted by rxu at 04:46 PM | Comments (0)
July 22, 2004
If you can't take the heat . . .
7/20/2004 4:42:04 PM | First floor lobby ANA Hotel - Tokyo, Japan
Today is a very very very hot day. I got out of the house around 1 and spent most of the past few hours eating lunch with Felicia, getting to an ATM, losing my 1000 yen phone card, and taking refuge in air-conditioned malls and hotels. I had planned to visit the government buildings today, but I doubt that's going to happen now.
Update: As it turned out, Tuesday was one of the hottest days on record - over 40º.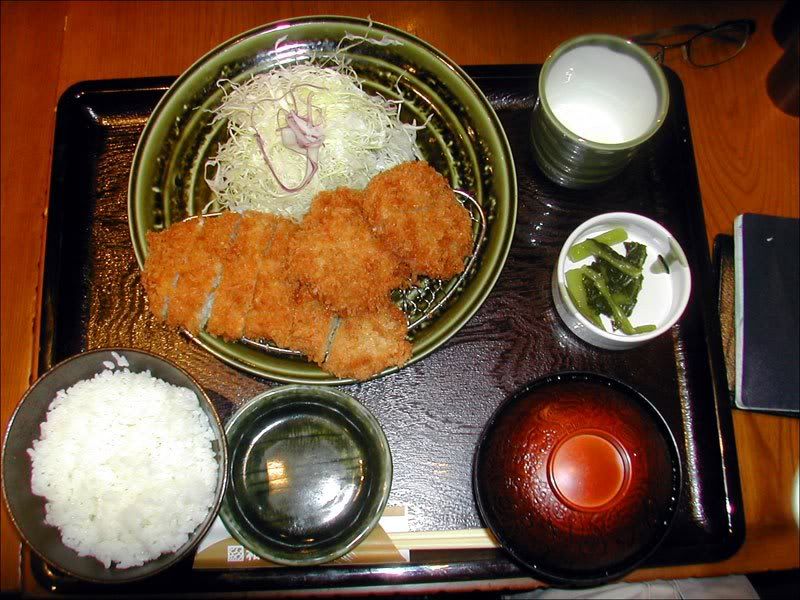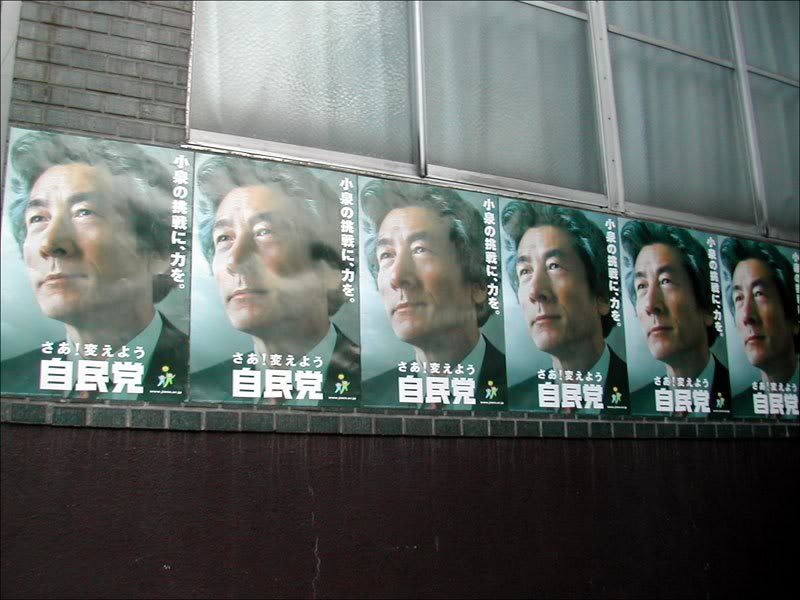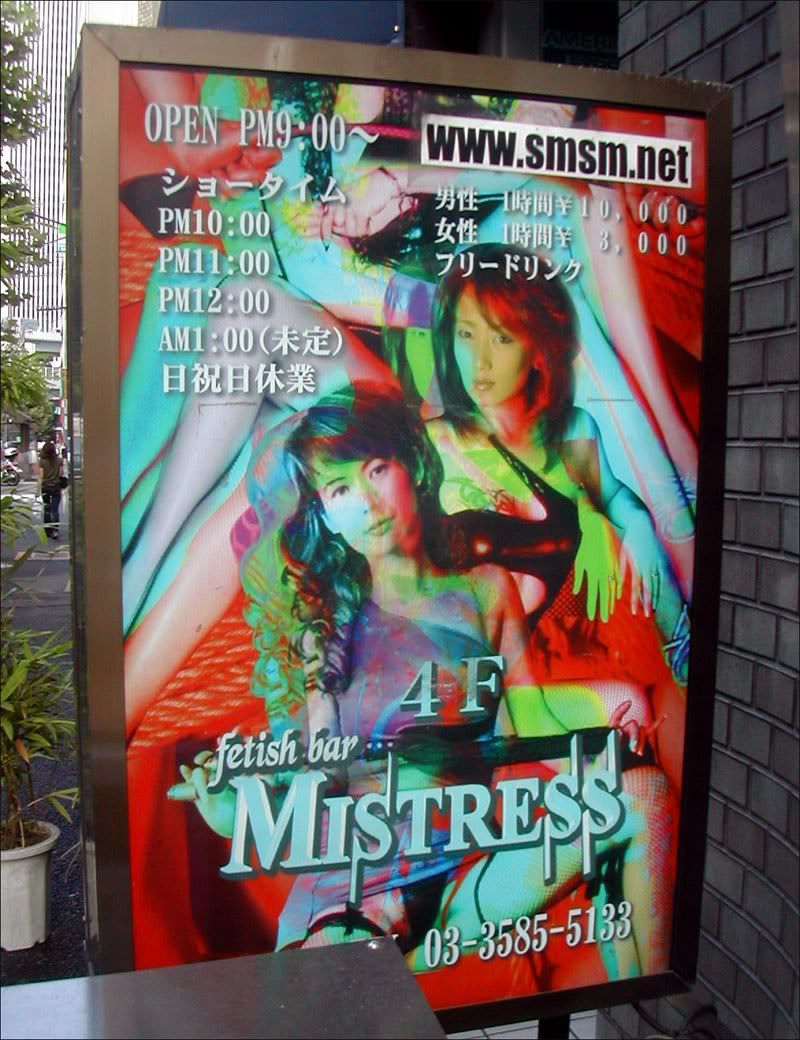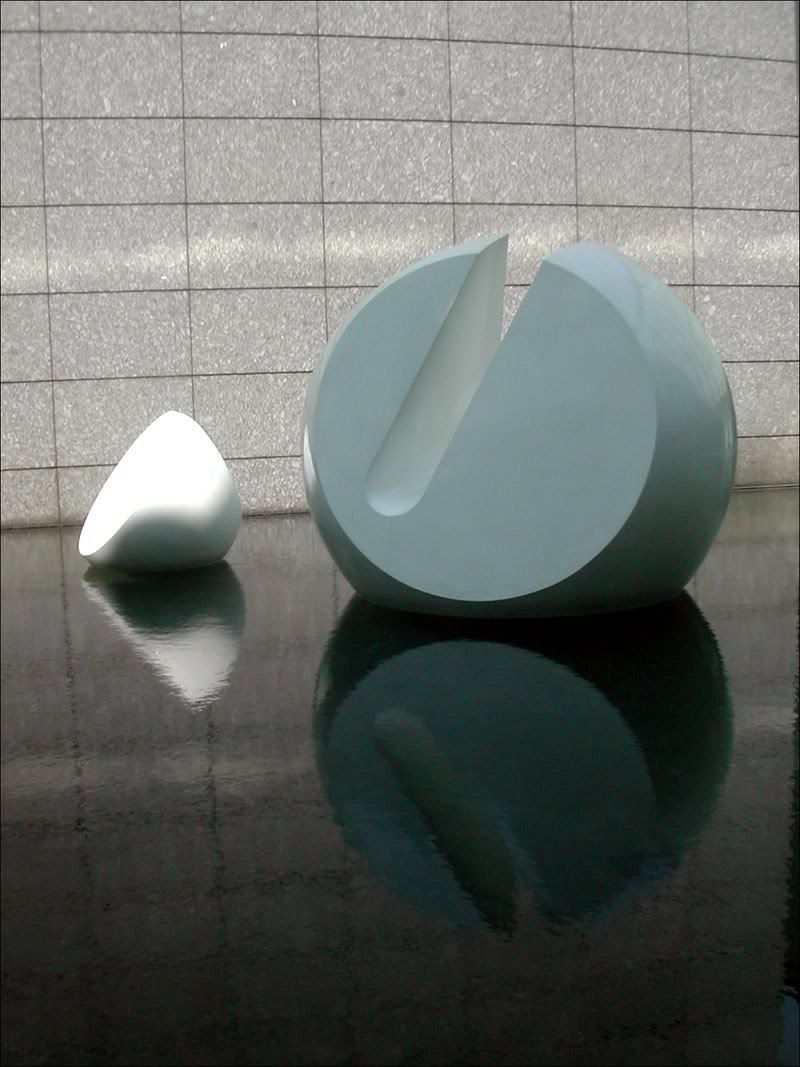 Posted by rxu at 08:27 PM | Comments (0)
Abalone...
Until I get the time to process new experiences, here's part of my backlog (lunch on July 11th in Dongying, China):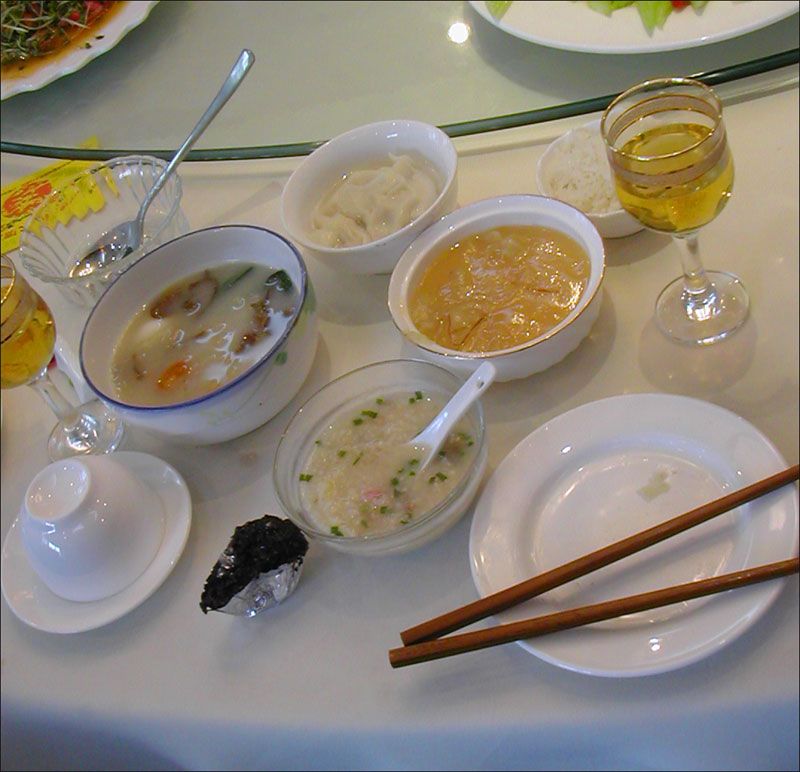 Posted by rxu at 02:59 AM | Comments (0)
July 21, 2004
Chinese imports
I'm still waiting for all the pictures to come back to me, but for now here are some from Sunday the 18th. We got back home around 8AM from Motown and and a Yoshinoya breakfast, but both Felicia and I ended up waking up around noon. We went to meet up with Dan and their mutual friend Brad.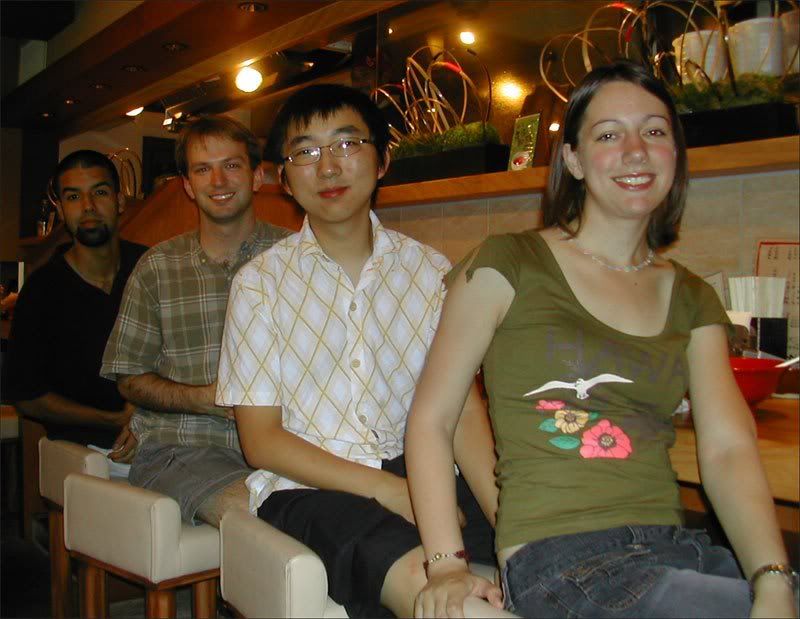 Dan took Felicia and me to get some "recovery ramen" after a long night of binge drinking. The other kid is Brad '04.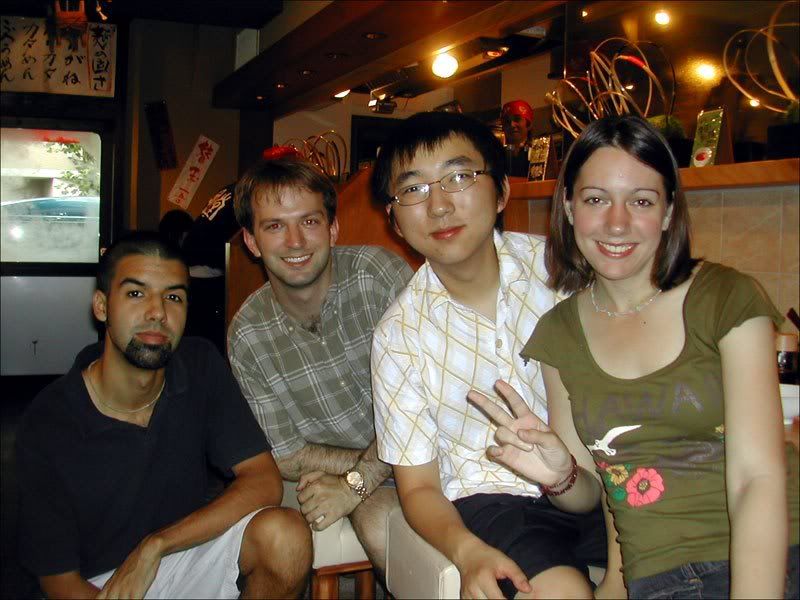 and then went with Brad to see fireworks at the 148th Yokohama Port Opening festival. Yokohama is the large port just outside of Tokyo that was opened following Commodore Perry's expedition in 1856 (am I right with the date? I know it was under President Fillmore...) It was such a luck that we had been told about this festival by the two guys we met at Motown that early morning. They live in Yokohama and told us to get in touch with them there.
Japanese summer festivals are crowded, but still pretty orderly affairs. A lot of women and some of the more intrepid men dress up in traditional summer wear (I believe it is called Yukata):






Brad had to go meet up with his other friends in Shibuya, but he left us in capable hands with his other two friends, Mimi and Aya. Mimi goes to Williams and Mary and is Chinese (technically Taiwanese) and is working in Tokyo for the summer, while Aya lives in Japan: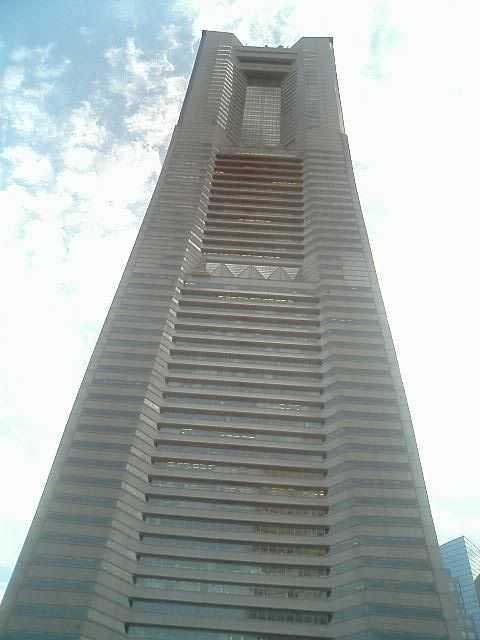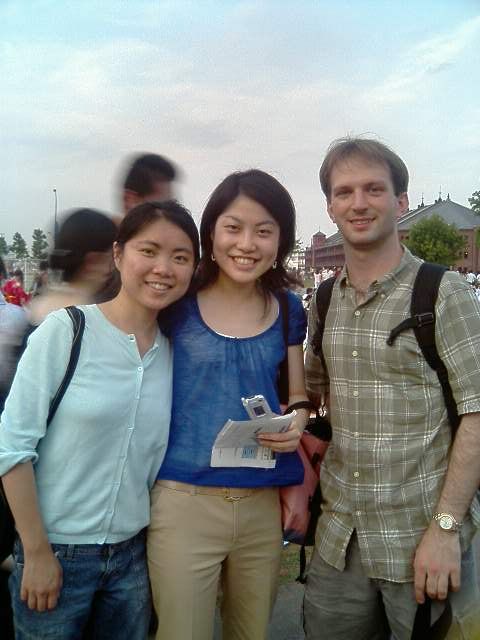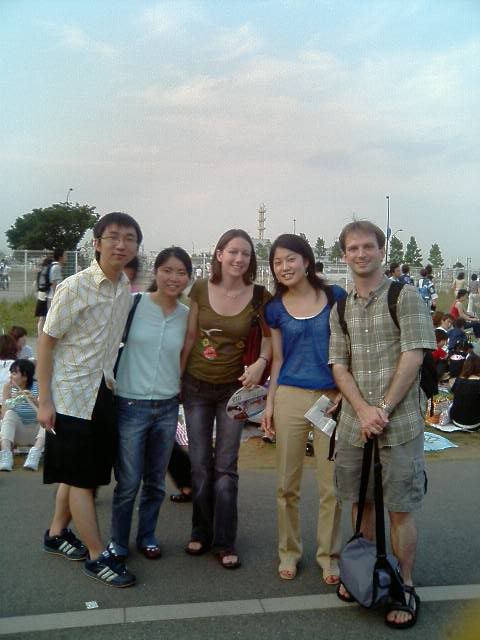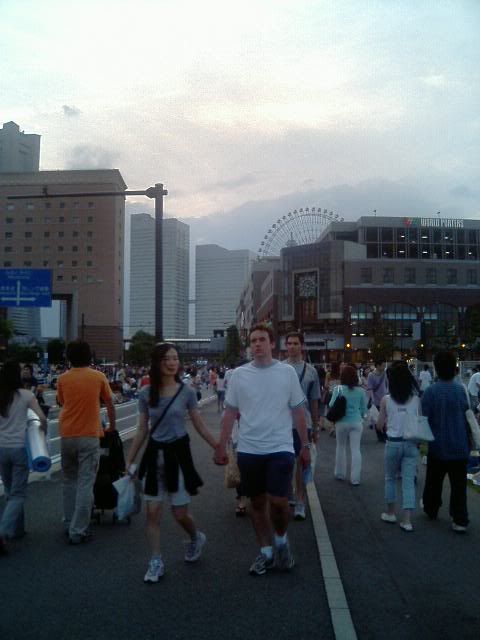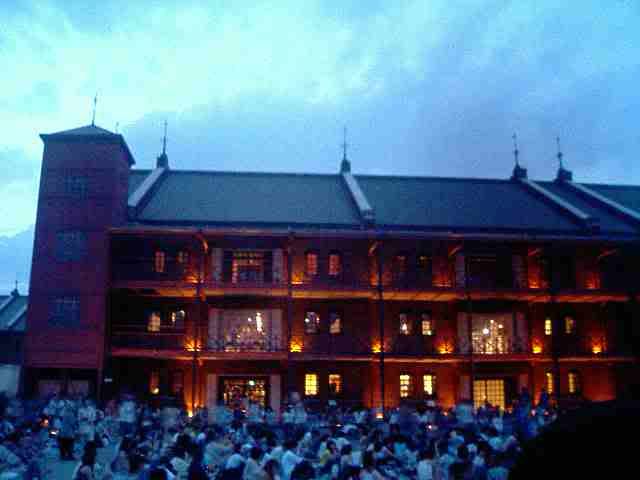 The display (I believe it was advertised as 6,000 fireworks) was one of the more impressive I've seen in my life. Aya had to leave during the fireworks, but the rest of us went to meet up with Naoki and his gang (the ones we had met at Motown). We walked about 30 minutes to this huge mall with its centerpiece being an 'O|O|' store. Felicia told Naoki to meet us at "Oi Oi", making the common mistake of not realizing that the O|O| was a logo and not an English phonetic spelling. That was amusing. Naoki took us to one of those Japanese restaurants where all the tables are in private stalls. We sat around talking (part Felicia and Mimi talking to them in Japanese, part me writing out Chinese/Kanji, part Naoki and his gang speaking in Engrish, and part all of us in the universal language of swear words - I taught them 'shitforbrains' and they taught me 'chou umai', Japanese for "it's fucking good"). By the time we checked the time (and 4 Asahi beers later) it was midnight and the trains were shut down already, so all of us went back to crash at Naoki's apartment. More on this later:



Posted by rxu at 11:53 AM | Comments (0)
Chou Umai!
After leaving Dan and Nick to their destination on Saturday night, Felicia and I headed back to Tameikesano, to this orange-cube shaped club called Forum. We had a coupon for discount tickets for women and foreigners, but weren't really sure if we had the cash. Felicia remember admission being Y2000 for [foreign] men and Y1000 for women. We tried every ATM along the way but Japan is notoriously xenophobic towards to foreign cards so we ended up counting up our pocket change in front of a supermarket. Thanks to a few Y500 coins, we ended up with Y3700, and were pleasantly surprised to find out admission was only Y1000 for either of us and included two drinks: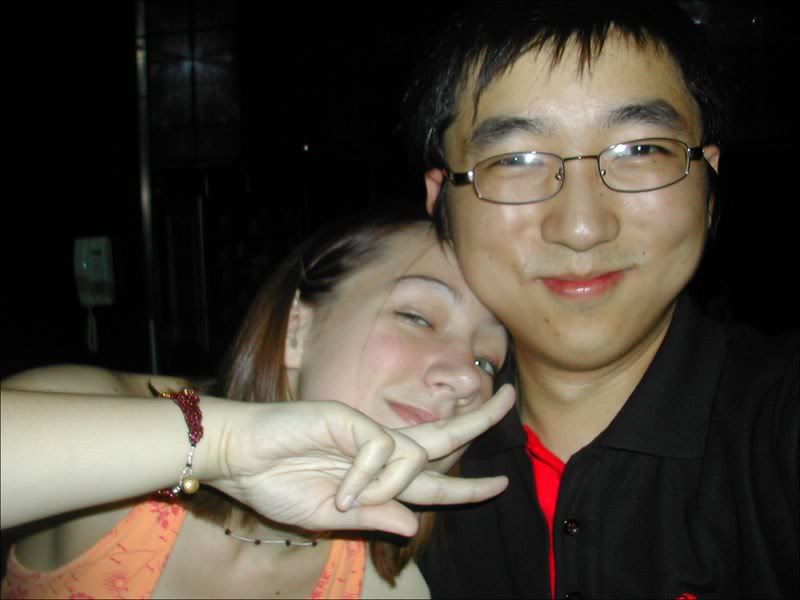 We spent another Y1500 on drinks before heading off to Roppongi, the only area of Tokyo that isn't more than 90% Japanese. At Roppongi, we planned to go to Club Vanilla but my sandals are strictly prohibited. I remember talking to some other would-be clubbers who were caught-off guard. They were waiting for their friends to bring them sneakers. Felicia and I instead went to Motown, an old American-style bar in one of Tokyo's whitest side streets. We stayed at Motown until 5:30AM. It was one of the funnest, sketchiest and most productive nights of this trip. We made two new Japanese friends, who we ended up staying with the next night: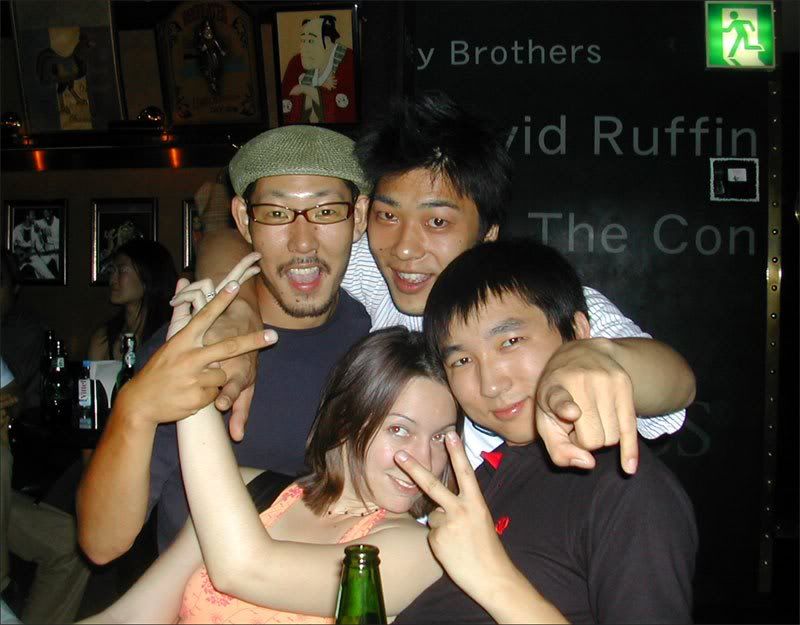 Naoki and his friend.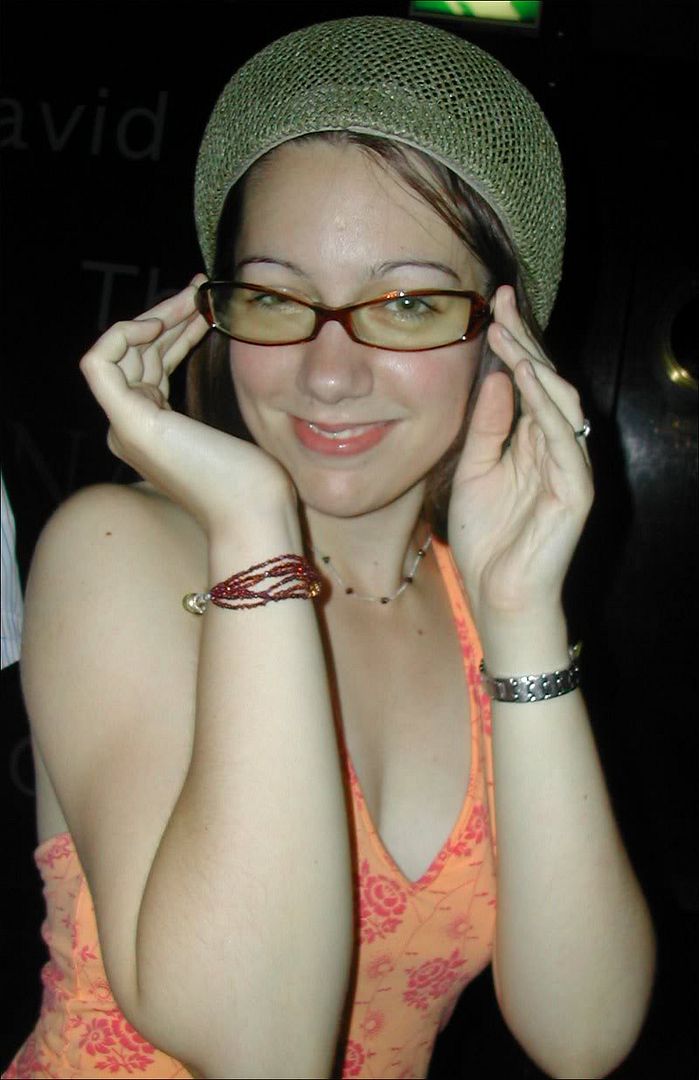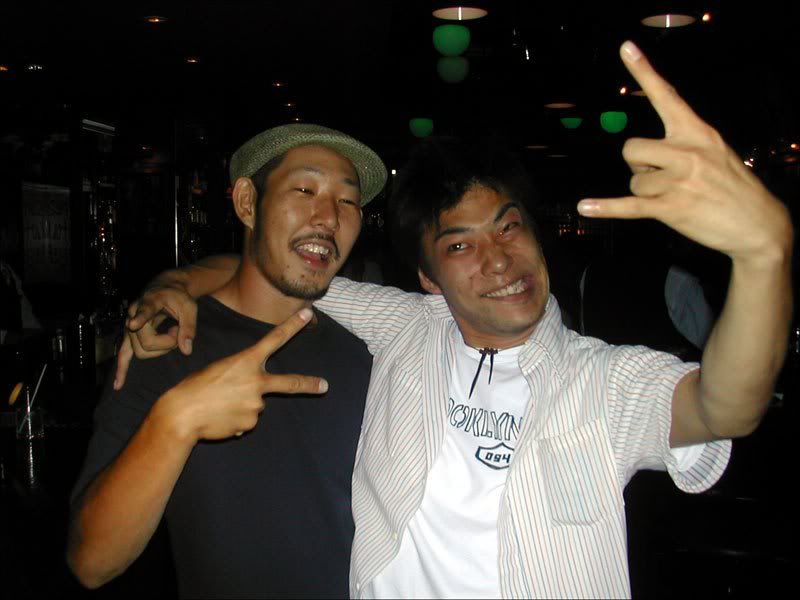 Persistent sketchy dude.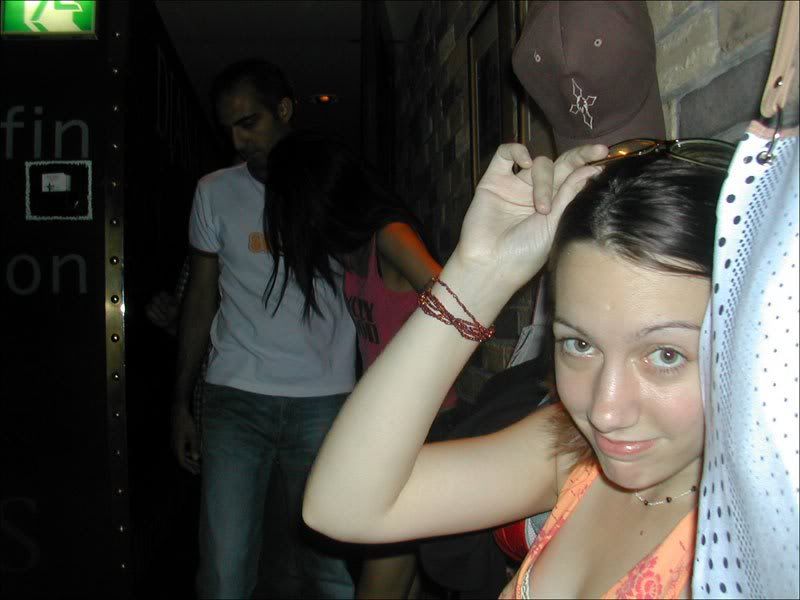 Another persistent sketchy dude, this one successful.

Posted by rxu at 02:21 AM | Comments (0)
July 20, 2004
Sodaske...
I landed in Tokyo on the night of the Friday the 16th. I took the train to Tameikesano, met up with Felicia and went back to crash at her place. The next day we took our sweet time getting out of the house - we finally decided to go to lunch around 3PM. Felicia knew a great sushi restaurant in Shibuya, but we wandered around without finding it: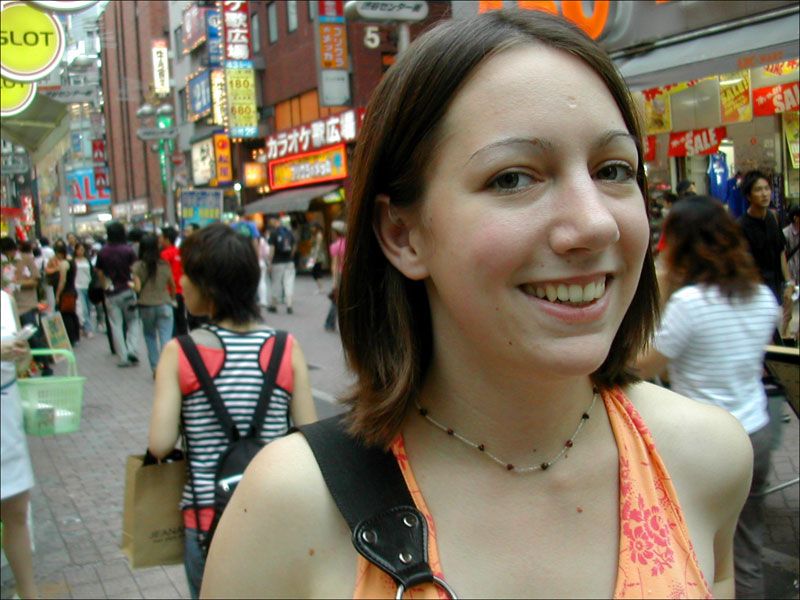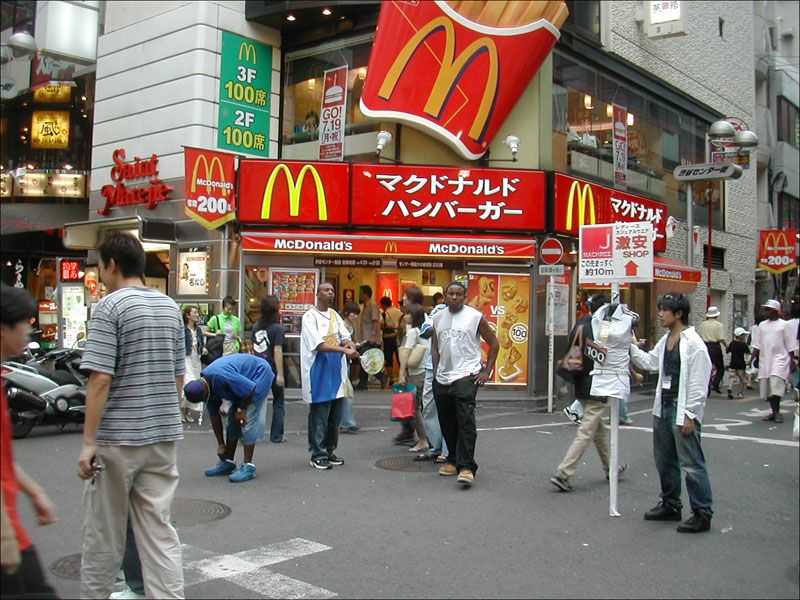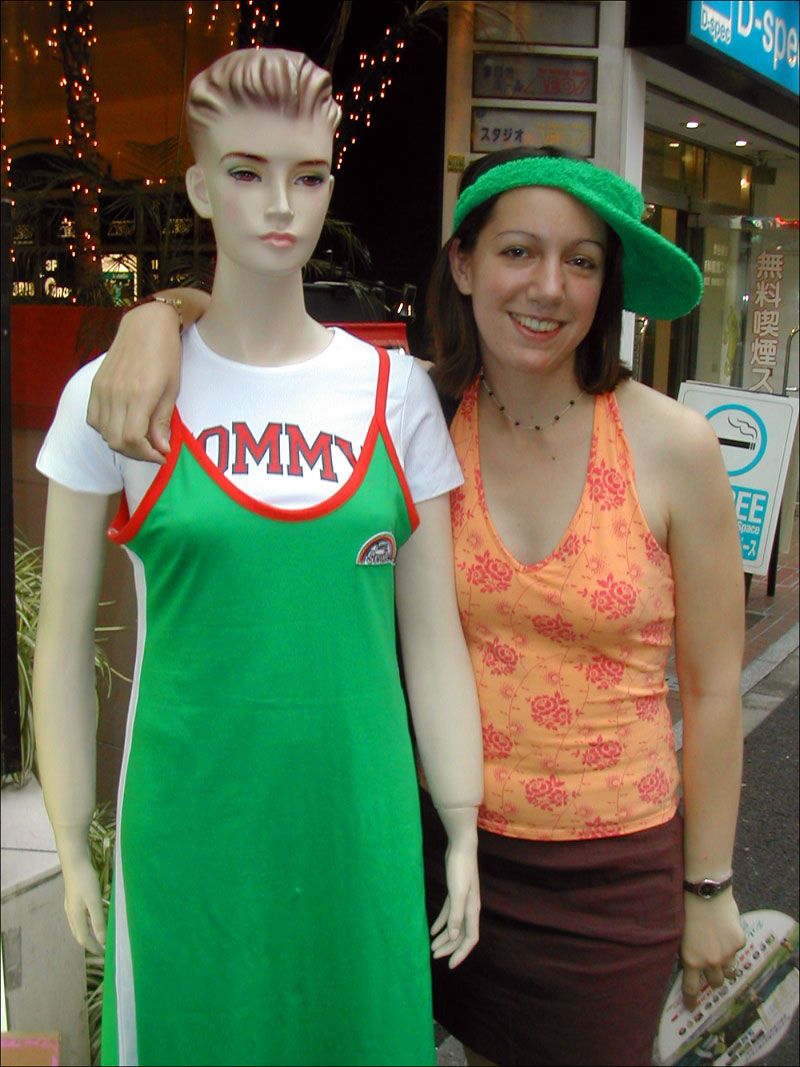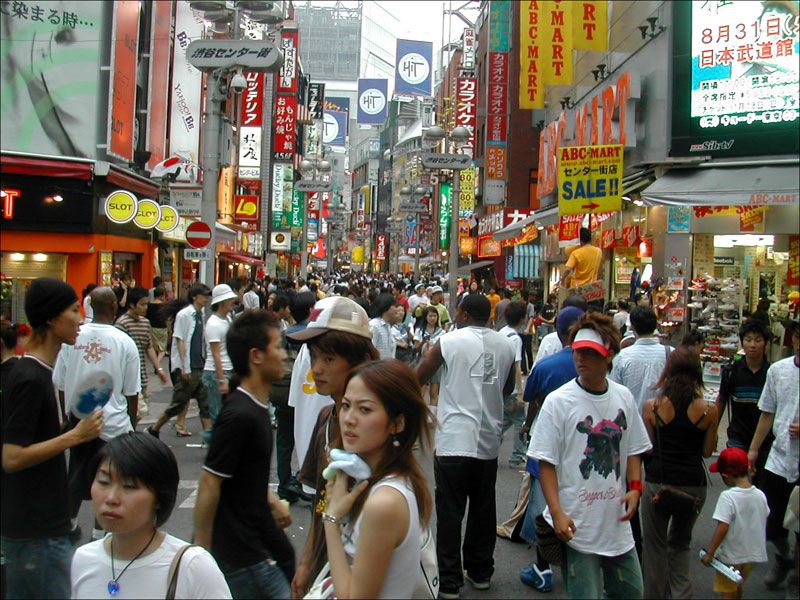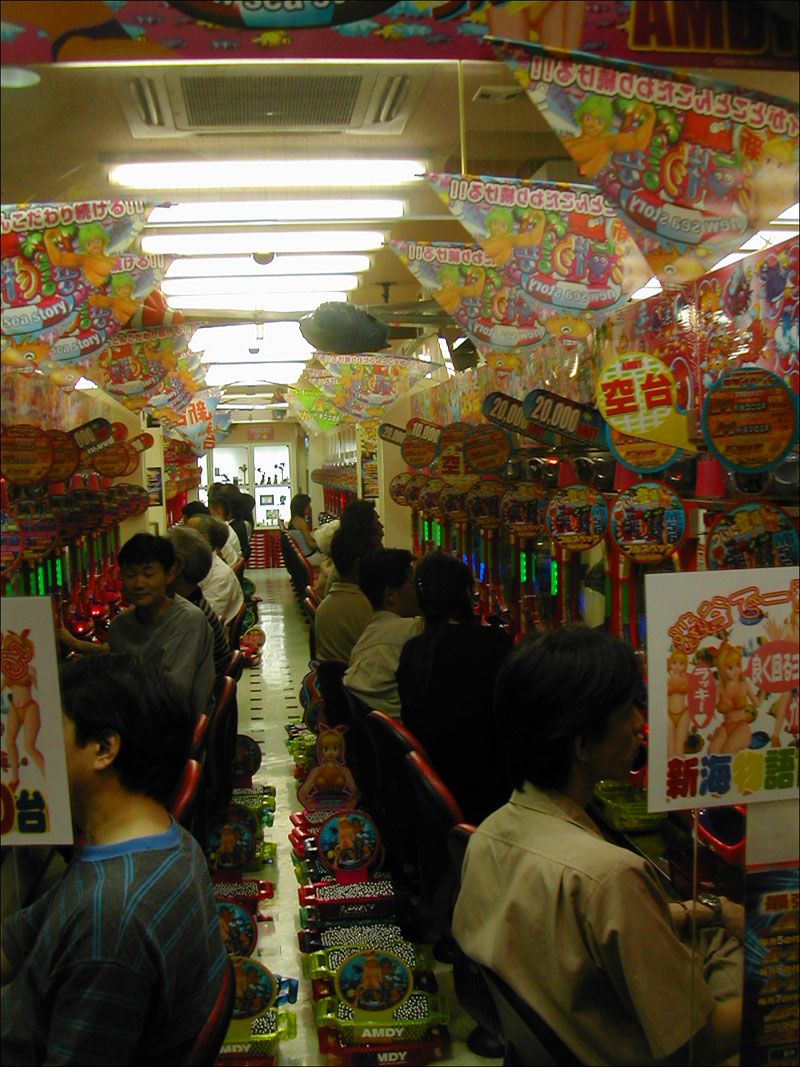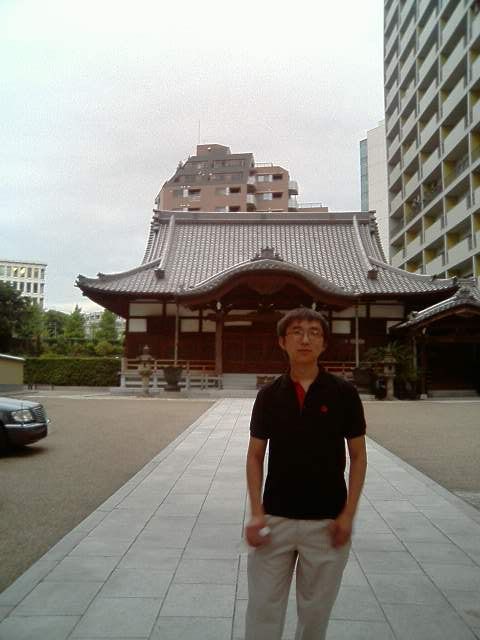 Dan and Nick: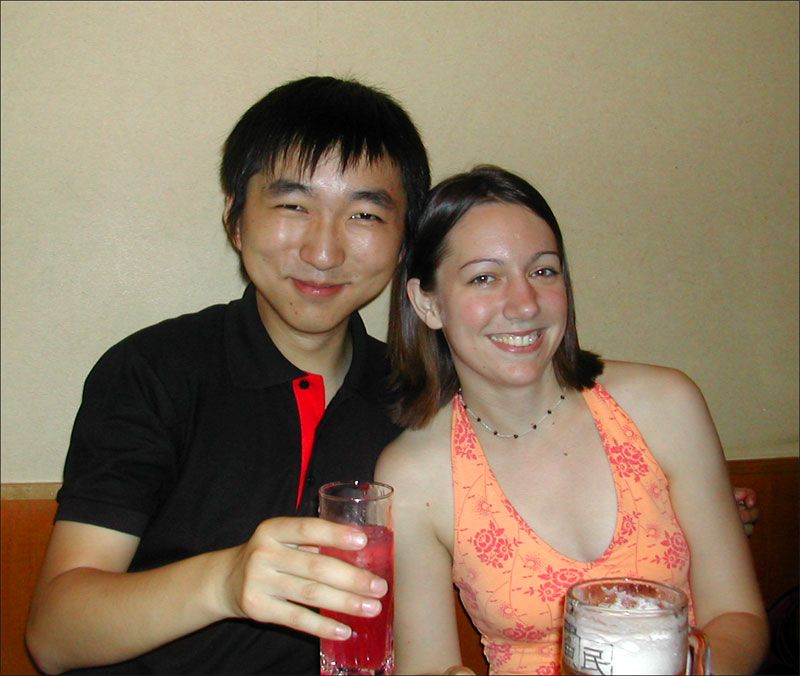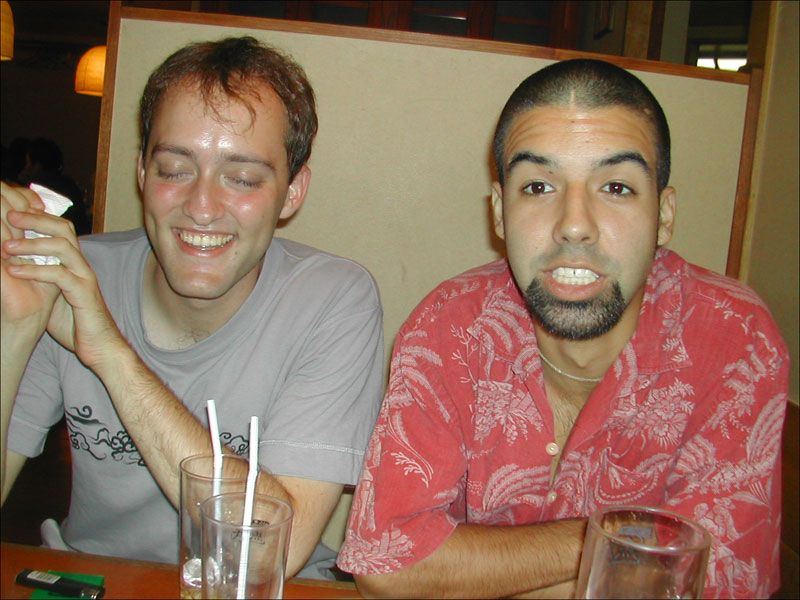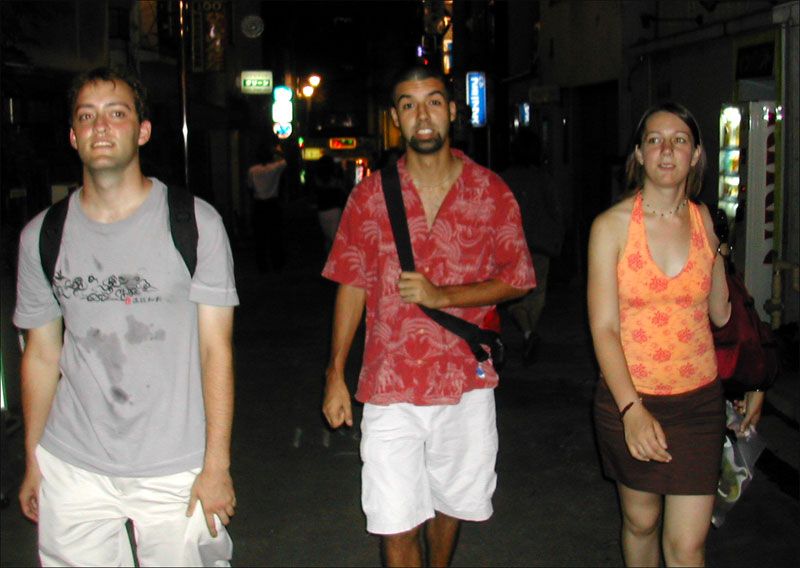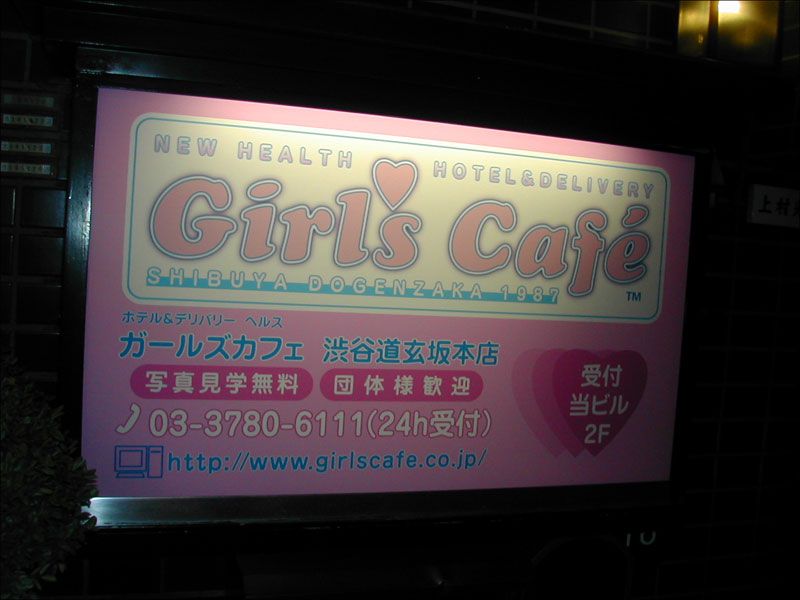 Posted by rxu at 07:27 PM | Comments (0)
The final assault [on the Japanese mainland]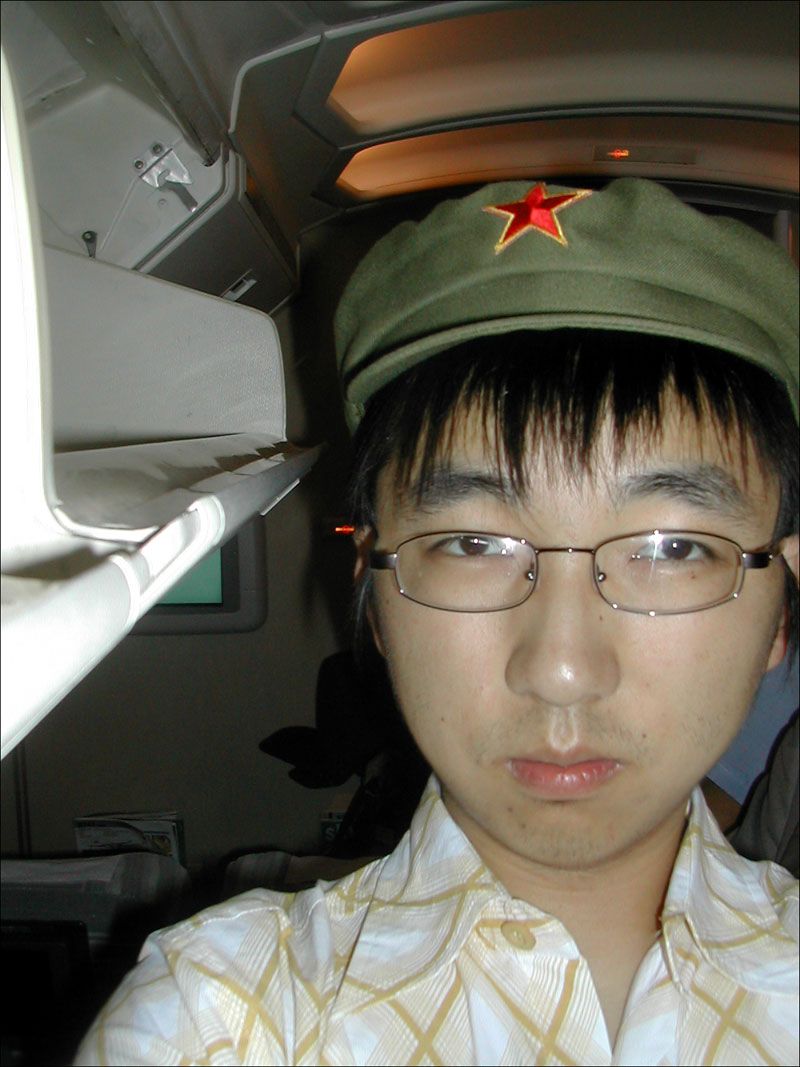 Living the (mile) high life on the upper deck of a 747.

Posted by rxu at 03:58 AM | Comments (0)
Globalization Blues
7/16/2004 1:40:13 PM | Beijing International Airport
I just ate the crappiest 93 yuan ($12) lunch at the International Food Court and Internet Coffee Shop at Beijing Airport. For me, this sign of China's recent development from a poor, rural country to an overpriced tourist trap has truly been the highlight of my trip. A can of Sprite (Chinese version) set me back 16.50 yuan. That's $2. For a CAN!! I blame this on the "because we can" philosophy for setting global prices, combined with rigorous globalization. If you're in the International terminal, you're probably from a country where those prices – while still outrageous – are facts of life –OR- you're heading to one of those countries. Either way, they must figure it's more humanitarian to get you acclimated sooner than later.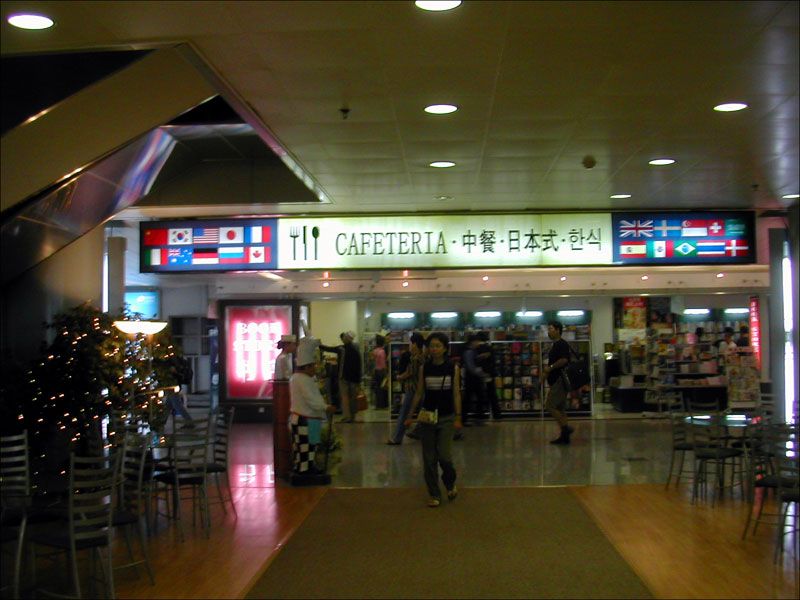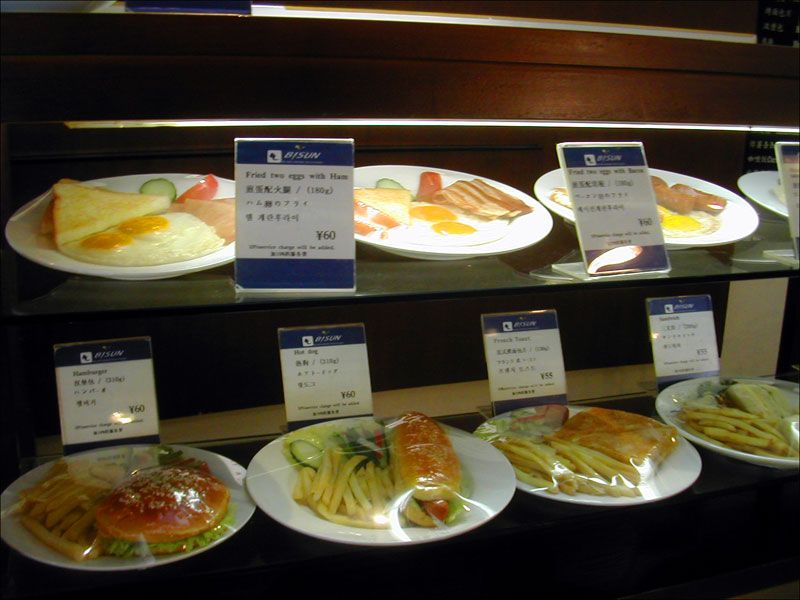 Posted by rxu at 03:57 AM | Comments (0)
The dance of the ephermeral...
During my last week in China, I stayed with my father at the Shenzhen University hotel right in the middle of the campus. His company is doing a project with two faculty members there. For me, it was the ideal spot - in fact, I ended up becoming friends with two graduate students there who were as interested in my experiences and insights into Chinese culture as I was in theirs. Through them, I met other students who were in Shenzhen. In fact, I tried hooking up one girl who was studying English with one guy from Brown who is in Shenzhen this summer teaching English (I love thefacebook.com)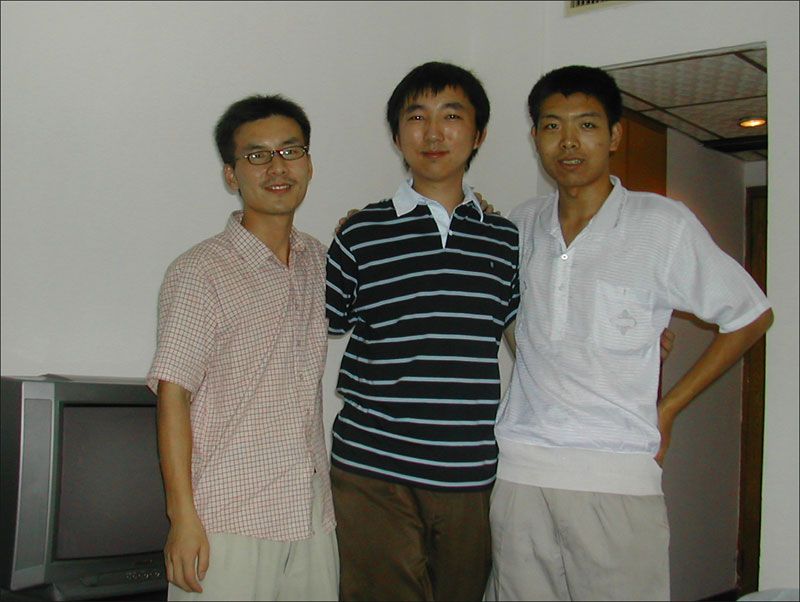 Yan and Li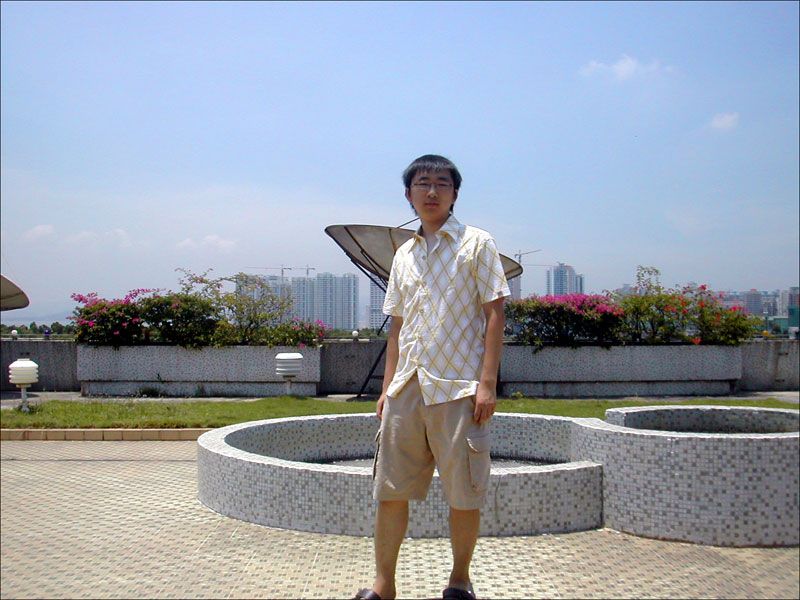 Standing on the roof of the main Shenzhen University research building.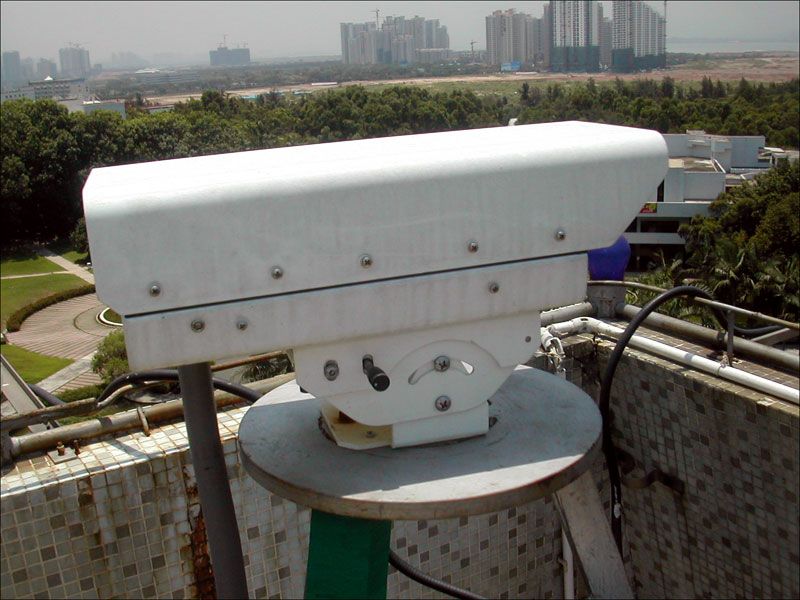 One of my dad's company's projects - a long-range digital communications laser.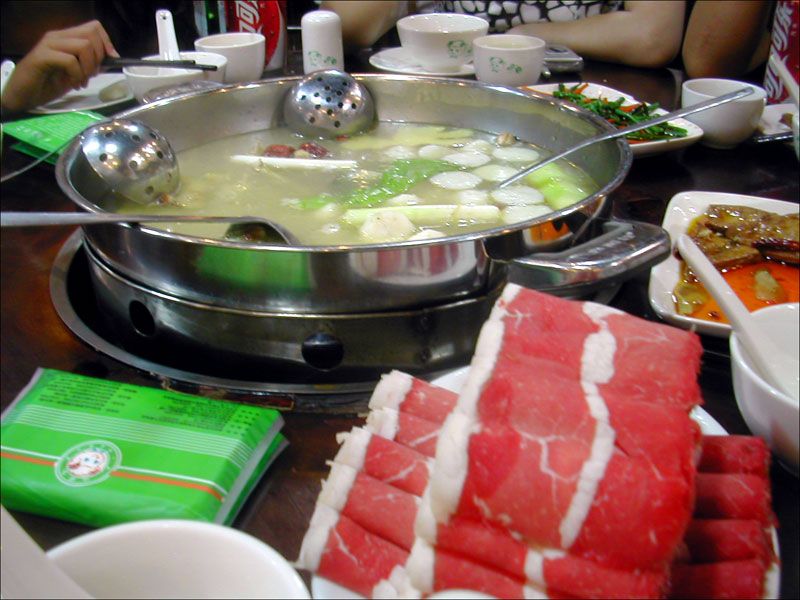 My last mean in Shenzhen was a Guandong hotpot. Well-known joke about the Cantonese obsession with food: Three space aliens land separately in Beijing, Shanghai and Guandong. In Beijing, they analyze and study it. In Shanghai, they sell it to the highest bidder. In Guandong, they argue over how to garnish it.


Posted by rxu at 03:49 AM | Comments (0)
It takes an (ethnic minority) village . . .
The Chinese have also given to the world tourist traps designed to resemble cultural activities. Also from July 14th.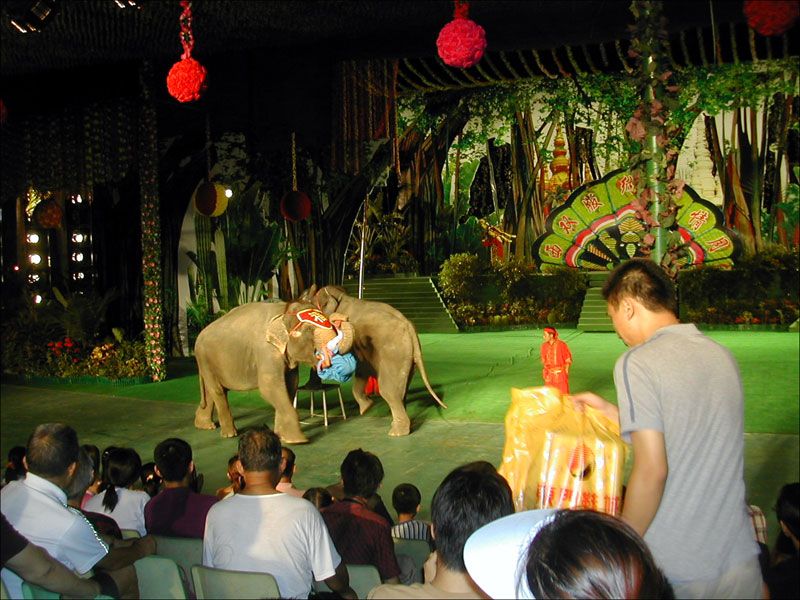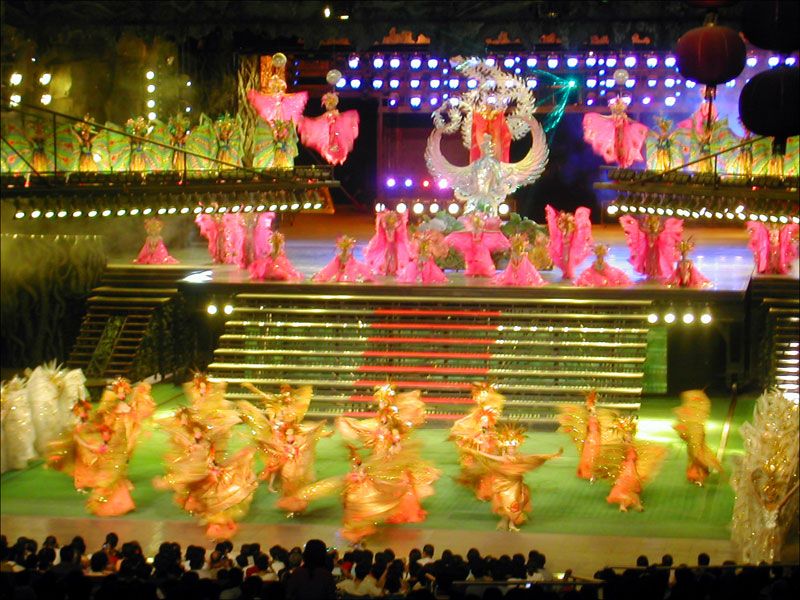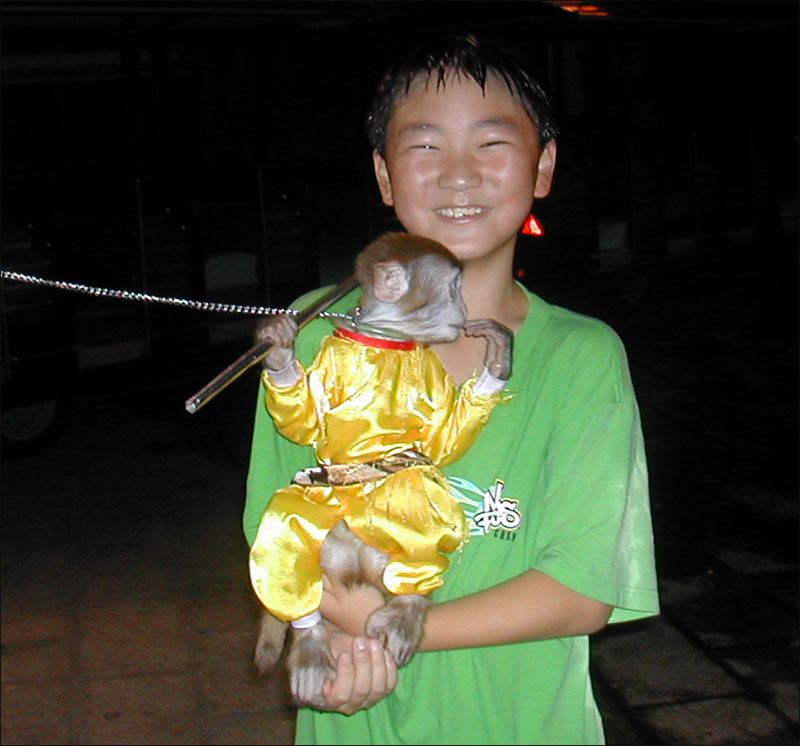 Posted by rxu at 03:37 AM | Comments (0)
Tourists of the World, UNITE!!!
The Chinese are an ingenious people who have invented paper, developed rocketry, and bought nuclear aircraft carriers at heavily discount prices from money-strapped formerly Communist enemies. On July 14th, this comrade took an excursion to Shenzhen's Minskworld.





Hong Kong - only a hilltop yonder.


Posted by rxu at 03:21 AM | Comments (0)
The Real Shenzhen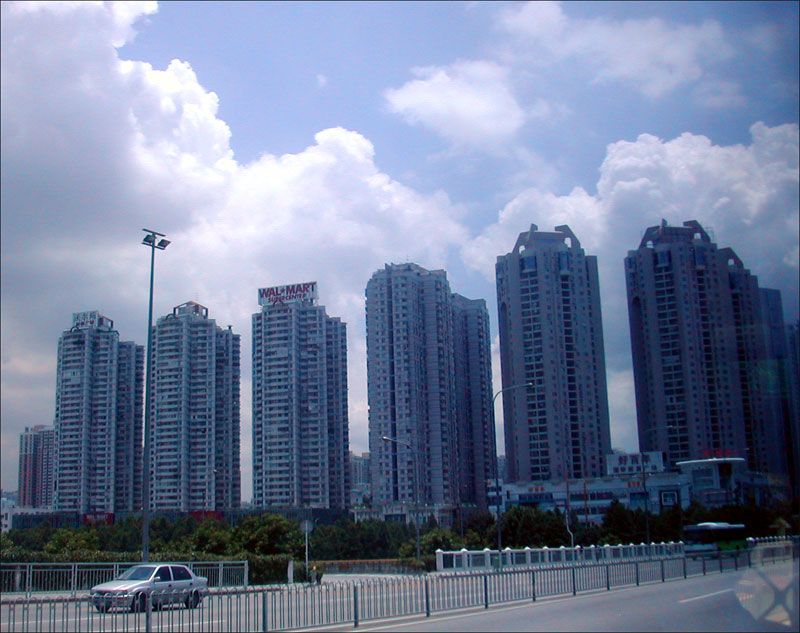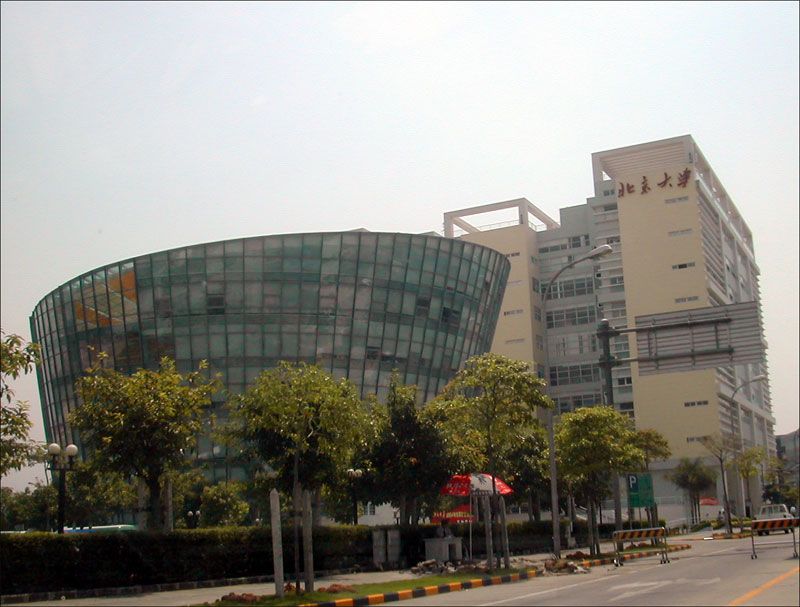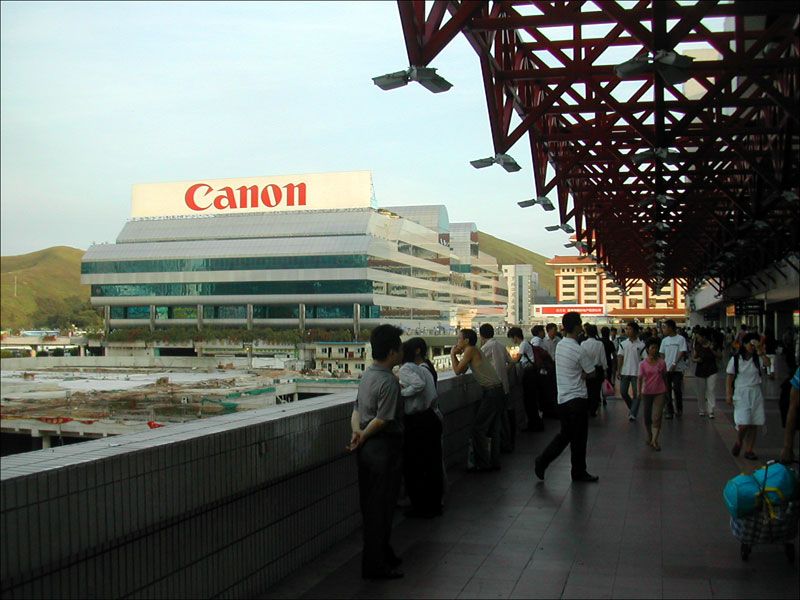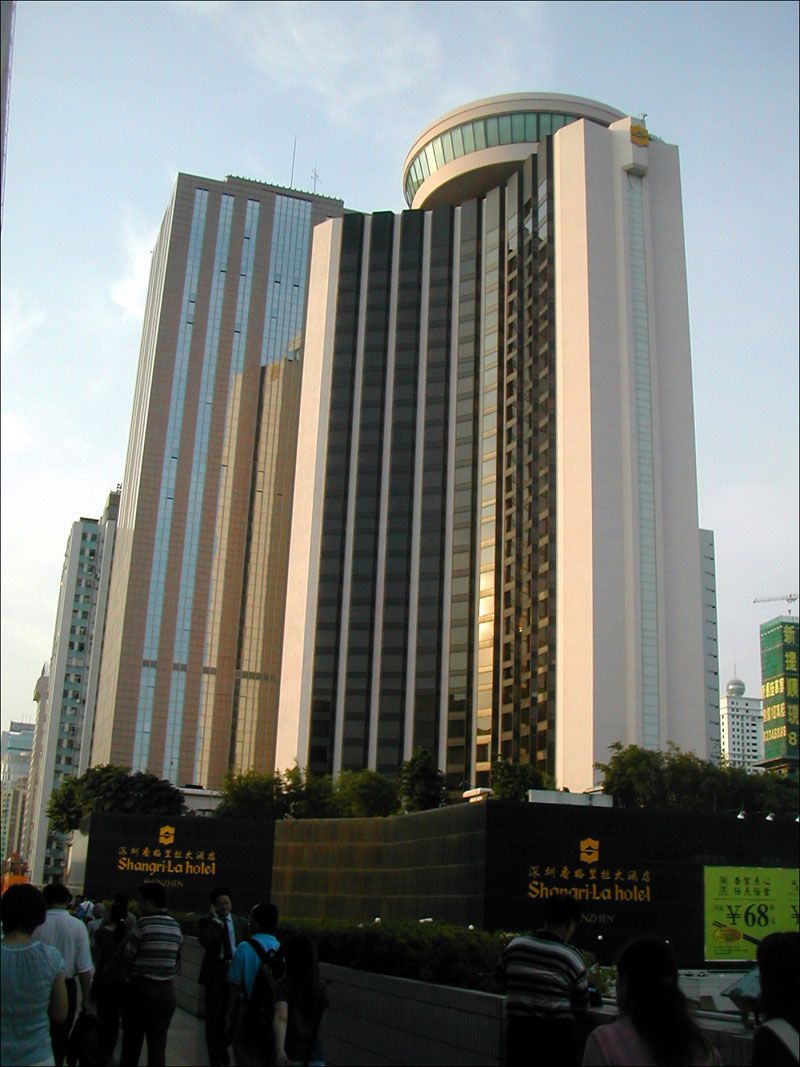 Posted by rxu at 03:20 AM | Comments (0)
July 18, 2004
オハイオ州の否、再度 (Oh no, not again!!!)
8:23 AM
Shit, Felicia and I have some explaining to do... in the morning. It's just too bad it already is morning.
Posted by rxu at 08:21 AM | Comments (0)
July 17, 2004
Back in the U.S.S.A.
Just flew in to Tokyo tonight (after flying to Beijing from Shenzhen). Long story - much too late to be telling it now, but I'm staying for a few days with Felicia ... at this posh 3-level apartment in the US Embassy compound. 3 bathrooms for 4 of us and a dryer even!!! Suripu desu... Zzzzz..
Posted by rxu at 03:34 AM | Comments (2)
July 14, 2004
Psuedorandom friends
7/14/2004 1:53:59 AM | Shenzhen University, Shenzhen, Guangdong Province, China
I found out today that I can't realistically go to Hong Kong, the shimmering island of gold just off the Shenzhen coastline. In retaliation for the United States' horrific new visa policies, China has introduced equally inane visa restrictions that prove conclusively that two Wongs don't make a right. My Chinese visa allows for one entry into China, already used to fly into Beijing. A brief foray into Hong Kong SAR (Specialy Administrative Region) now counts as one entry. This is highly upsetting as I was supposed to meet up with at least two people in Hong Kong, none of whom I know really well but one of whom might be my roommate soon. So I'm stuck in Shenzhen, where I know no one.
That is, until tonight, when I made some new friends in Shenzhen. I did it in my signature style - walking around asking for Internet access. The second person I ran into took me to his friend's dorm room. A quick webmail check turned into a 3 hour long conversation with two Shenzhen graduate students. We're suppose to hang out tomorrow. Now? Bed.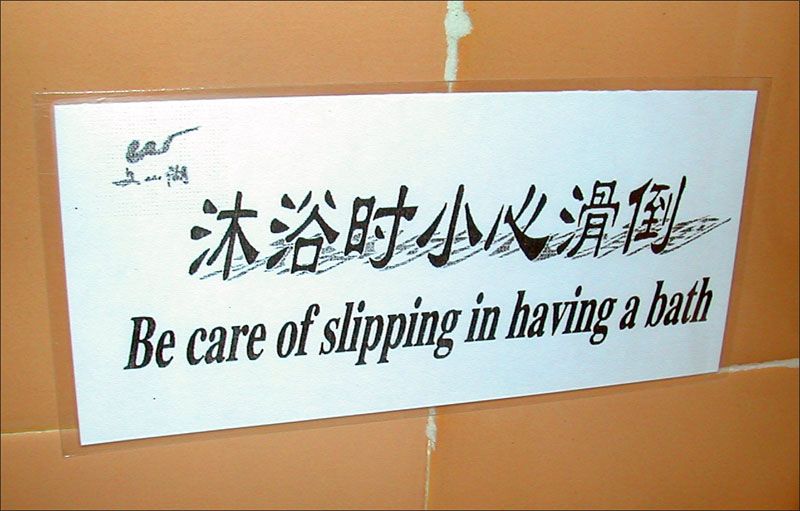 Also found in my hotel room.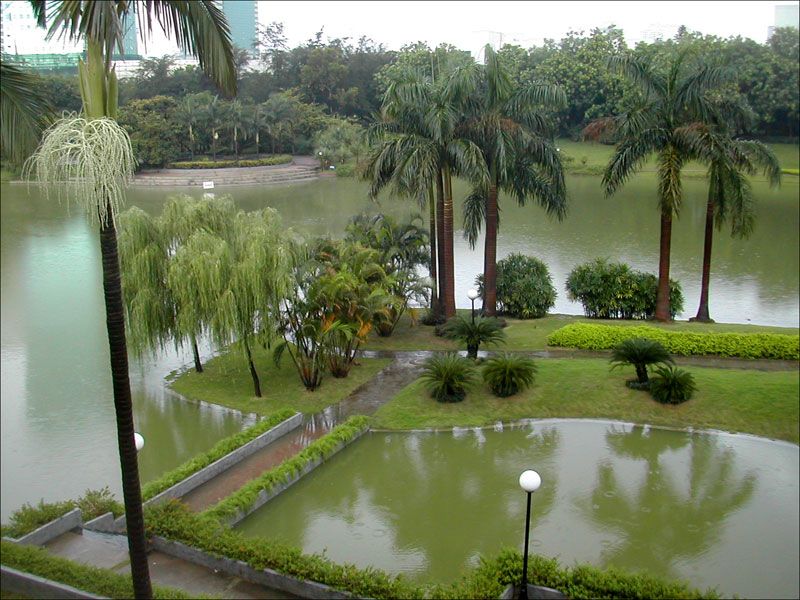 Found outside my hotel room.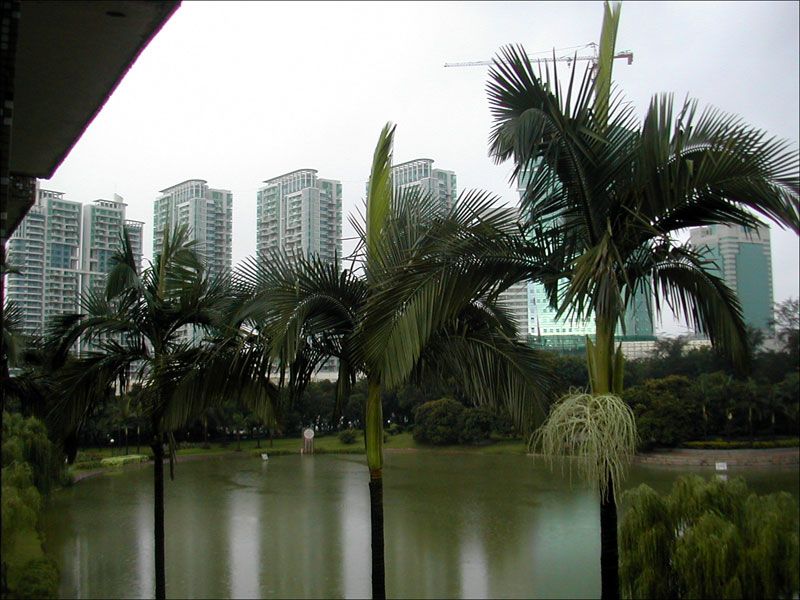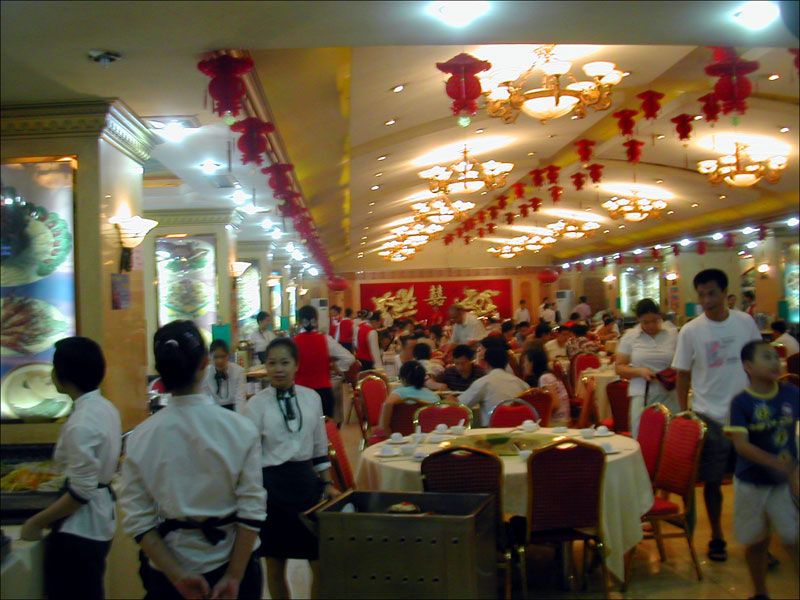 My first experience with authentic Guangdong dimsum.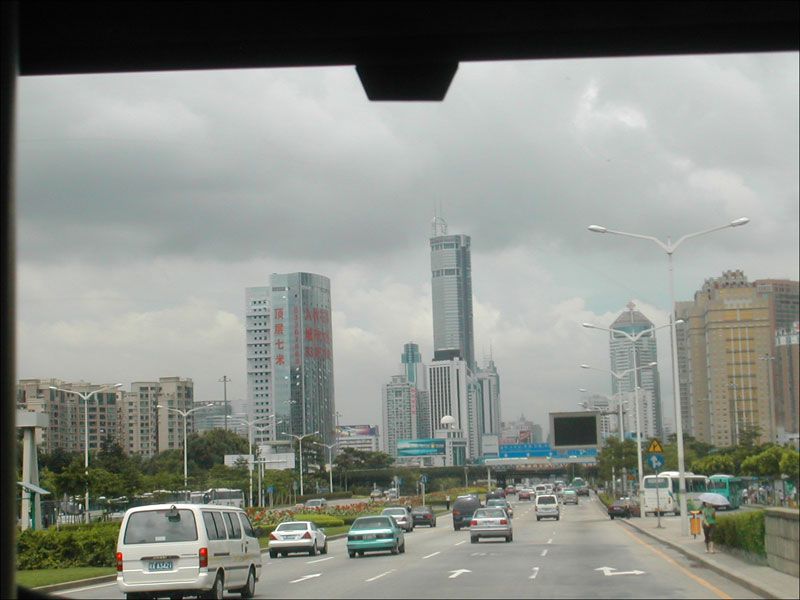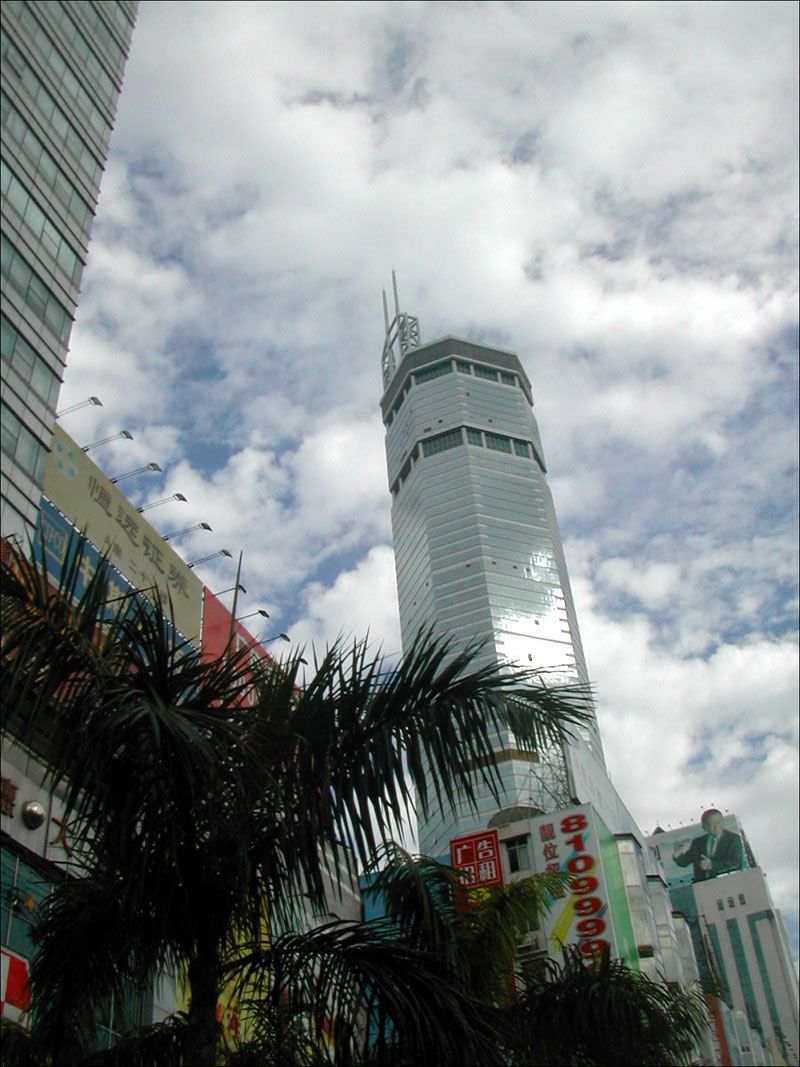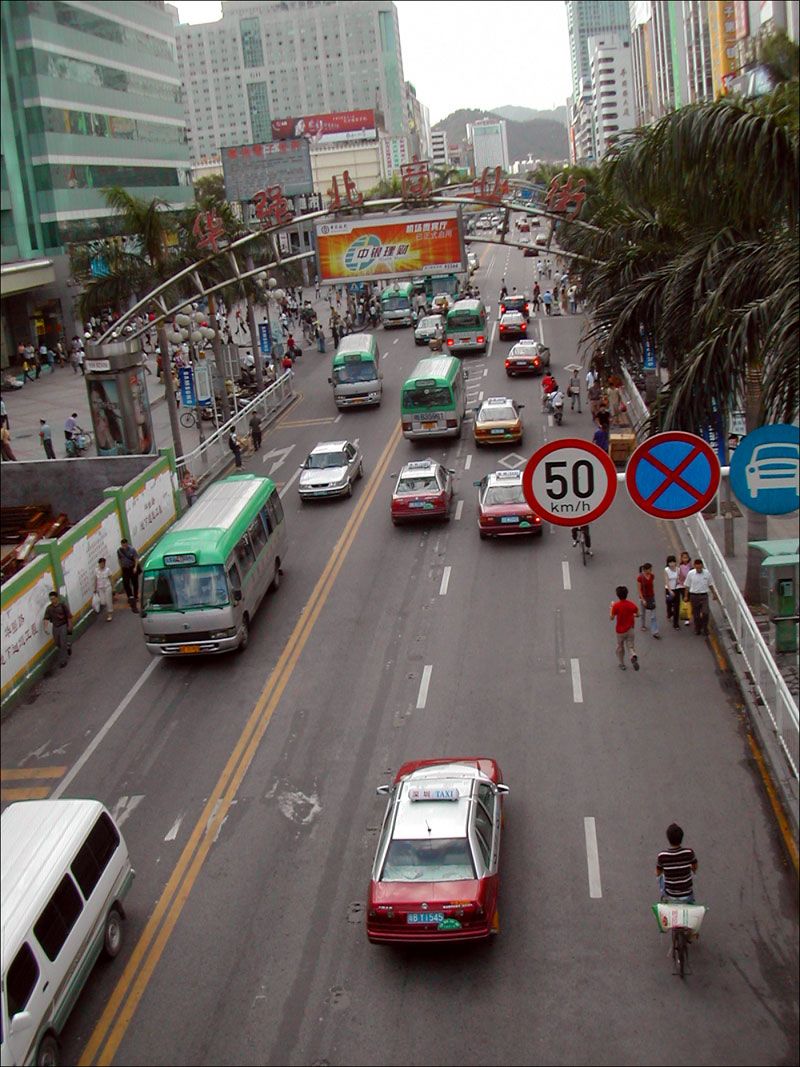 Posted by rxu at 11:12 AM | Comments (0)
July 13, 2004
All Apologies
I just realized that I put one of the blog directory in an inaccessible location, which made viewing past entries and commenting impossible. That problem has now been rectified and the person responsible for it shot.
Posted by rxu at 10:08 PM | Comments (0)
July 12, 2004
The Zhen of Globe-trotting
7/12/2004 10:20:36 PM | Shenzhen University Hostel, Shenzhen, Guangdong Province, China
I just flew in to Shenzhen tonight. Across a bay from Hong Kong, Shenzhen was a small fishing community about 20 years ago when my dad last visited. Today, it is China's most developed city. I could feel and smell (yes, smell) the difference when I landed at the airport, and then again when some people from Shenzhen University came to drive me. Shenzhen was the first bubble of capitalism in communist China, designated a special economic zone by Deng Xiaoping. Which is one of the reasons I need to sign off now. Everything, including modem-based Internet, is uber-expensive here (though still much better than the US).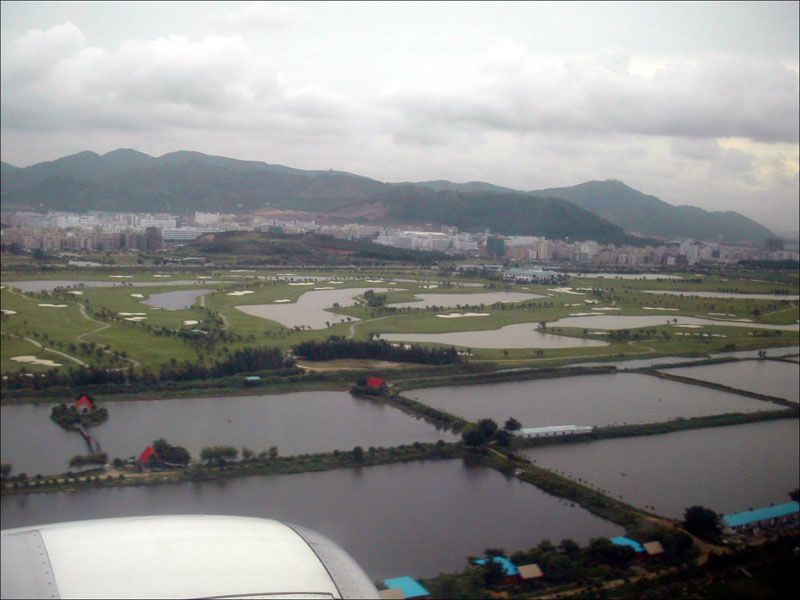 Posted by rxu at 11:27 PM | Comments (0)
Cornacopius Consumption
Tonight? Karaoke, Archery, Skeeball and having the bartender play some of my 'America' (actually British) CDs.
Left my camera in the car though...
Posted by rxu at 01:36 AM | Comments (0)
July 11, 2004
Who do I have to screw to get a dry martini around here?
That's actually been one of the more important questions on my mind for the past week. It's been hard enough for me just finding ice-cold beer - all Chinese except the younger generation usually drink their sodas and beers at room temperature. But a mixed drink? Imported vodka? Last night I mentioned this to 'Xiao Lin', a local boy with whom I've become friends with the past few days. It took a while for me to figure out how to say mixed drink in Chinese but as soon as he got the point, he insisted he take me out on the town that night. Up until then, the thought of isolated Dongying having anything remotely resembling a nightlife completely escaped me, other than the family-friendly square and night market. Xiao Lin's tour was exactly what I've been looking to see in small-town China: we started with a bar-hop through five bars, ate street-cooked lamb kebobs, went in to a midnight massage parlor but left after we suspected they put some kind of hallucinigenic drug in the drinks they served us, then wound up at one of Dongying's better dance clubs. Bikini-clad dancers, Chinese 'grass' cigarettes specially delivered from Beijing and finally - a freaking White Russian at a bar called the Casablanca: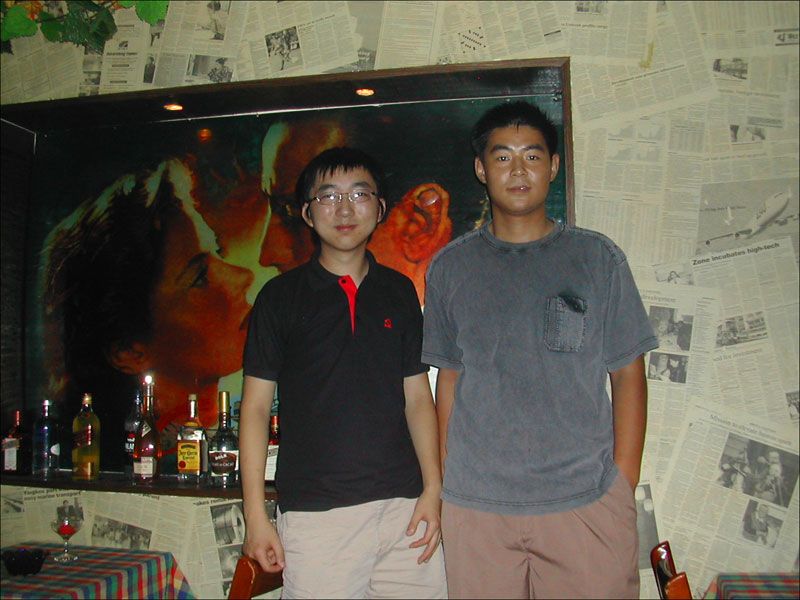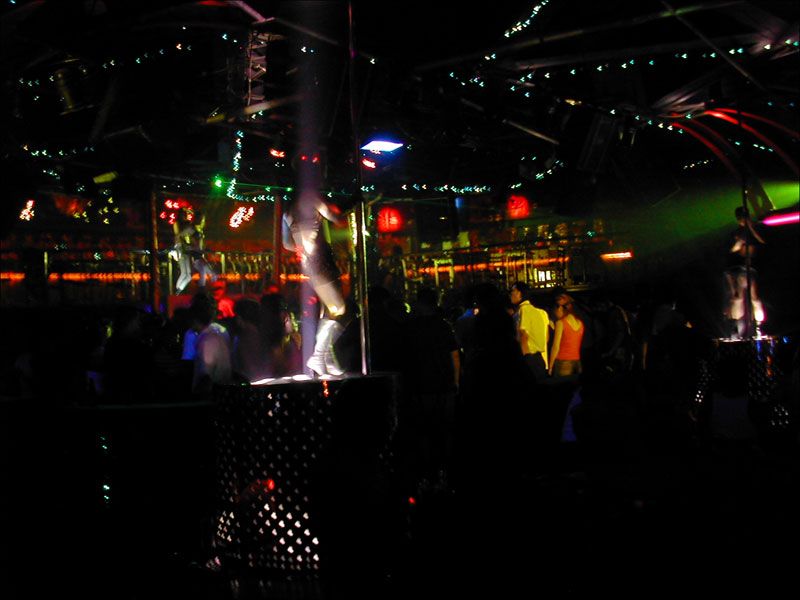 Posted by rxu at 11:43 AM | Comments (0)
Sex and the City with Friends
July 9th, 2004 | Jinan, Shandong Province, China
I spent the day in Jinan, one of Shandong's major cities and my birthplace. Like the rest of China, it is a city of obvious historical and economic contrasts. Every other time I've come here, I've always been with my parents and followed them around as they met up with their old classmates, the vanguard of the first professional generation to emerge from an open China. This time, I was fortunate enough to meet one of the children of that revolution (who incidentally is nicknamed Mao). She took me to the youthful center of an increasingly vibrant urban ecosystem. The result was that I finally found a place I felt comfortable getting a haircut at.
Another note. I had lunch with her at a Korean restaurant and we were talking about her academic and career plans. She's entering her last year of college, studying industrial design. It's a relatively artistic major - think designing furniture. She wants to work for a few years in Shanghai after college. Eventually, she hopes to go to graduate school in the US, but she's a little pessimistic about getting a visa these days. I realized I had a couple of very similar conversations previously. I would have immediately extended the same offer to her that I gave to Kristel but I didn't, on account of having extended the same offer to Kristel a few days earlier. I refer to the promise about the marriage of convenience where Kristel gets a green card and I get an open bar for my friends at the wedding. Though I'm heavily tempted to renege on that previous offer - she worked at a Japanese restaurant in Shanghai for a semester and is apparently an excellent cook...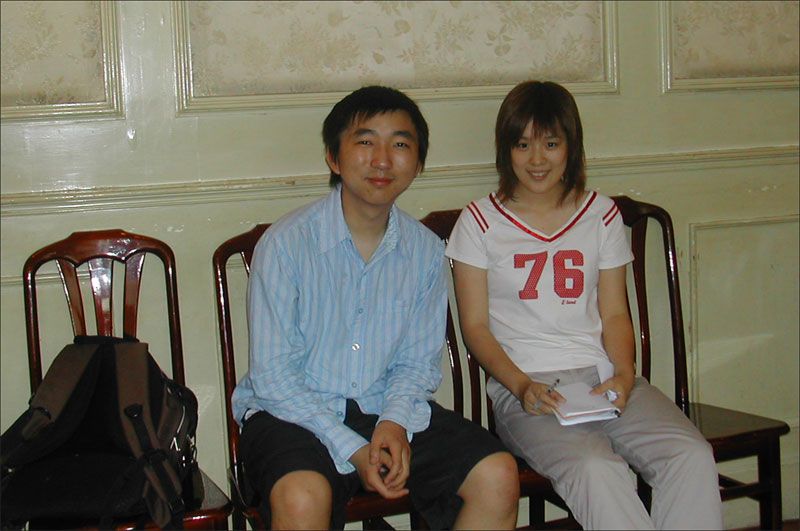 The Mao and I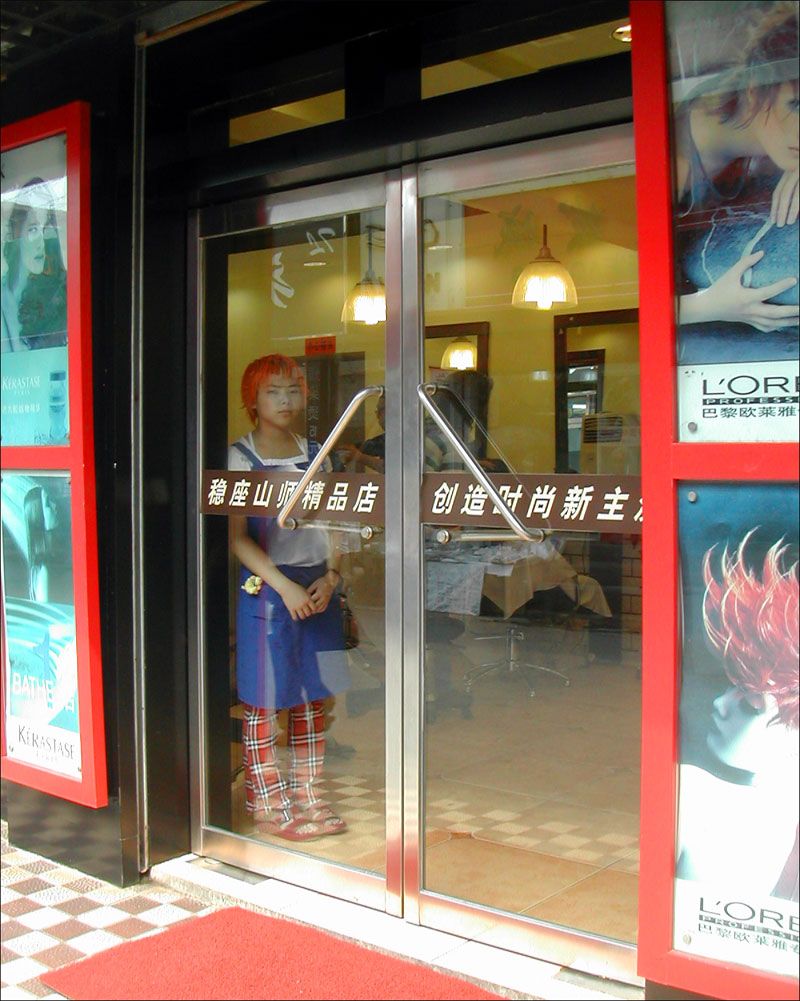 Sorry Kristel, no lunatic 'Indian haircut parlors' for this Chairman.

Posted by rxu at 01:51 AM | Comments (0)
July 10, 2004
How the Other 4/5 Live | Guested Around
I didn't have to drop the H[arvard]-bomb in Dongying. Luckily, my uncle managed to do it for me. He mentioned to a few of the major financial players in the city that his nephew had come from The America, fresh out of Hahvahd University and that he felt it would be a good idea to expose me to China's business world. For me, this resulted in two fancy dinner invitations from two of China's newly minted millionaires, one of which I attended the 7th and one on the 8th.
The 7th was a lesson in contrast for me - it began with a visit to the luxury apartment building under construction that will be my uncle's future home. One interesting item of note - each entryway has 3 garages. Personal ownership of automobiles is on the rise, much to the consternation of environmentalists everywhere. While exploring the garage, we chanced upon the makeshift beds of the laborers who work on the buildings (all migrant workers from rural China). The work is dangerous and the pay is little - but in a country with something like a 20% real unemployment rate and little social welfare, it is better than destitution. My dad was somewhat appalled, having been through similar hardship in his youth: "Unfathomable as this is to you, I've lived like this before." Still, it is 2004 and China is several orders of magnitude wealthier than it was then. I'll show you where all the money has gone in a little bit.





Newly built luxury apartments.




A shopping complex? under construction.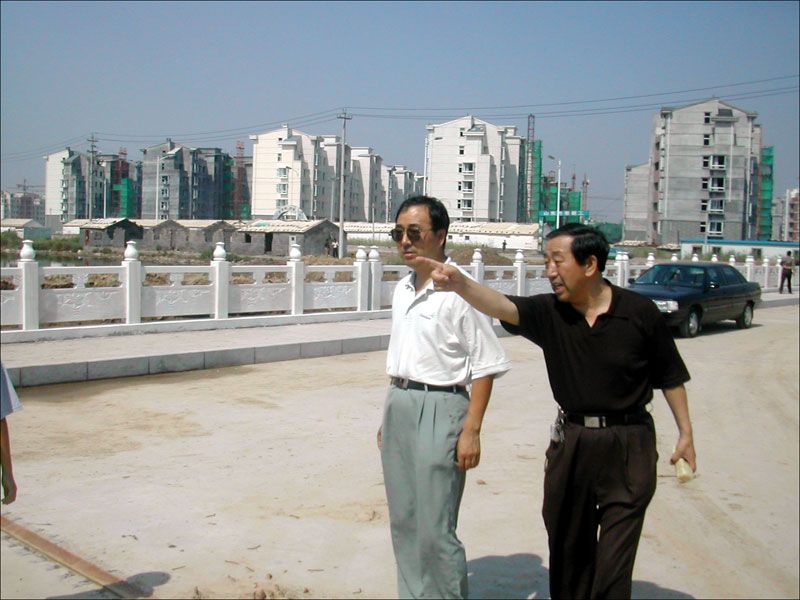 My uncle points out his building to my father, standing on the bridge that crosses the moat the surrounds the complex.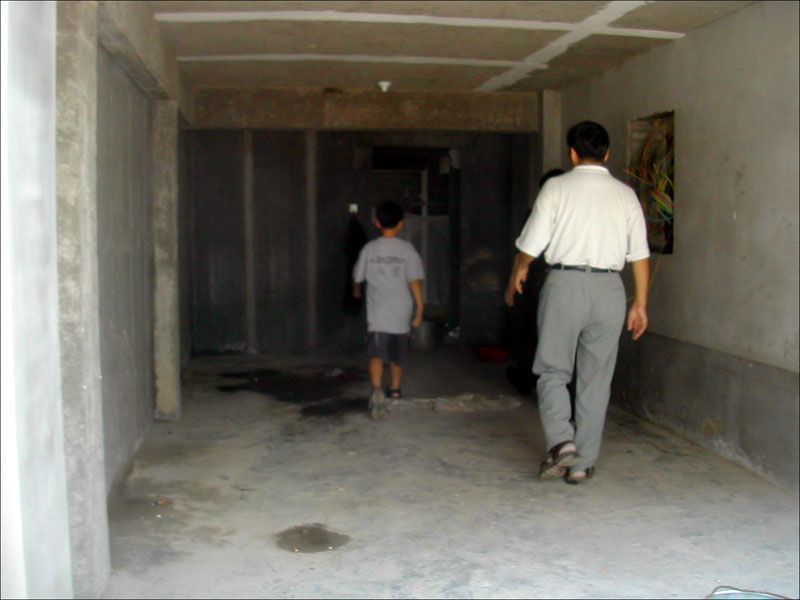 We check out the garage where we chance upon...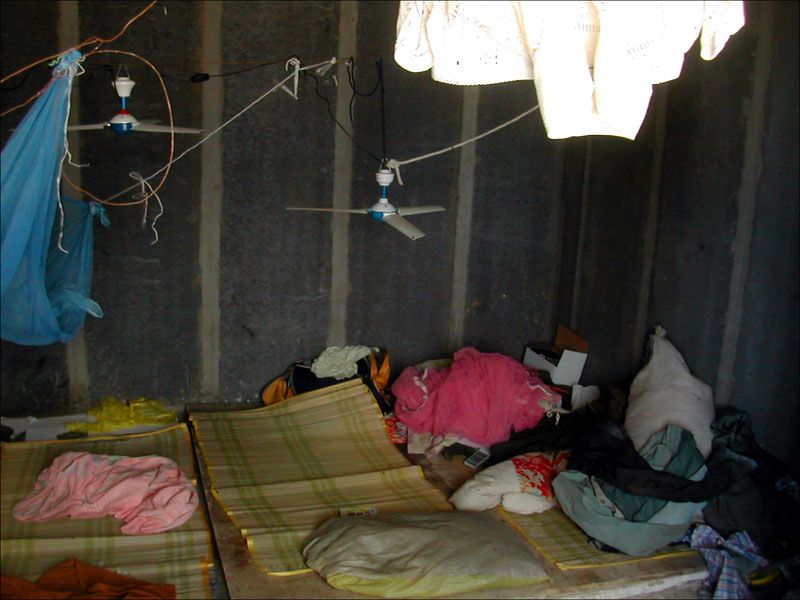 Makeshift beds on concrete.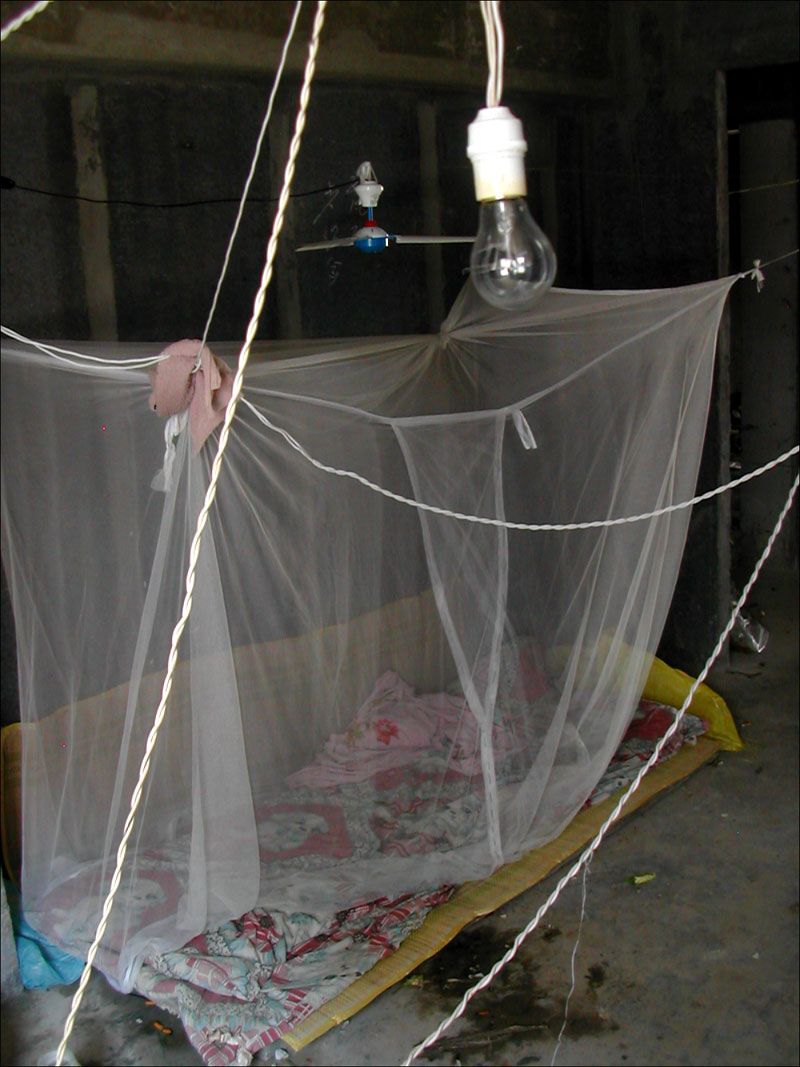 Mosquito nets.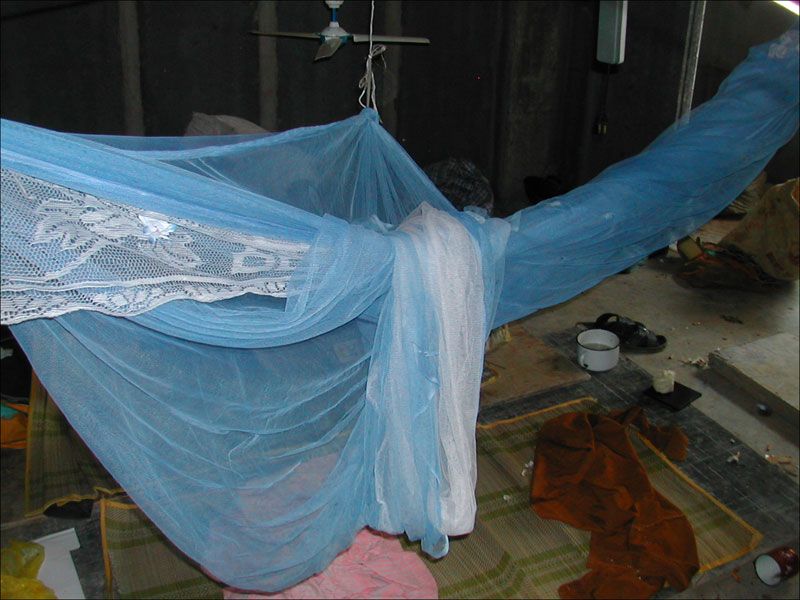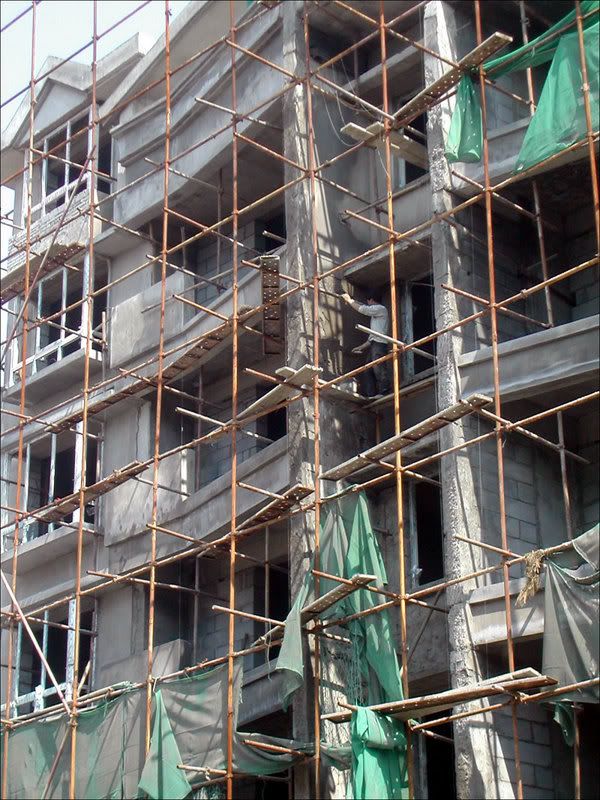 A dangerous and thankless job.




A worker fresh from a delivery of supplies.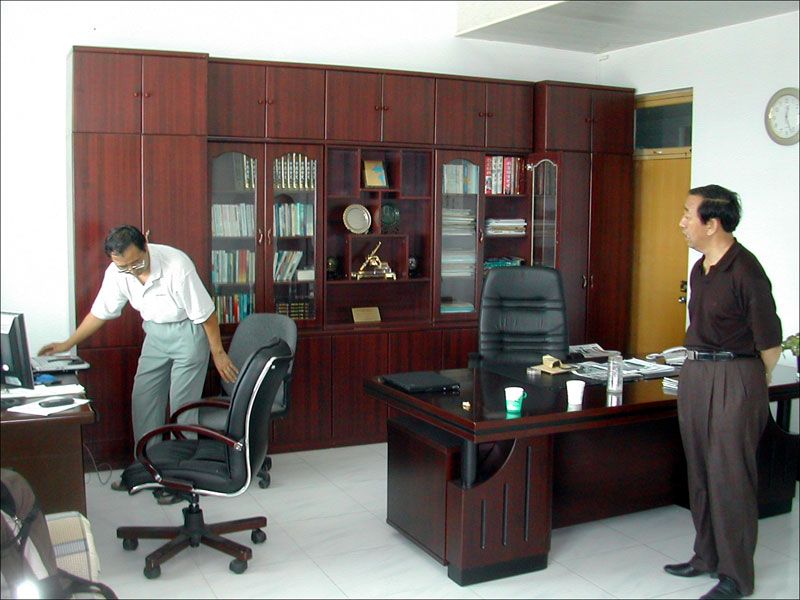 By contrast, my uncle's office.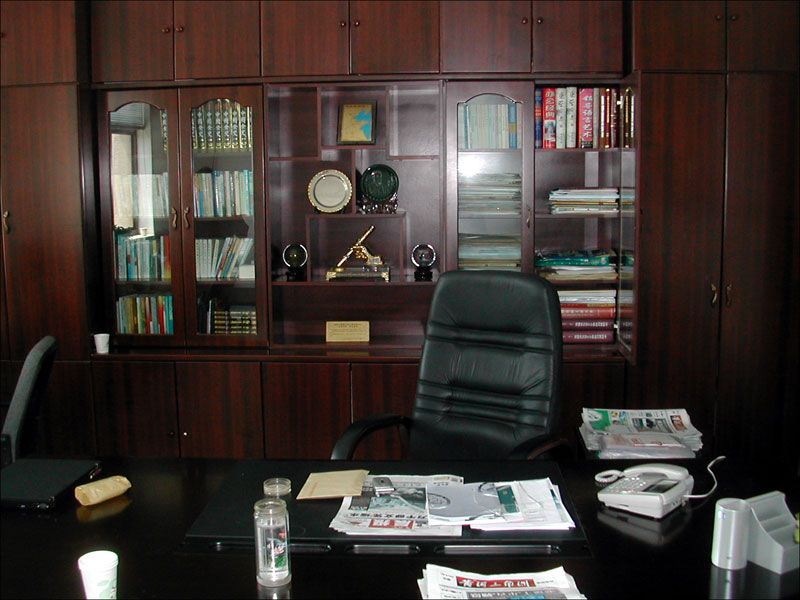 Oh, the toils of an underpaid public servant.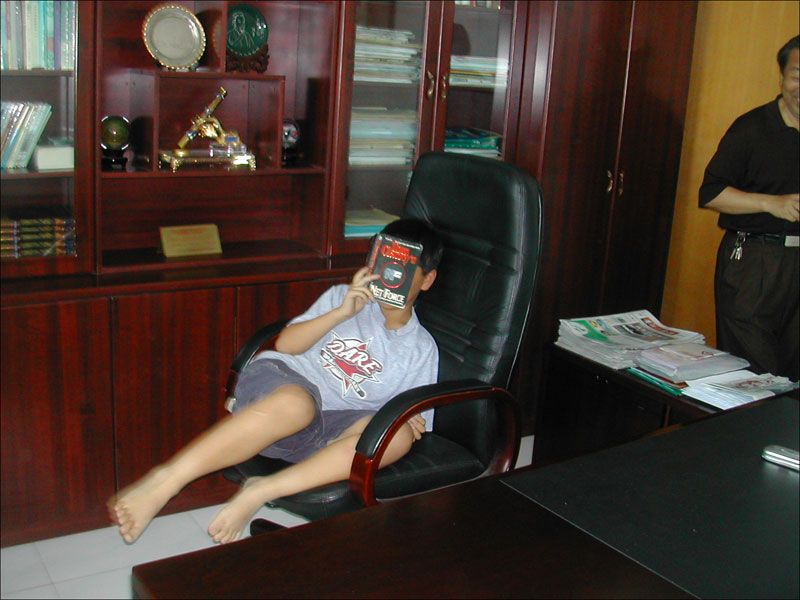 Work! Work! Work!



It was a fitting way to start a day that would conclude with a meeting and a dinner with someone who is incidentally from my dad's old rural middle school. He's the sole owner of a large holding company with hundreds of millions RMB worth of investments in factories and real estate throughout China. He met in his company's headquarters and then traveled in a set of luxury cars to a restaurant which, among other things, boasted floor-mounted replicas of the Terracotta soldiers in Xi'an.





Company headquarters, with the boss in the blue shirt.




The boss's henchmen.




The corporate brand.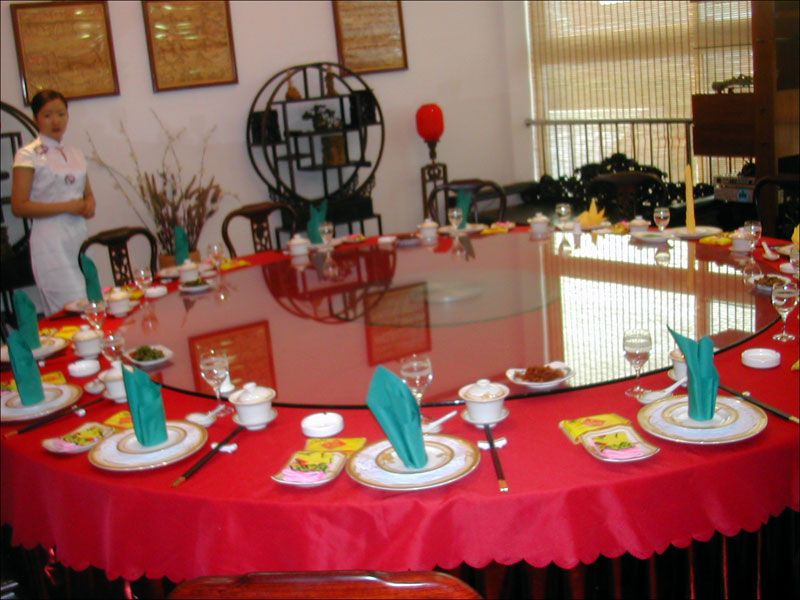 Women, wine and song (see the karoke equipment?).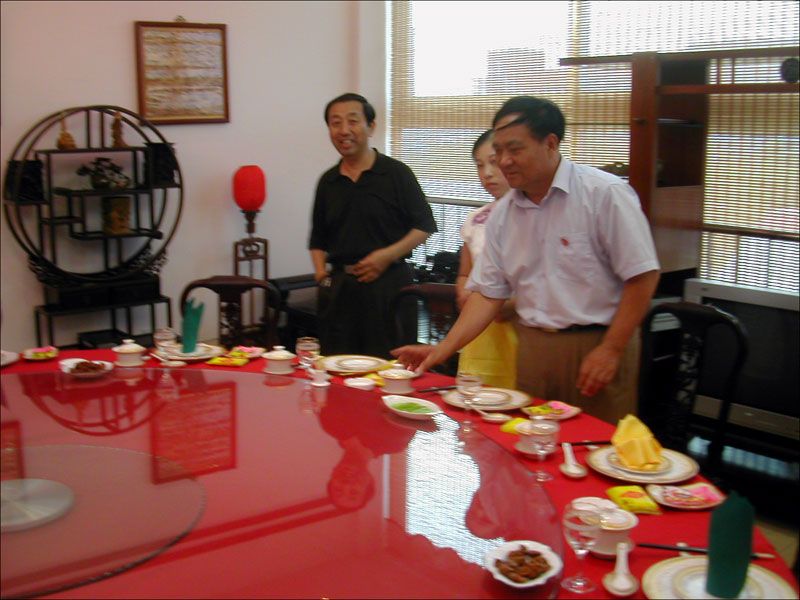 Our host takes his formal seat.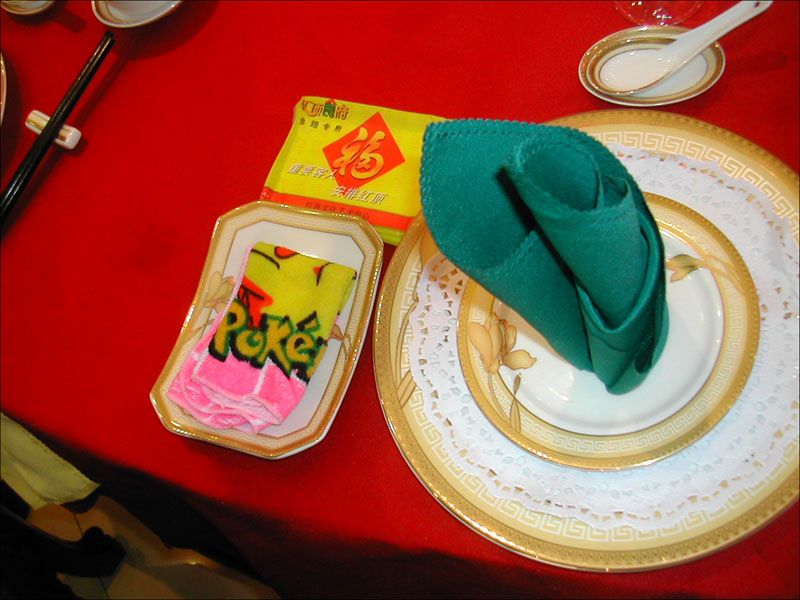 Um...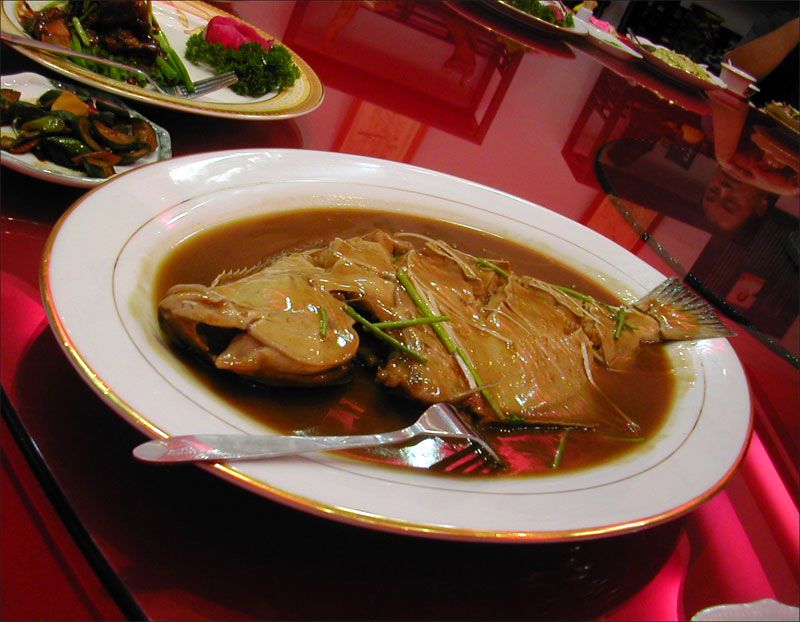 One of the night's specialties.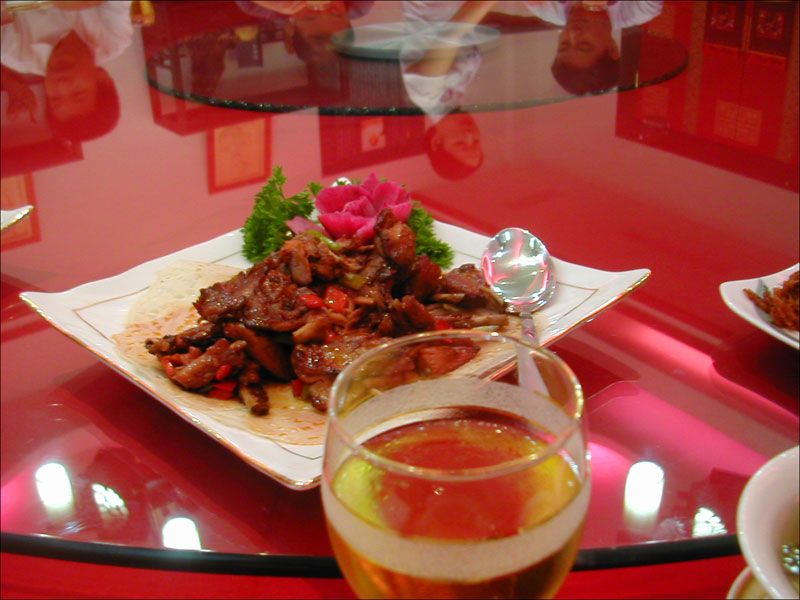 Another local delicacy.



The next day, another local millionaire showed me around his office - a temporary structure from which he is directing the construction of an entire resort and corporate complex. He currently runs a software outsourcing operation that he plans to expand to 5,000 employees. He was very excited when my uncle mentioned my interest in technology, and he insisted he host us for dinner. For the record, both my uncle and I were very happy to oblige him in this request: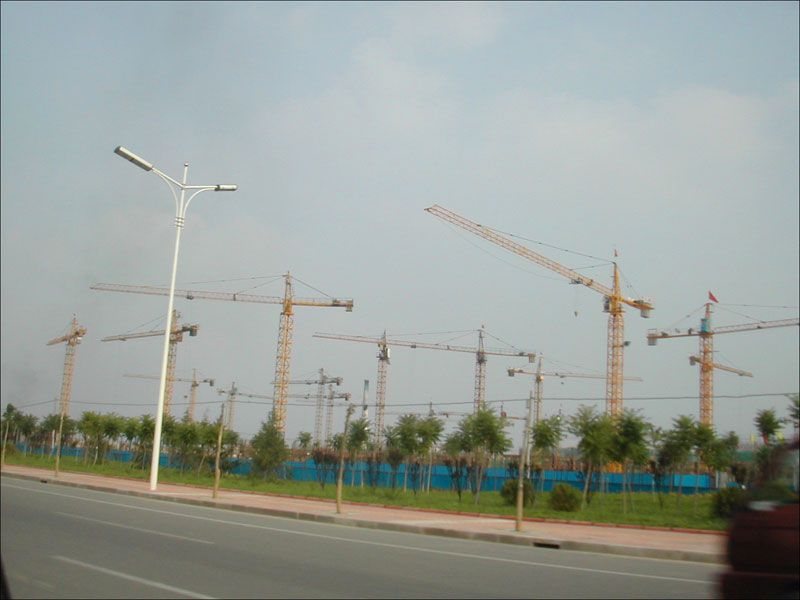 Just one of Dongying's many massive contruction projects.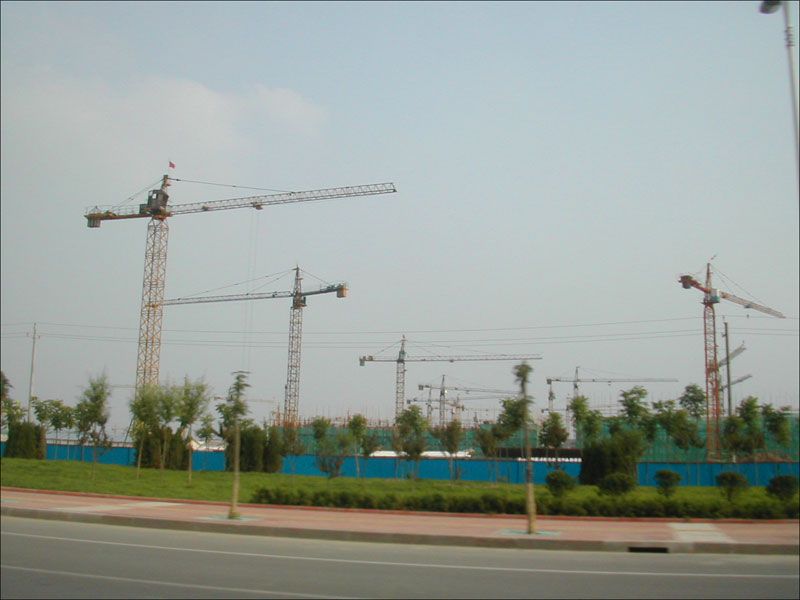 Another part of the same field.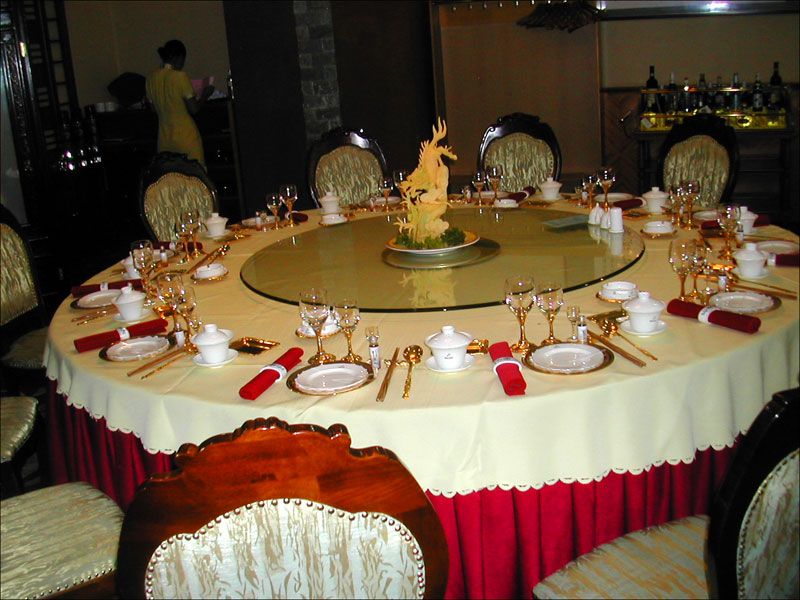 I love arriving early to see tables get set up in fancy restaurants. This is supposedly one of Dongying's finest.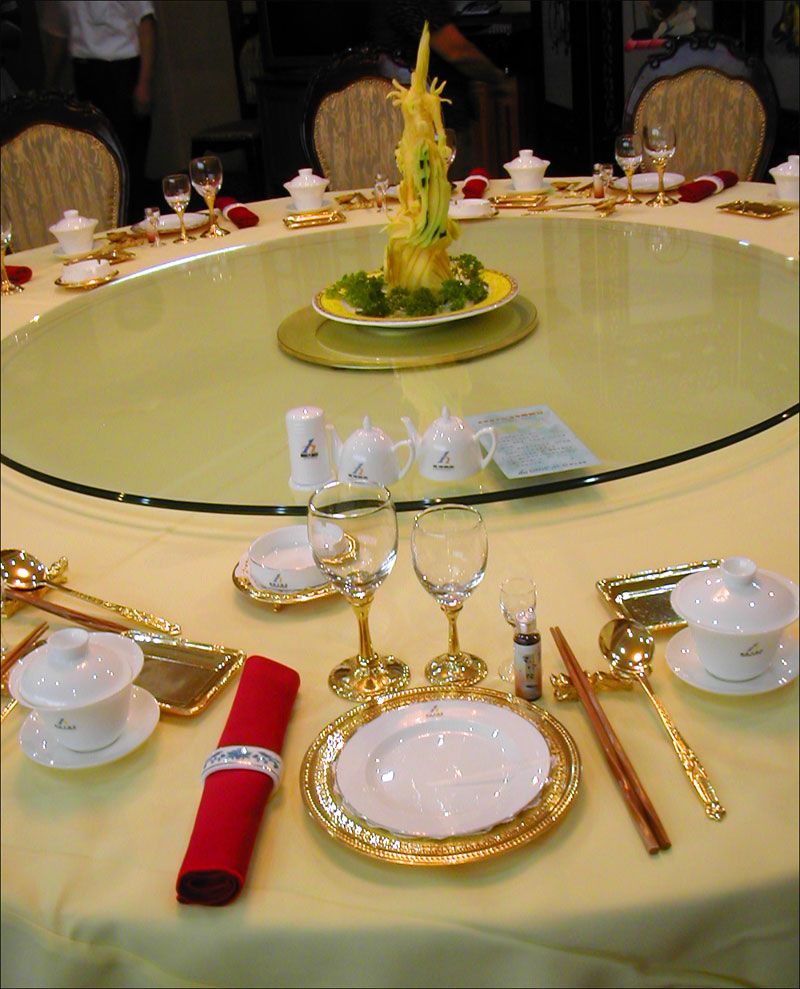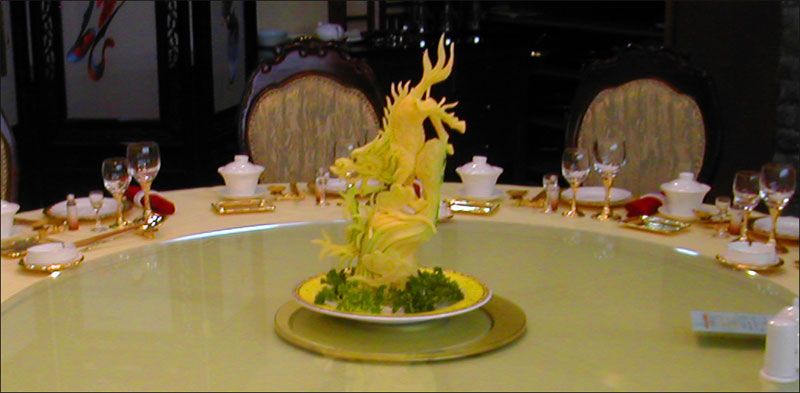 Yes, that is a dragon carved out of some sort of cucumber.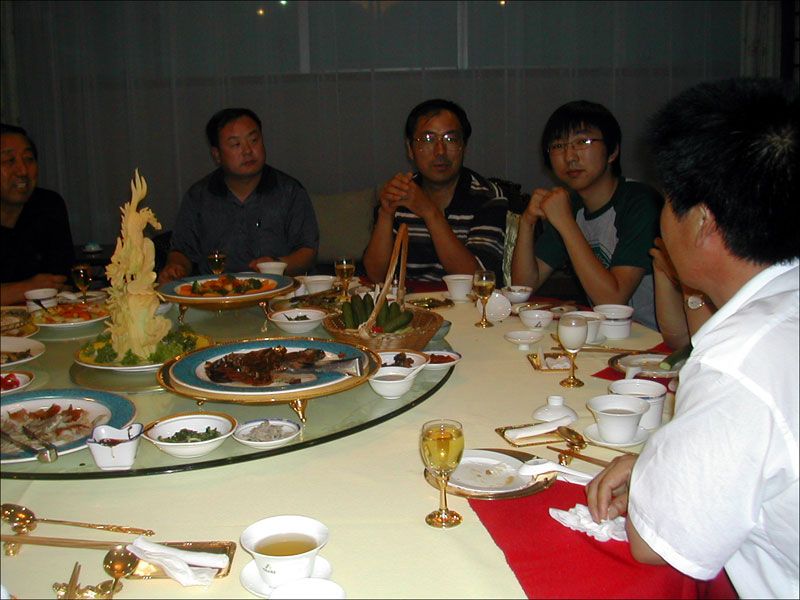 The greasy haired youth straight from the Kremlin on the Charles. To my dad's right is the millionaire.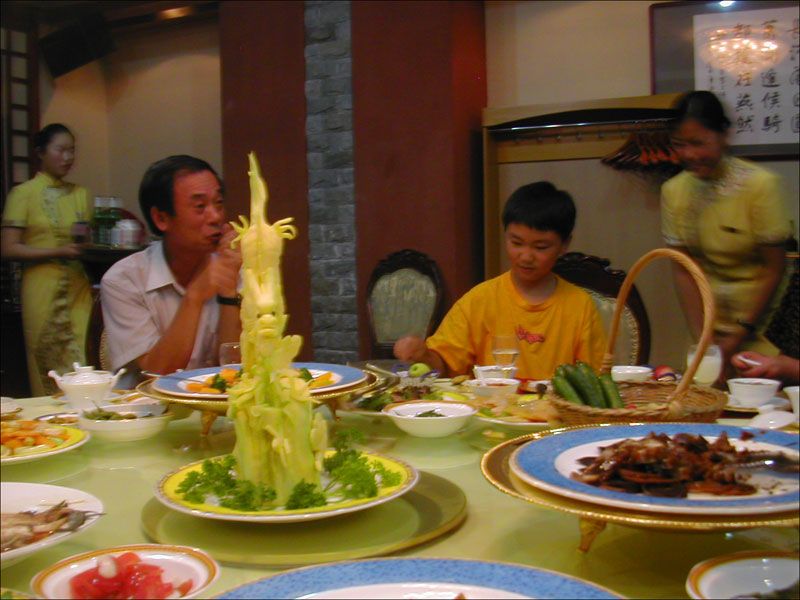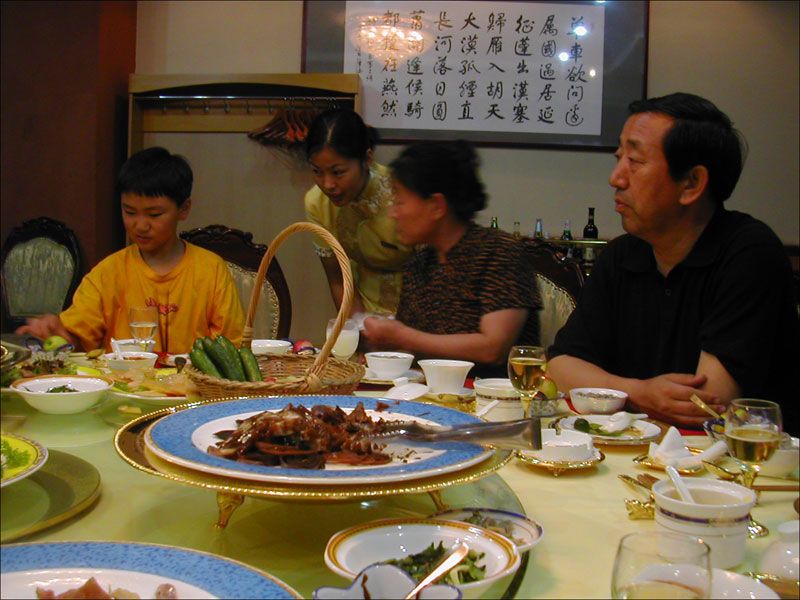 My brother enjoys being waited on hand and foot by the two very attractive young ladies assigned to us.




Fresh fruit!!! Not that fruit isn't fresh here, but I usually worry about their cleanliness.

Posted by rxu at 12:37 AM | Comments (0)
July 09, 2004
Blood for Oil
7/6/2004 10:06:53 PM | Dongying, Shandong Province, China
Currently in Dongying in Shangdong province at the house of my er4-da4-ye5 (er4 is Chinese for 2, da4-ye5 refers to him being my uncle on my father's side - he's the 2nd oldest of my dad's brothers). He's an official in the municipal government, of some seniority but a relatively modest - though comfortable - income. Dongying is a city of approximately 300,000 people, which makes it a relatively small city for China. In a country where an overwhelming majority of the money is still concentrated in large urban centers, Dongying is the exception: a wealthy home to China's second largest oil reserves.
The difference between Dongying and Binzhou is the difference between night and day. Incidentally, the nighttime is when that difference becomes obvious to the casual visitor. It is then that Dongying's wide, uncrowded avenues ignite up with their densely-spaced designer streetlamps - creating a golden crescendo of light that leads up to a main city square which houses the courthouse, the Party headquarters and Dongying City Hall, a massive 20-ish story structure that really shines at night. These summer nights, the square is filled with people - dancing, singing and the occasional lovers making out (PDA is still frowned on in Chinese society - most couples do it off on one of the more secluded paths that lead out from the square):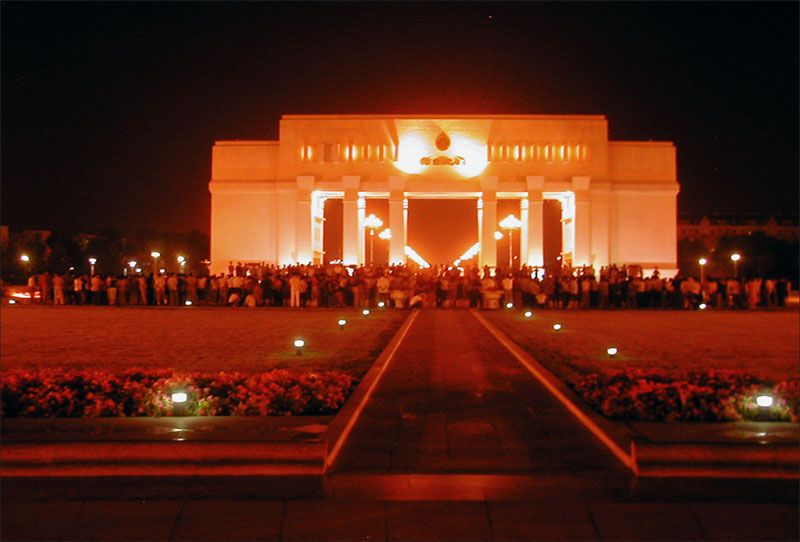 The main 'gate' to the square, and the path of lights that lead to it.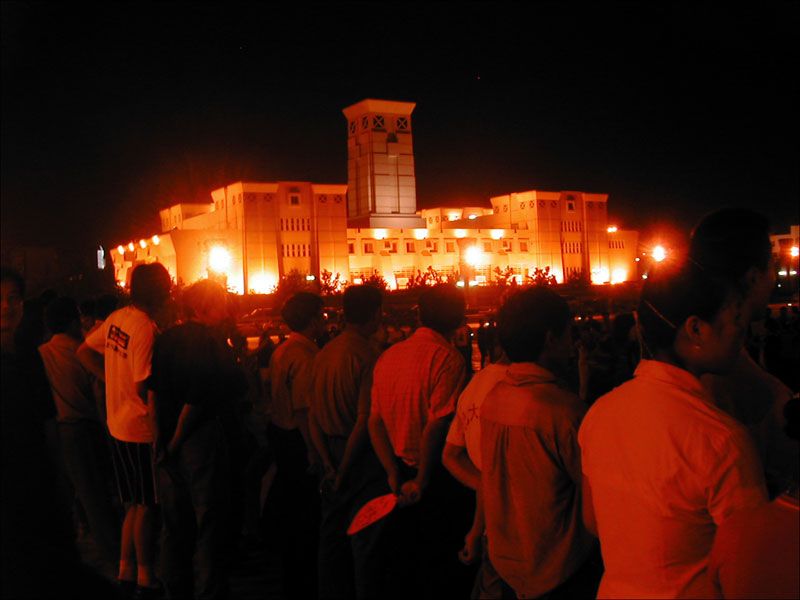 People gather at the square - the town courthouse is in the background.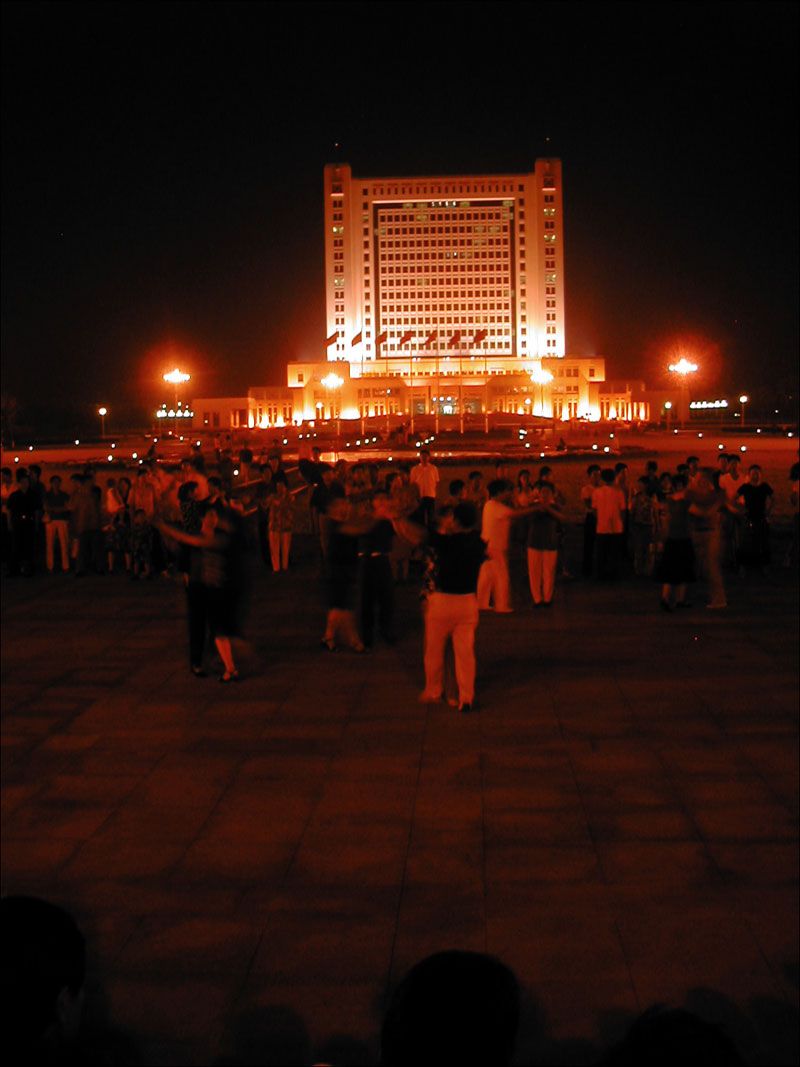 Couples dancing in another part of the square to the backdrop of the government offices.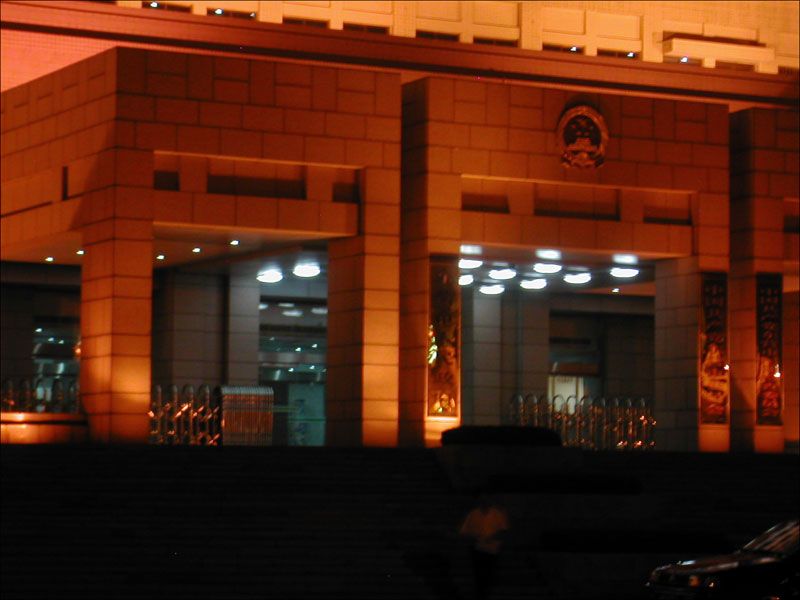 Electronic gates in front of the offices, supposedly to keep out protestors.


To one side of the square, a path leads to a bustling night market. To another, there is a path to the river, with a well-lit walkway along the banks on one side and luxury 2-story houses on the other side.

Luxury houses line one side of the extremely scenic river path.


All of this development is funded primarily by the Shengli oil field. According to my uncle, oil revenues equal approximately 50 billion RMB, or about 12-13 billion USD (The fixed exchanged rate with the US Dollar means that the RMB is currently undervalued. Good currency buying tip - it will not be this undervalued for very much longer.) About 10 billion RMB goes to the federal and provincial government, 3 billion RMB to the city government and 10 billion RMB is cost. The rest is reaped by the citizens of the city, albeit in accordance with a rather inequal distribution structure. And because Chinese save a lot, this wealth has resulted in investment companies that are offsprings of Dongying's oil. These have borne Dongying's new breed of millionaires (in USD). I will write more about my experience being 'guested around' by them in my next entry. For some reason or another, being a Harvard graduate means one gets to do these things (or at least my uncle seems to think so).
Posted by rxu at 11:33 PM | Comments (0)
That's Randy Xu to you, Google-bot
Before I head to bed, a few last pictures from Binzhou before I start with the ones from Dongying, where I've been since the 6th. It's 12:34am already and I have to get up early to go visit Ji-nan, where I was born.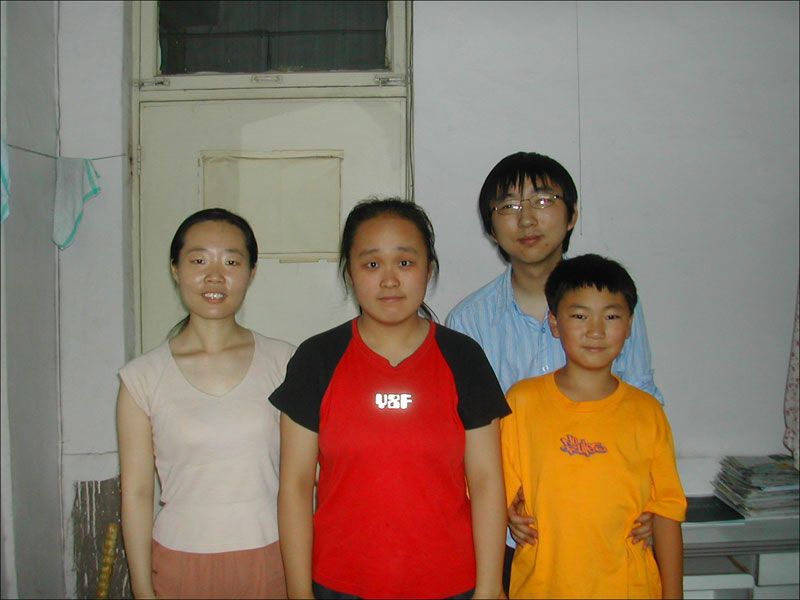 Me, my brother, and my cousins.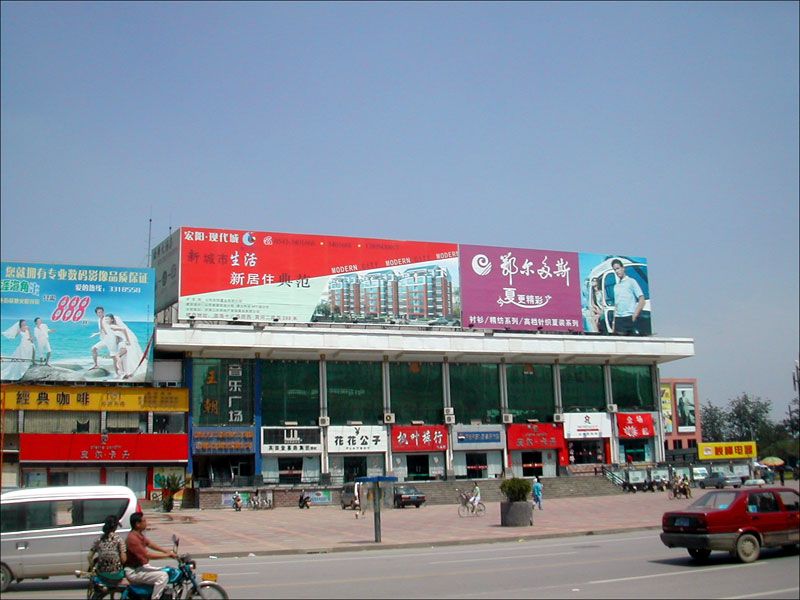 The commercial district of Binzhou.


Posted by rxu at 01:41 AM | Comments (1)
Grandpa and Grandma
We ate a very modest meal on July 6th, my last day in Binzhou. My mom has three siblings. One has a mental illness, but the other two joined us along with their spouses, their children and my lao-ye (grandfather on my mother's side).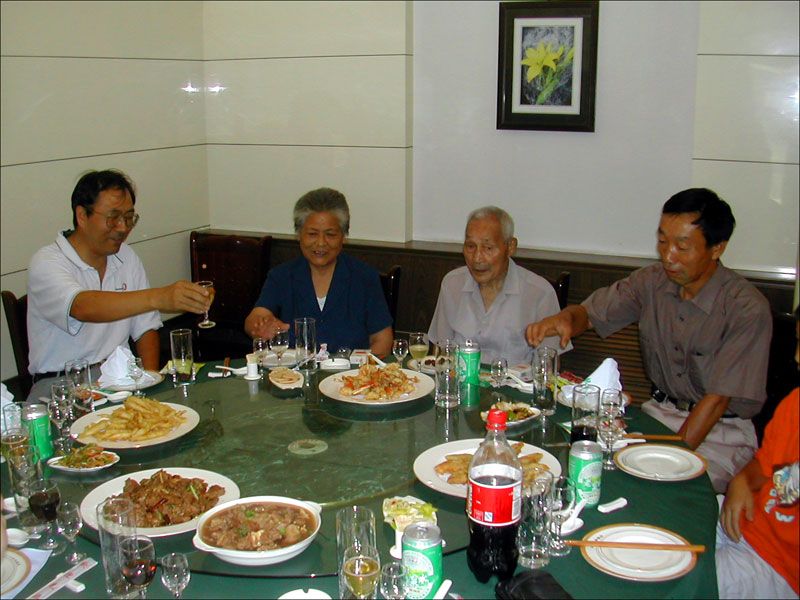 After lunch, we headed off for my father's family and my nai-nai (grandmother on father's side) in Dongying city, about one hour east of Binzhou. Along the way, we stopped at a crematory to perform an ancient Chinese tradition for my lao-nian (grandmother on my mother's side). She died after I came to the US:


My dad and my xiao-jiu (my mother's younger brother) prepare the offerings.





My dad goes to retrieve his mother-in-law's representation.





My grandmother was a party member, hence the flag.





A Buddhist tradition.


Posted by rxu at 12:56 AM | Comments (0)
Beautiful black lungs
I realized that my little brother had never seen real coal before July 5th, 2004. That's when he asked me what the big black mound was that lay near the middle of the yard that houses my grandfather's apartment (if I forgot to mention this earlier, he's moving into a new one later this year and the entire yard will be torn down for a new development - probably a shopping center of some sort). Coal has a vital history in China - it is among China's most abundant natural resources, the source of many of its industrial deaths (miners) and also the source of some 90% of its electricity. The coal that my brother chanced upon powers the plant that provides hot water and heat to the yard... it is as delapidated as everything else in sight: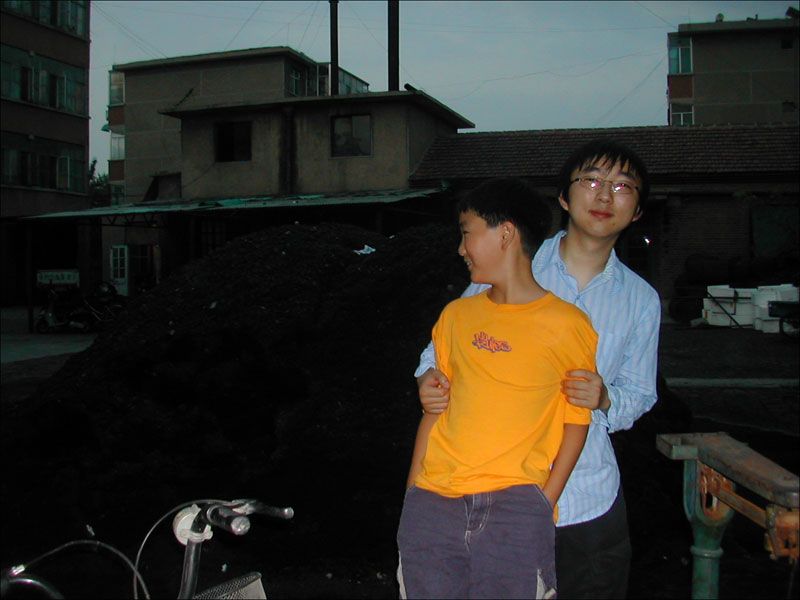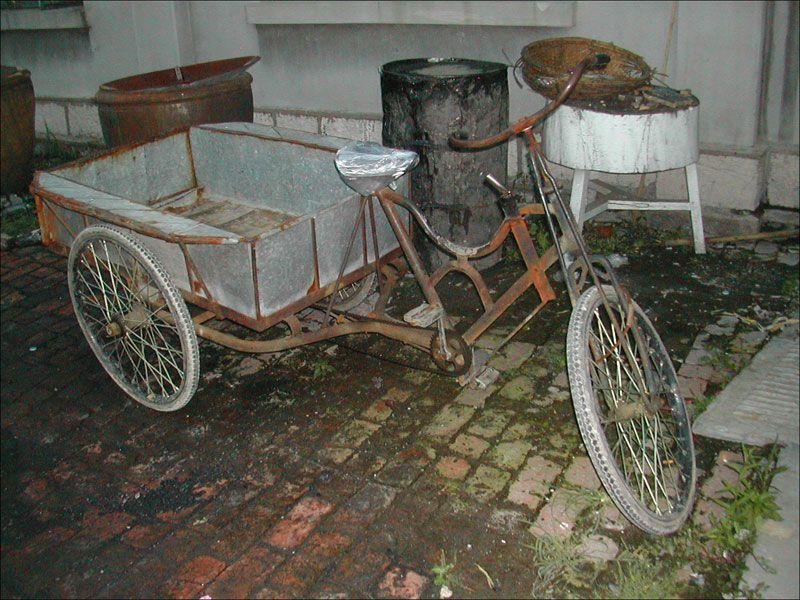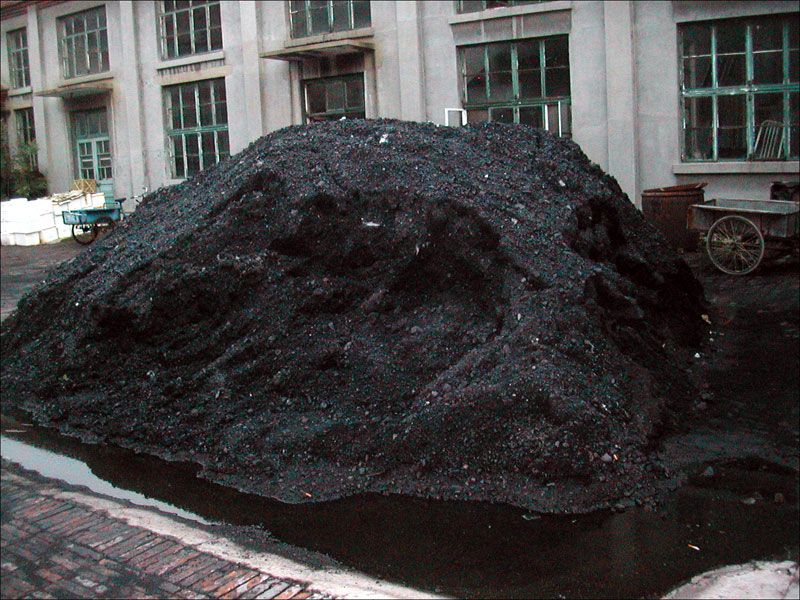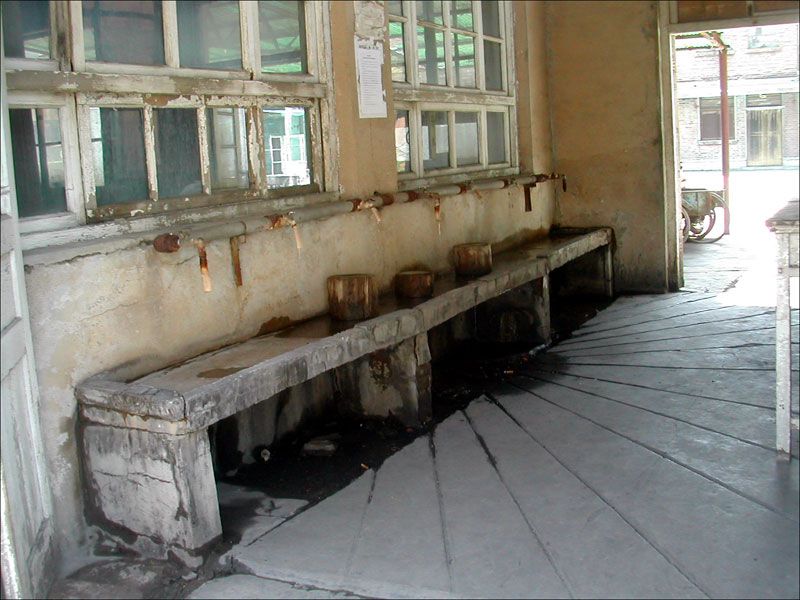 Posted by rxu at 12:35 AM | Comments (0)
Elementary my dear
7/5/2004 2:20:45 PM | Binzhou, Shangdong Province, China
I'm sitting in the staircase of a Chinese middle school in Binzhou. This is probably the middle school I would have attended if I had stayed in China. Greenish floors - deplapidated public facilities - I question if anything had changed much since I left the country 15 years ago.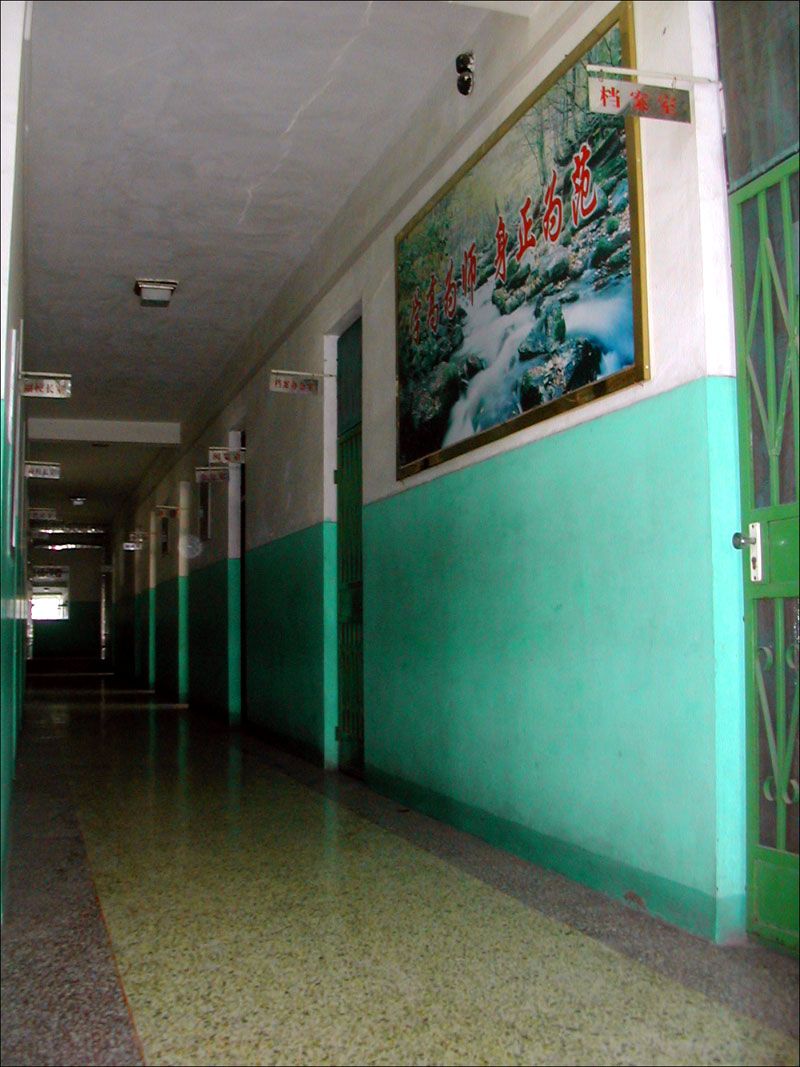 ... a few minutes later ...
Now sitting down in some kind of electronics store as my cousins and I escaping the heat outside on our way to visit my old elementary school. There's something very surreal about this experience, visiting the places I grew up with. It's almost the same thoughts I felt while visiting the accident scene back home. I keep on wondering 'what if', and ponder over the small changes in fate that would have trapped me here. I keep having to remind myself that my father, a poor peasant boy from rural China, was in fact one of the first students to be able to study abroad. That he did this because the Vietnam War did end, Americans voted for that crook Nixon who visited Mao who ultimately did die who was succeeded by the Gang of Four who succumbed to Deng Xiaoping who opened up the country before crushing the student demonstrators at Tianmen on June 4th, 1989. Luckily, I left the country in January of 1989.
And now for the elementary school: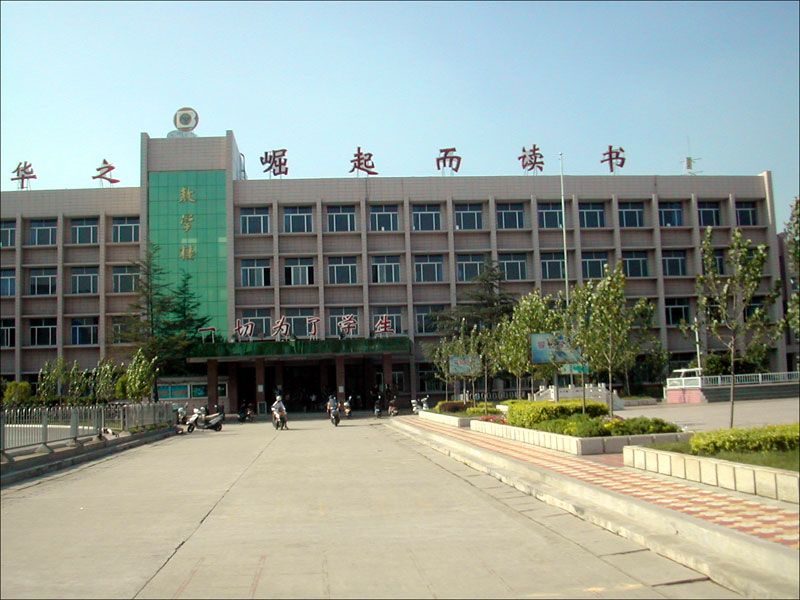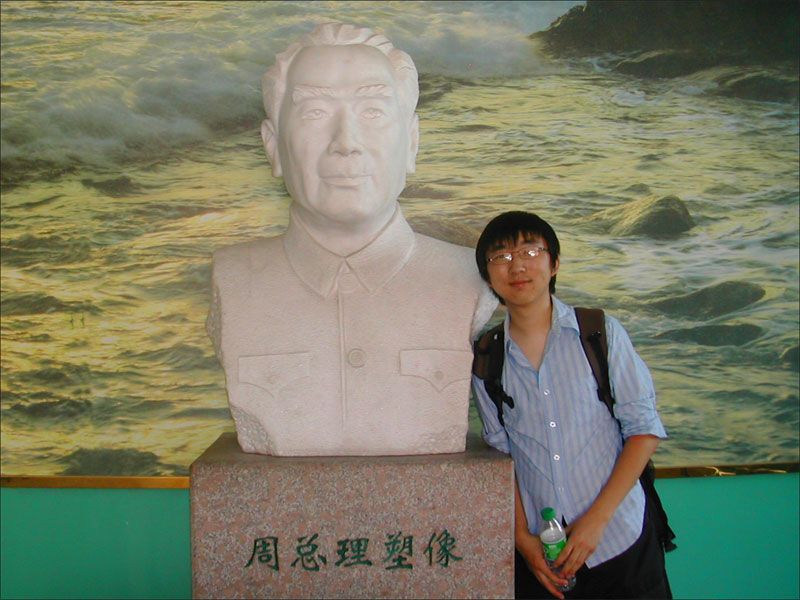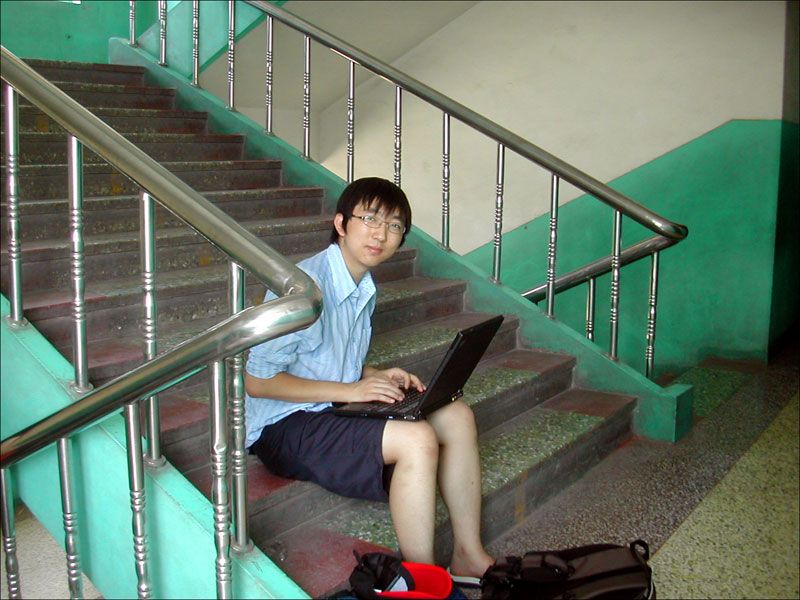 Posted by rxu at 12:28 AM | Comments (0)
July 08, 2004
Flashback
My mom's family lives in Binzhou, in Shangdong Province - south of Beijing. According to the Shangdong government's website, Binzhou has a population of 555,756 but this figure is misleading. In china, the city's population also includes outlying rural areas - in the US, they would not even be counted as being part of the metropolitan area. The actual urban city has approximately 100,000-150,000 people I think. Binzhou, like the rest of China, is a place caught between the past and the future. It's not that there is no present - only that people are so concerned with improving their economic lives tomorrow that the present is only an ephemeral investment. The future is the grand goal of becoming a developed country - everywhere I go people are very much aware of this goal of catching up with the US and the West. Everywhere I go people ask how things are in America, whether I've seen this in America, or whether Americans think this or that particular way. My response is always approximately the same -Americans have no common beliefs except that every individual can have their own beliefs. That's the one great ideal of the modern West. We don't always live up to it, but we do at least accept it. And everywhere I go, the educated Chinese always have approximately the same response: "Of course, I understand what you say. And of course, there are numerous problems with China and in the long-run it's much better to do things as you do in the West, but you have to consider China's society and history. It won't work." In part, it's a Catch-22; surely, change will never happen as long as people think like that. However, I do accept some of their points - change is difficult, perhaps too difficult. America's still imperfect respect for diversity was forged through hundreds of years of bigotry, bloodshed and political wranglings. But the US have always been a country of different people and different individual ideals. We have crafted a system so that different groups can at least fight out their differences peacefully, with some historical exceptions. China has never enjoyed the same diversity and unfortunately, has had 2000 years of rather successful authoritarian rule (at least for the leader). For the majority of Chinese, many of the attributes of culture are rather static by now - relationships between friends and family members, food, art, etc…
Binzhou is not a poor city, nor is it wealthy. Its economic development seems slower than that of the country as a whole. Even so, it is still a completely different city than when I left fifteen years ago - there is a whole new section of town with what the locals would consider to be luxury apartments. By contrast, the complex my grandfather lives in has not changed at all from fifteen years ago - it was the last place I lived before I left for the states. From what I remember, it was average then and even more dilapidated now: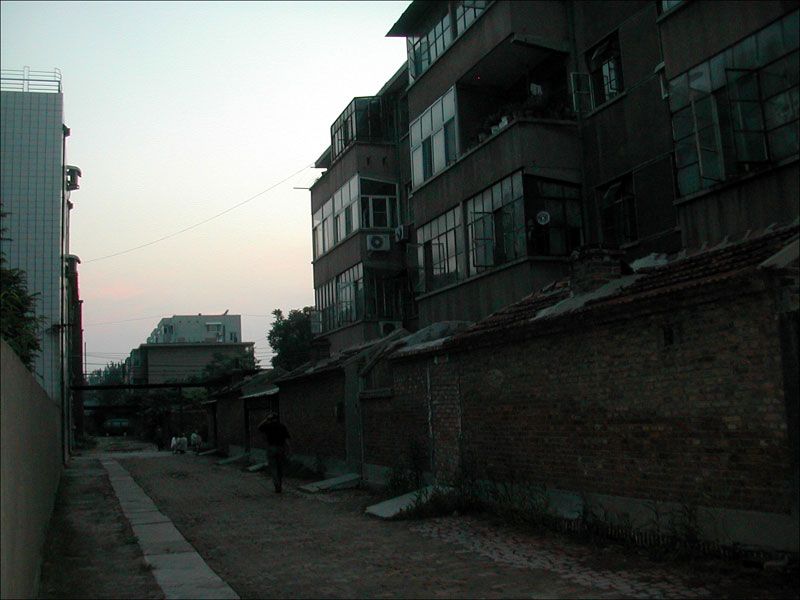 My grandfather is what we might think of as a 'true believer' in Maoism - self-sacrificing to the last. He fought as a guerilla against the Japanese in the desperate combat that gripped China during World War II, with enough distinction to earn him a place as a county administrator. He never really used his position to advance himself or his children, in stark contrast to the way things are usually done in this country. By all counts, in fact, he was a horrible father who neglected his children. Some may call this integrity, but I think that would be going too far. I think of it as a form of extreme stubbornness. He was stripped of his position and made to sweep streets during the upheaval of the Cultural Revolution, yet he still holds dear to the key tenants of Maoism. Though perhaps this is not the case anymore - he is, after all, eighty-two: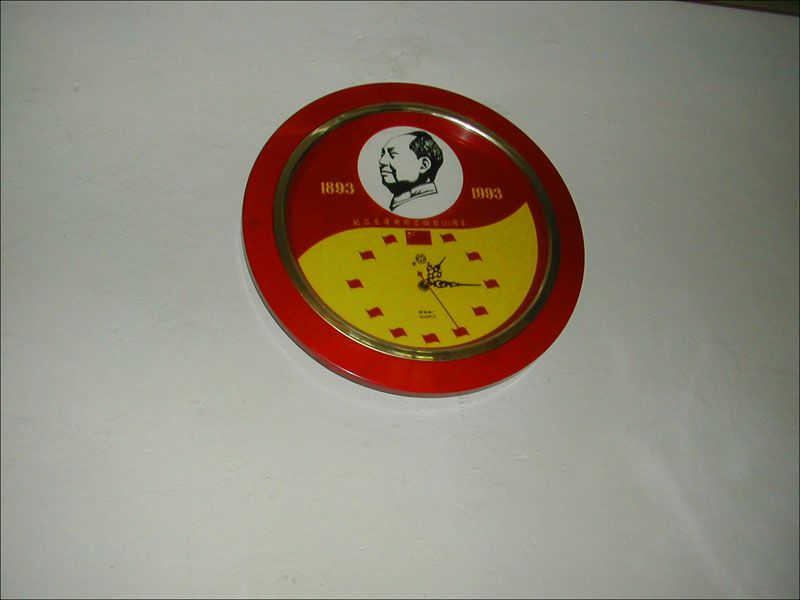 This was the place I spent some part of my childhood in: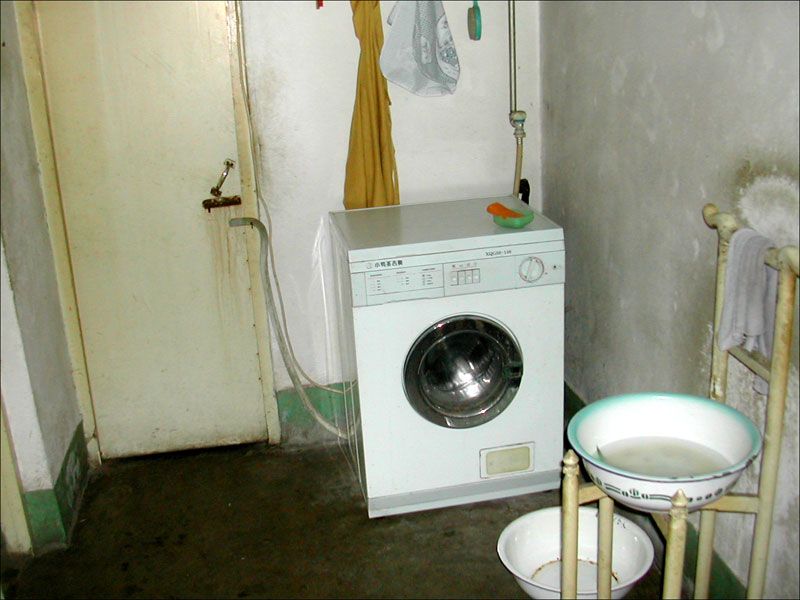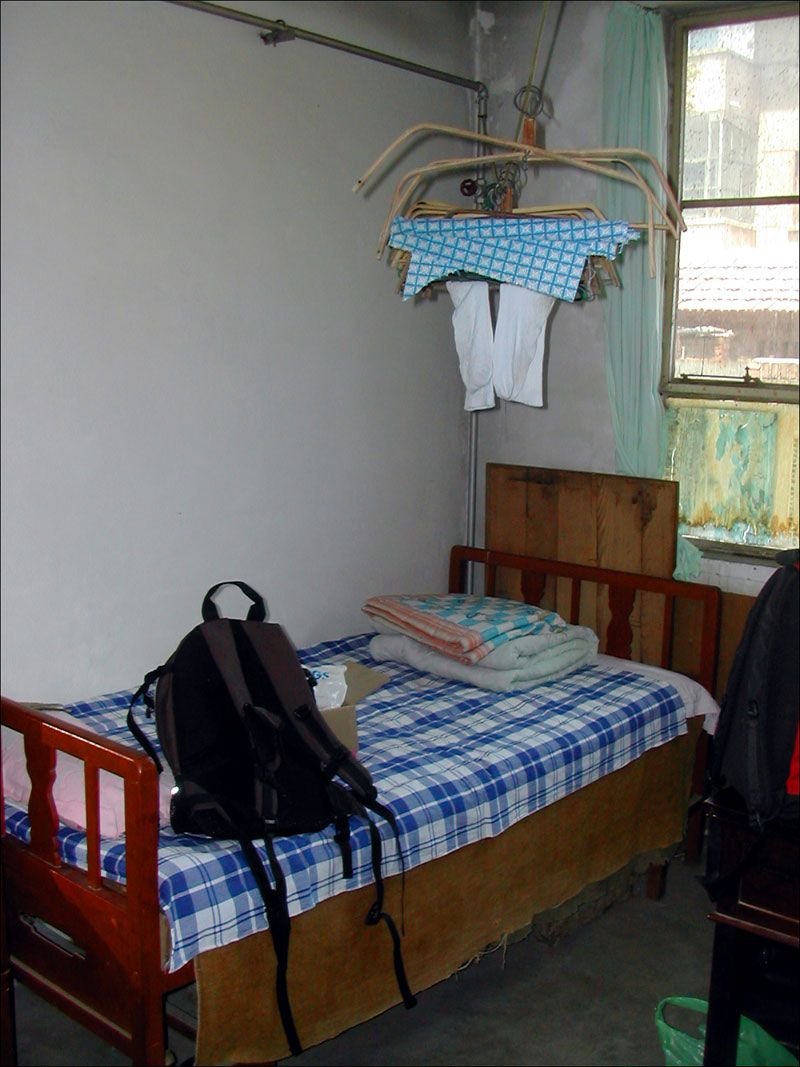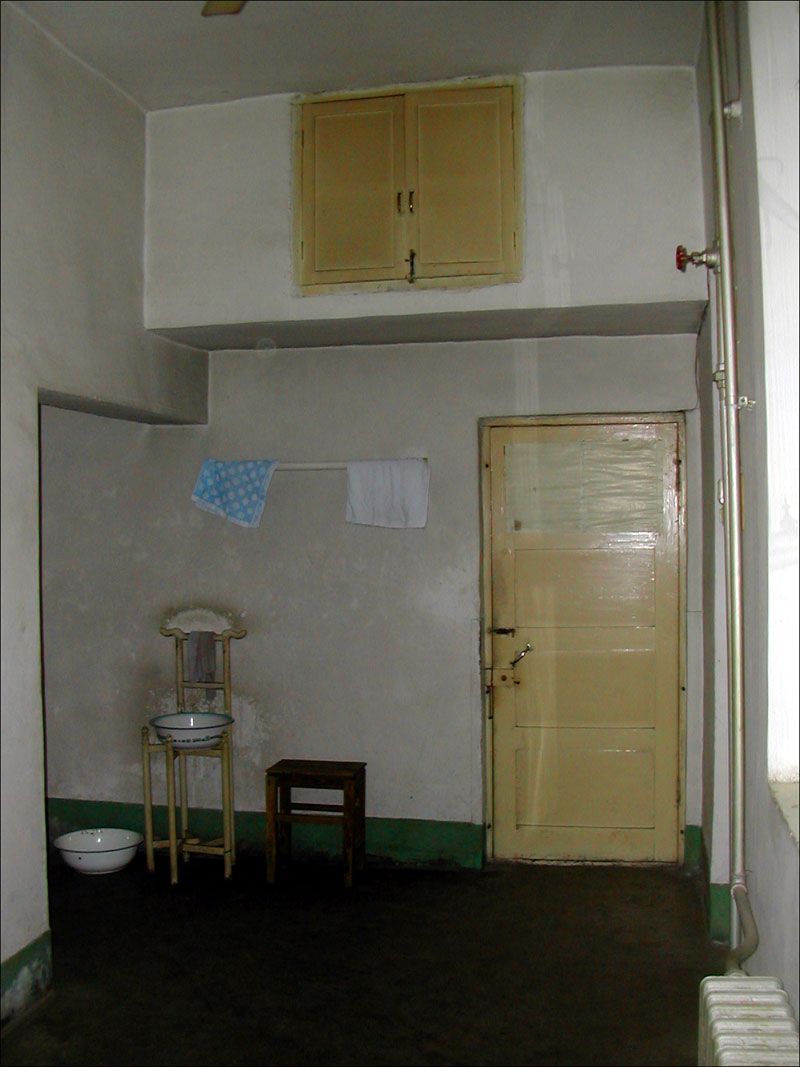 Posted by rxu at 03:08 PM | Comments (0)
Roadtrip!
I spent the rest of the 4th of July on a 5-hour drive from Beijing to the home of my mom's family, Bin Zhou. I present to you, Shangdong Province. Check back in a few days for comments: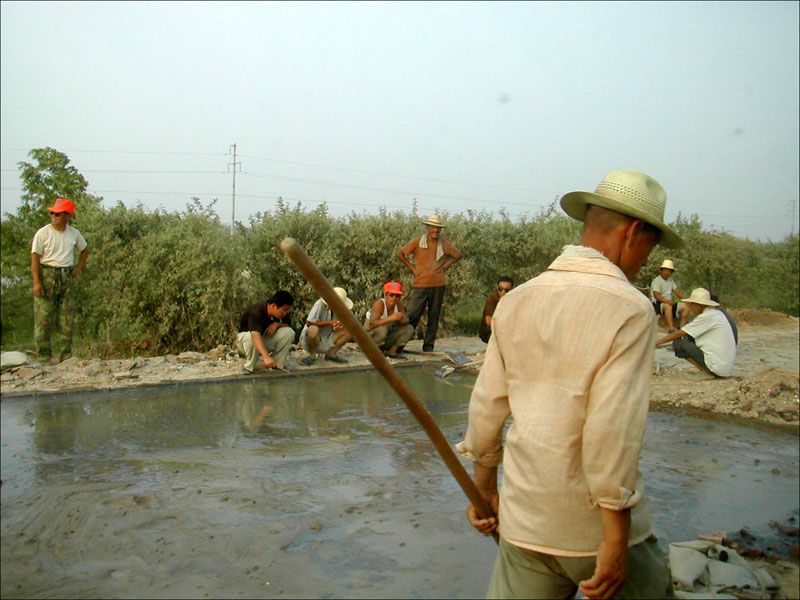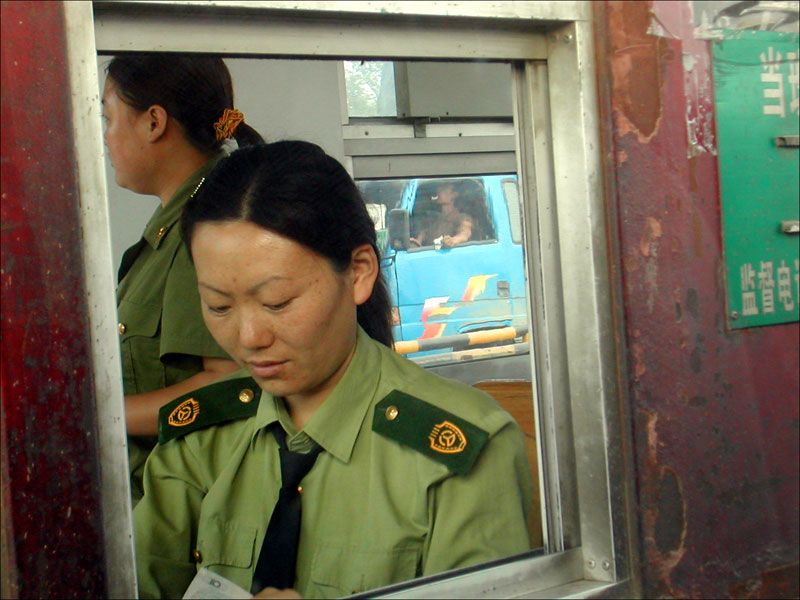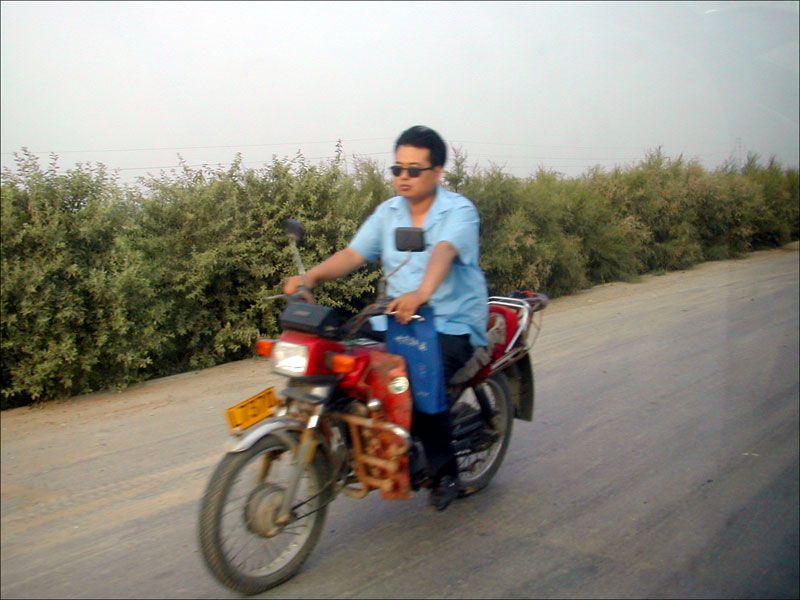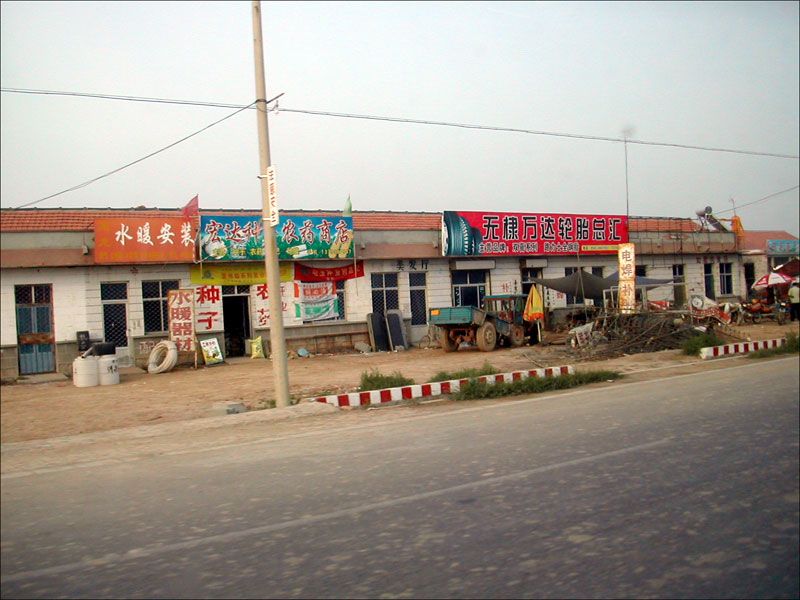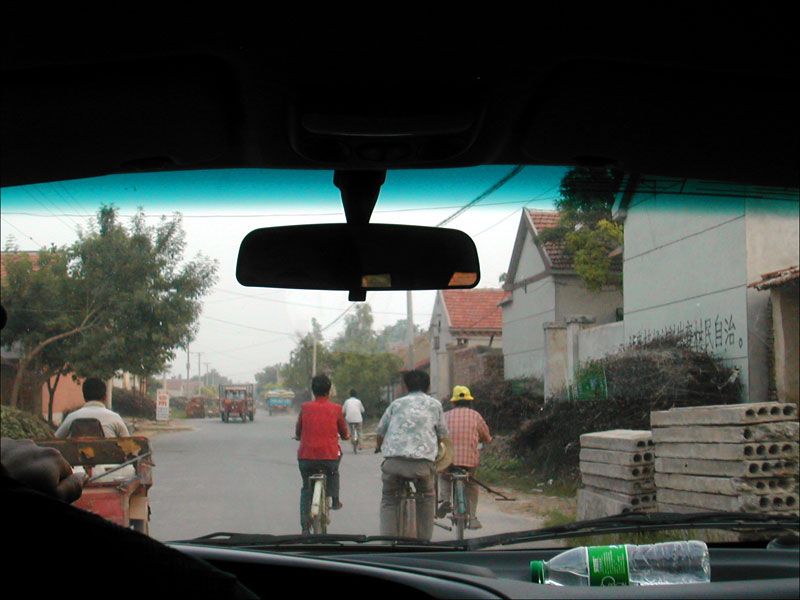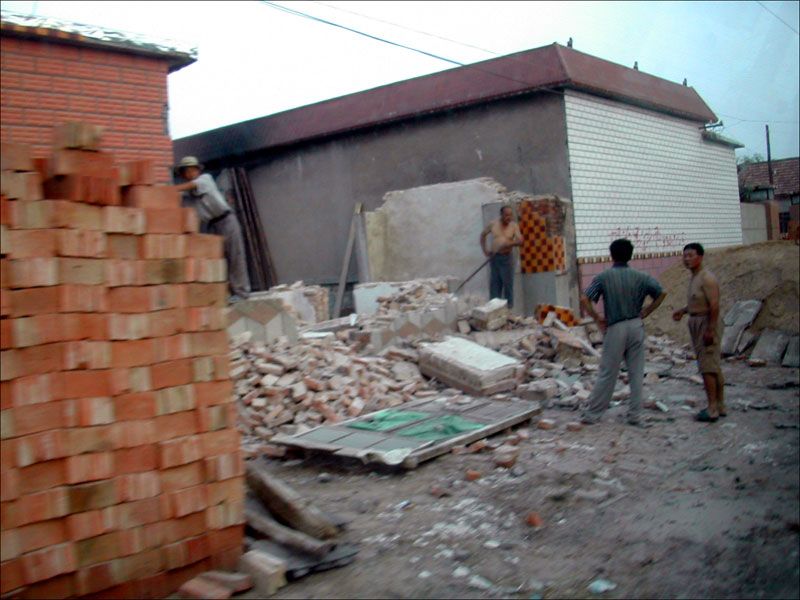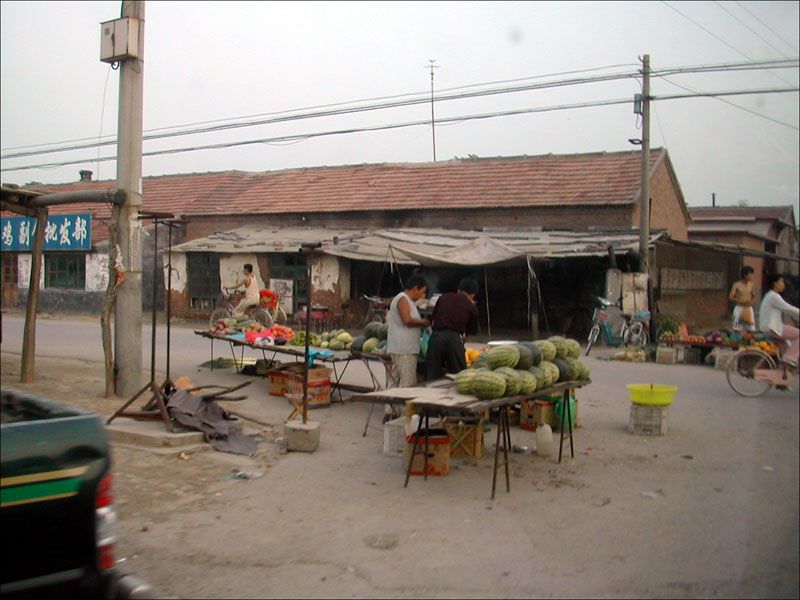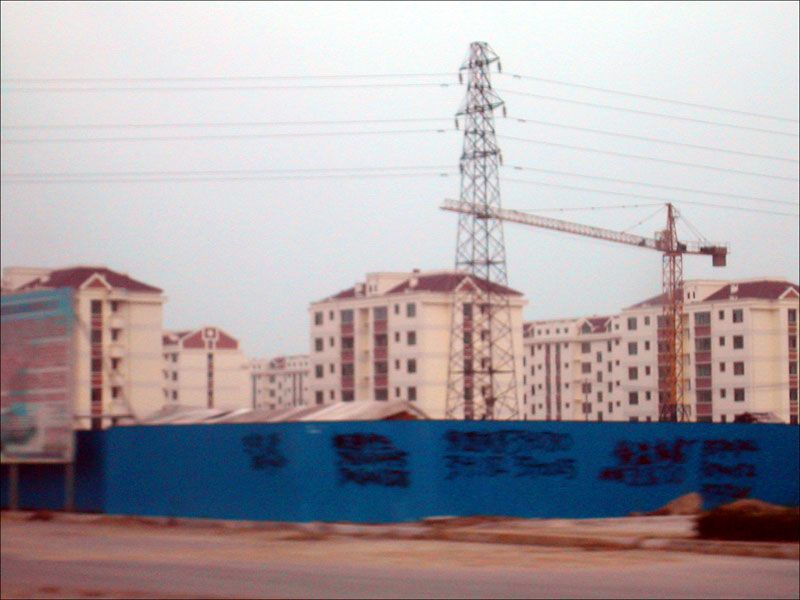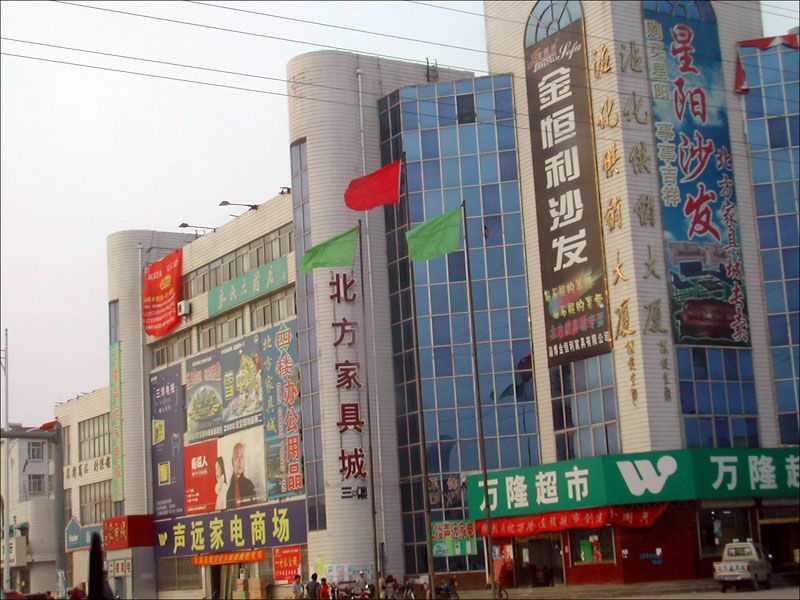 Posted by rxu at 01:54 AM | Comments (0)
Fireworks in Beijing
At least I did spend the 4th of July with another American, Julie Hackenbracht. She's a friend of my roommate Jason's, also a recent Harvard graduate and she's in China for at least two years studying Chinese language and literature. I went with my 2nd cousin An-Qi to meet up with her near the Xizhemen stop on the Beijing subway, which I took for the first time. It was a typical Beijing morning - strolling around a Chinese college area, ice cream, stealing wireless connectivity, buying DVDs and getting stared down by most of the local lao-bei-xing (common people), who apparantly are still not used to a white person living amongst them.
I think she gets worse stares going to and from home - she lives with a Chinese family in an area of town not known for having non-natives. We spoke in a mix of English and Mandarin. My cousin followed almost all of it, which is good for someone who will be attending a master's program in England within the next year. The conversation, as usual, turned to Chinese politics and it was amusing to see our liberal leaning come through in our muddled mixture of societal generalizations carried through in poorly translated lingolisms. For example, it's so hard for me to translate a something like "History is written by the victors" into the equivalent Chinese saying. Although, it's often easy enough for people to understand direct translations.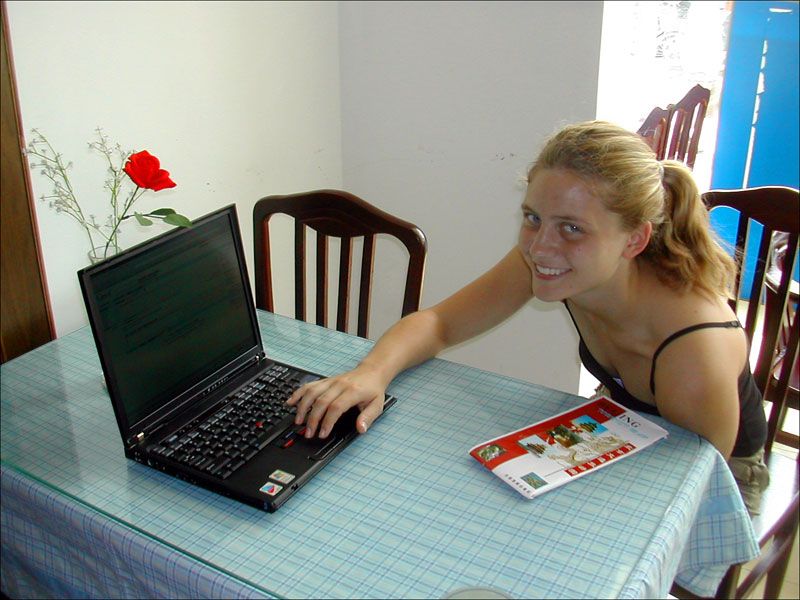 Stealing WiFi from the air conditioned comfort of an ice cream shop.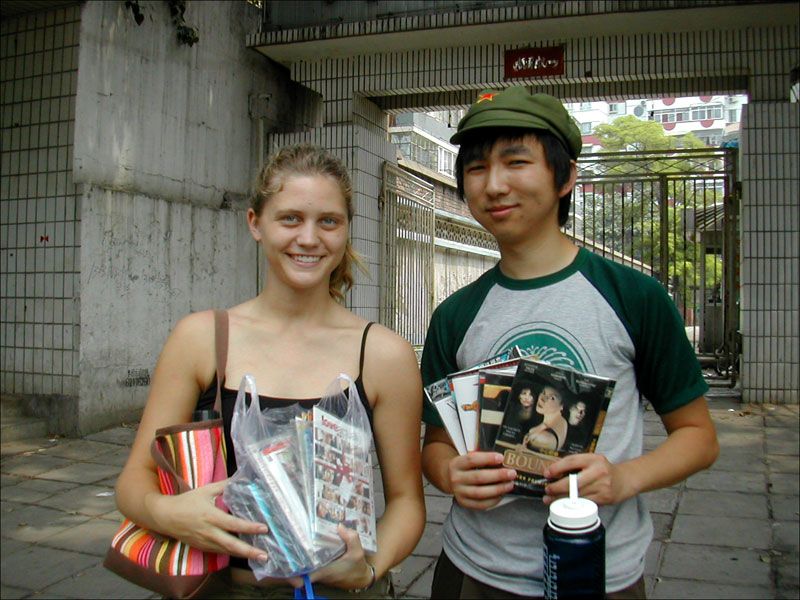 Enjoying Chinese "socialism."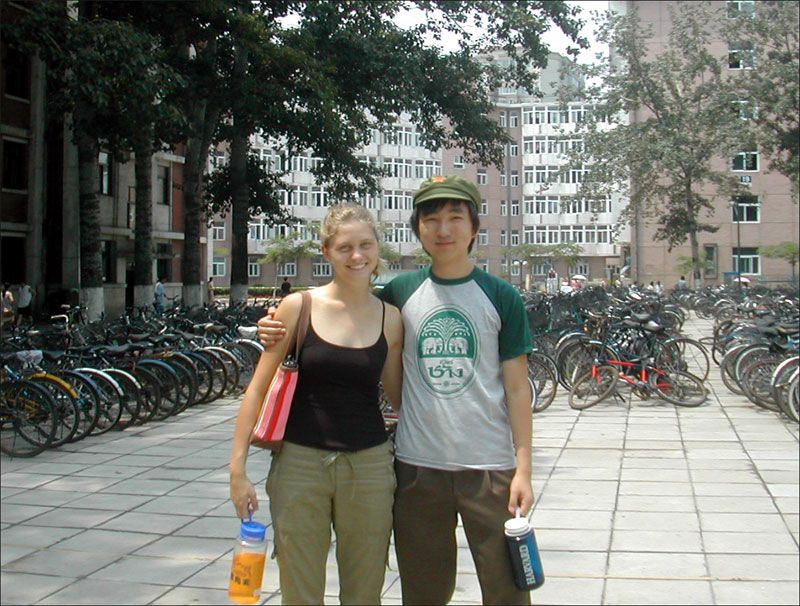 Not stealing bikes from Chinese university students.

Posted by rxu at 01:40 AM | Comments (0)
Backlog from Beijing
Outside Gate 5, Beijing International Airport | 7/3/2004 2:15:12 PM Beijing Time
I've arrived in Beijing, to a completely different airport and a completely different country from the one I left as a six-year old scared little kid back in January, 1989. Not that I haven't been back in the meantime, but this is the first time I'm here after starting college. The key difference is that I'm far more analytic, fresh out of an academic environment. I remember the time in 1997 I arrived with my mom, there weren't enough airplane docking ports so we walked off the tarmac and took a shuttle to the terminal. Now, the entire terminal seems new and spacious - a complete redesign. What a difference 7 years and an Olympics committee makes: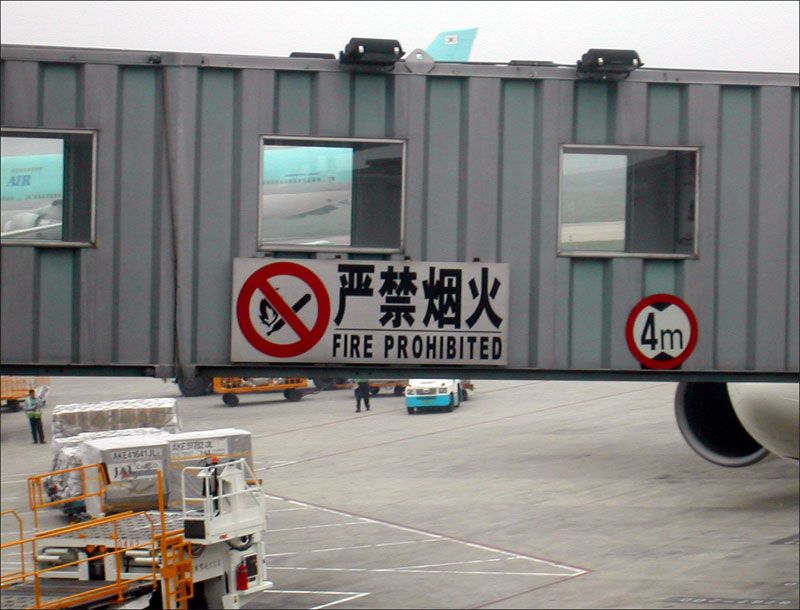 Fresh off the plane, it's good to know Engrish is alive and well.





The view outside Gate 5 - a billboard. I'm sure Mao would be proud.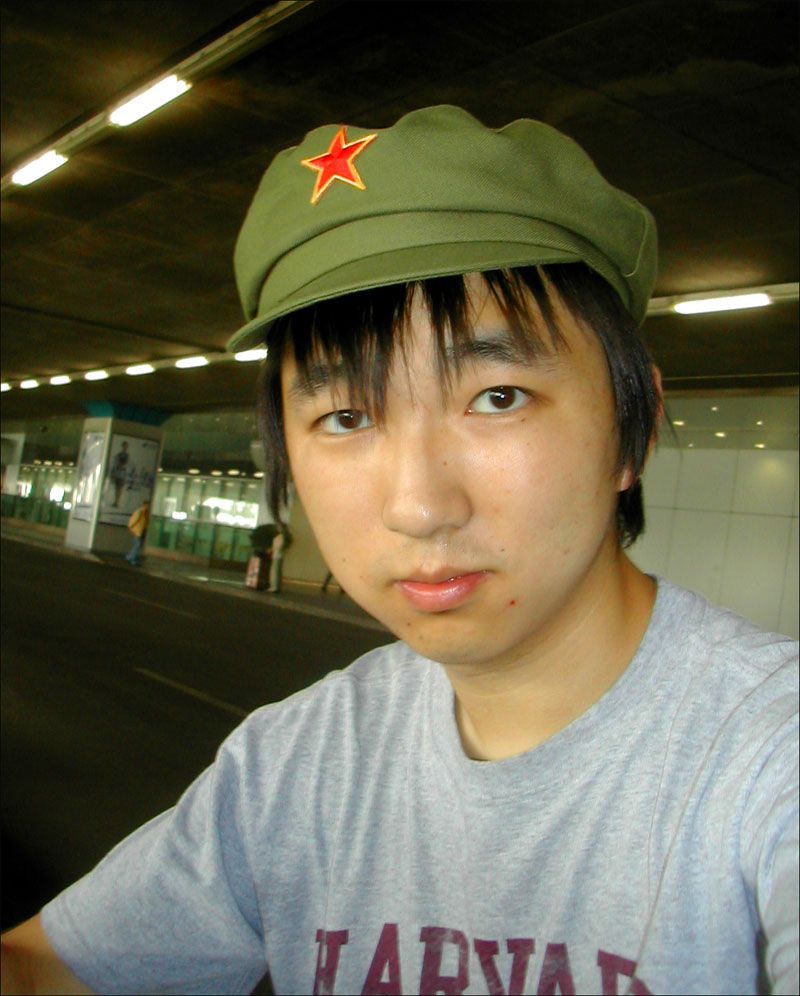 The spearhead of the Communist invasion of China, from the Kremlin on the Charles.


Posted by rxu at 01:16 AM | Comments (0)
July 07, 2004
"I'm going to die!!!"
My dad brought with him pictures of the aftermath of my accident. Meanwhile, my mom sent me this excerpt from the CHP (California Highway Patrol) report:
"This collision was caused by P-1 [the other driver] driving under the influence of a prescription drug, a violation of 23152(a) VC. There is an associated factor in this collision of P-1 making an unsafe turning movement, a violation of 22107 VC. This cause was established by statements,
physical evidence, points of rest of the vehicles, and damage to the vehicles."
My poor Mazda MPV (in the impound lot):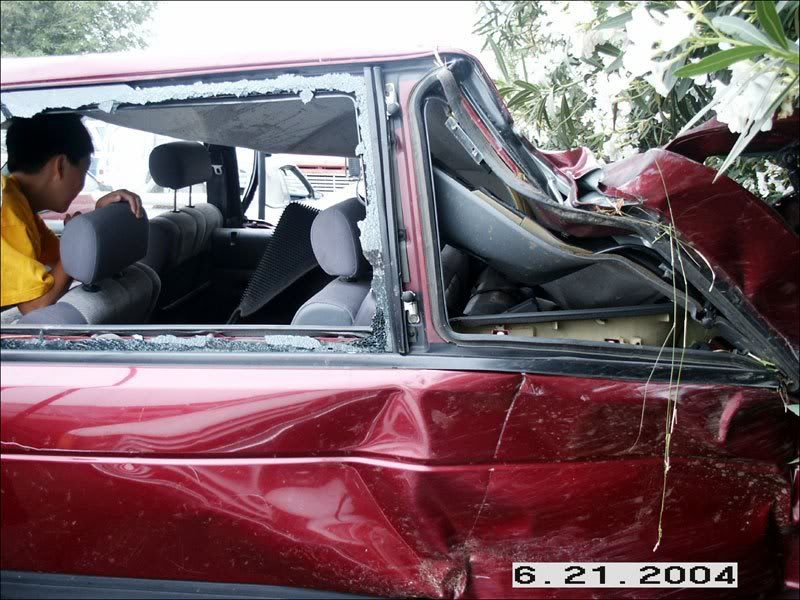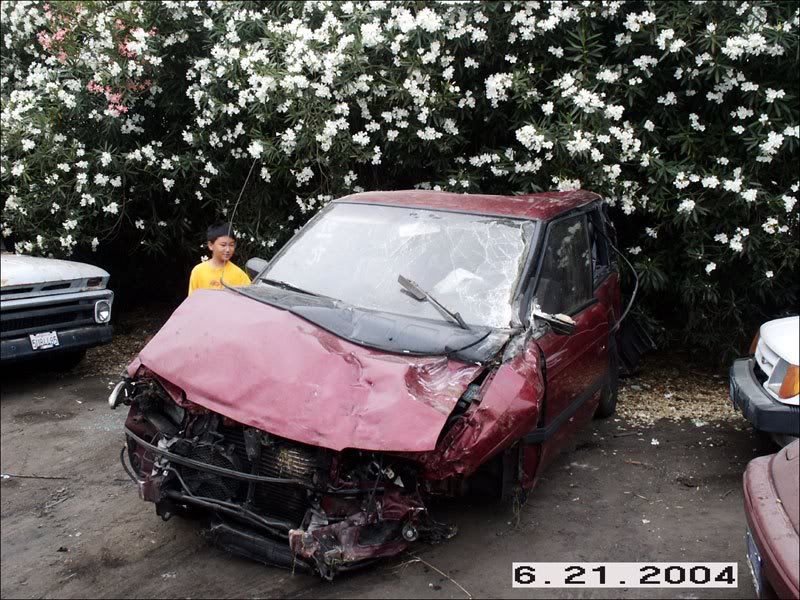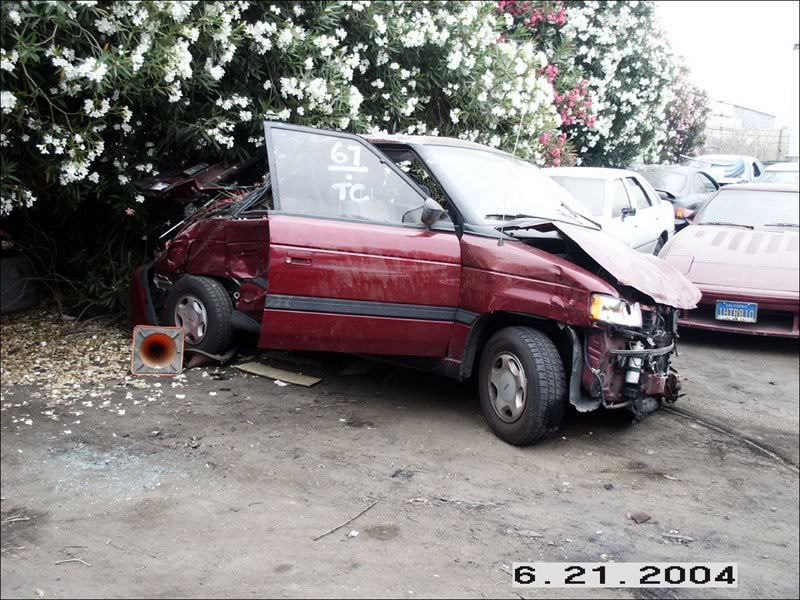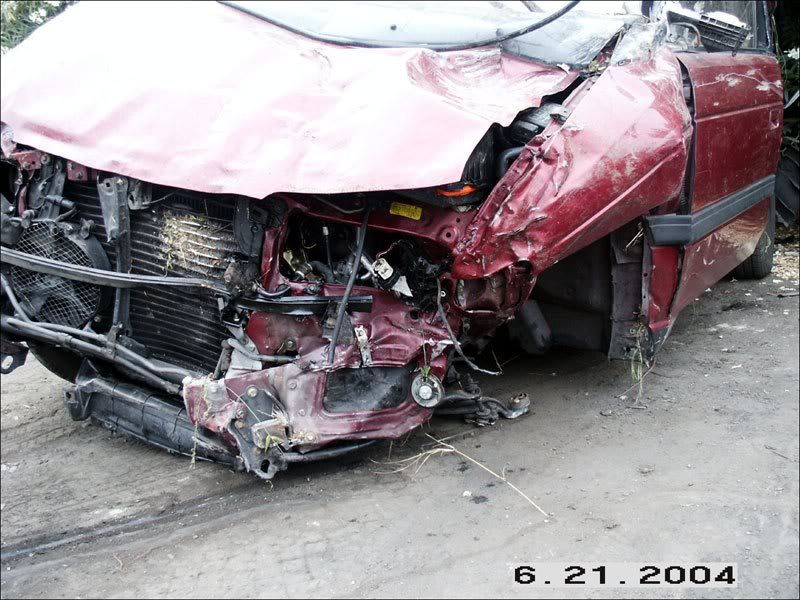 Posted by rxu at 05:07 PM | Comments (0)
July 06, 2004
The East is Red
I'm happy. Just got my Chairman Mao pin.
I got emailed a picture from a while ago:
Posted by rxu at 11:57 AM | Comments (0)
The People's Glorious DNS Service
The People's Republic's Glorious DNS servers are not allowing me access to this server... it took quite a bit of tinkering and 50 megs of downloading before I finally figured out how to get out: X-Windows from nice.fas.harvard.edu running Mozilla (for some reason, a simpler VNC session on ice.fas.havard.edu running Netscape 4.75 doesn't load Moveable type correctly). I still can't get my computer
online using my Uncle's DSL (I'm transferring all of this onto my Uncle's slow Celeron laptop using his flash memory keychain). Yes... I am persistent but hey, if you can read this., then I've won. I really need to get to bed, but now at least I know I can get through this. Julie Hackenbracht, take note (then again, you probably can't see this in this totalitarian Catch-22 scenario). I have a lot of things to say about China... most of them depressing but they will have to wait until I reach Dongying tomorrow. Right now, I'm at my uncle's house in Beizhou in Shandong province. Not the most cosmopolitan of places....
More pictures from Malaysia: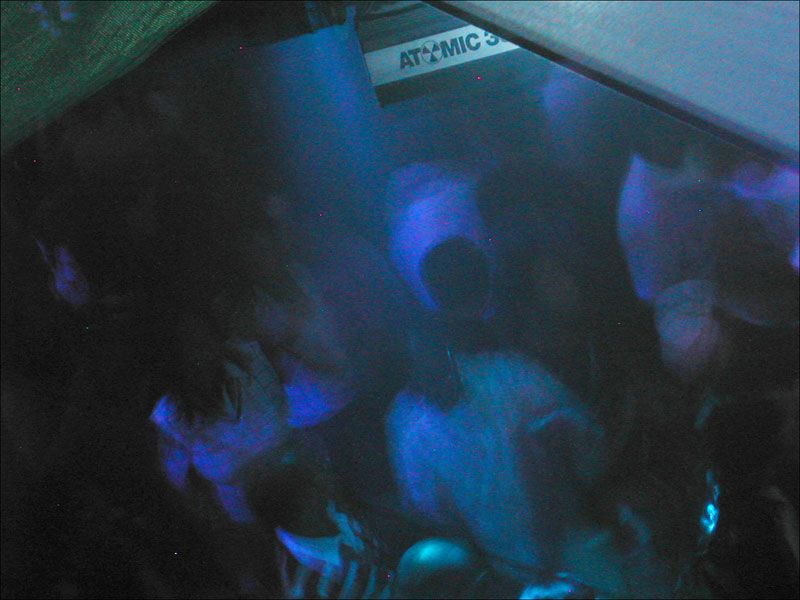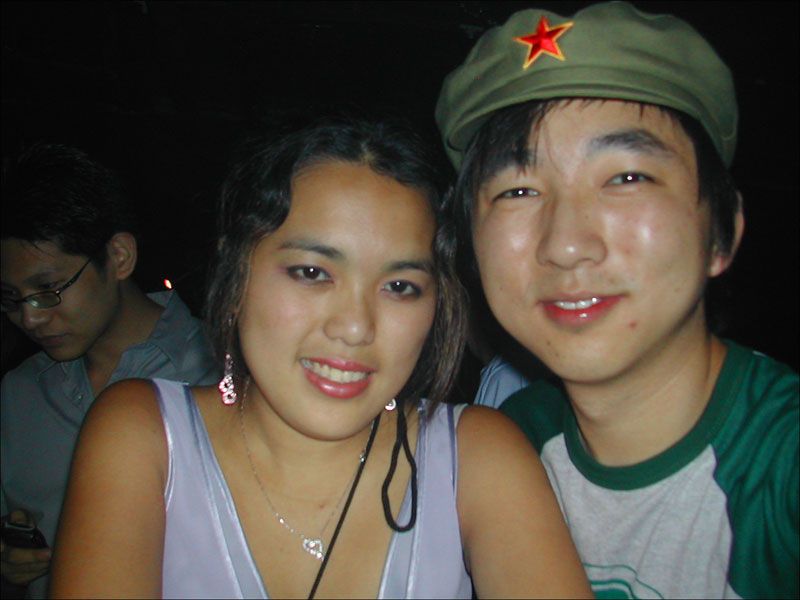 Posted by rxu at 01:50 AM | Comments (0)
July 02, 2004
(my) Last night [in Malaysia]
Today is my last day in Kuala Lumpur. I'm flying out tonight at 11:30pm local time (it's 9:15am now). Yesterday? Well, we met up with Jill, the girl from Friendster. The story version of the long story is that I chanced this fancy idea a week ago to friendster search for people in Malaysia. Unfortunately, Friendster doesn't allow you to search the location field and vicinity galleries are only valid with US zip codes. So I sought people who listed 'Malaysia' as their interest. I sent this message:
Long story is that with everything going on this week I ended up only with Jill, who is from Iowa and studying the impact of the 2.5% voluntary wealth tax on local Islamic societies. Kristel and I chatted with her for about two hours at KLCC, the enormous[ly fancy] shopping complex connected to the twin Petronis towers. It was an non-typically Malaysian afternoon - sitting inside a posh mall talking to Jill, who was definitely one of the more well-travelled people we've met.
Then we got home, where I penned 'Afternoon prayers' and Kristel's parents took us out to dinner again, this time to a restaurant in Petaling Jaya [the district we're in] famous for their gigantic prawns, crabs ans fish. I gorged myself and I remember turning to Kristel's parents halfway through the meal and saying "You've really figured out the best way to get me to shut my mouth." After that, Kristel and I left to meet up with Adrian Ow, a Harvard '07 (he actually was '06 but he had Visa issues post-9/11). We met at a Mamak, a roadside cafe/restaurant where people often go to hang out and chat with their friends (I'll get the correct spelling from Kristel when she wakes up). After that, we all headed to Zouk (http://www.zoukclub.com.my/), a recently renovated club near KLCC. I was fairly impressed with the club's spaces - but not too fond of the indoor smoking or the dancing. It was lady's night out (no cover for women) but we men managed to get in for free too, thanks to Kristel's well-connected friend. In fact, we got a table at the exclusive, members-only lounge hanging above the main dance floor. We sipped on champagne and fancy whiskey. In Malaysia, it's standard practice to buy an entire bottle.
I started hitting on an Austrailian girl only to have Kristel warn me off ("oh, she's someone's girlfriend and he's very protective"). Then I talked to another girl for a bit and she seemed interested in me but at some point left promptly. It was at that point that Kristel's other friend explained to me that in Malaysia, people generally don't get picked up. The hook-up culture is mostly non-existant in Malaysia and relationships are very dichotomous - you either come to the club single or dating and few people leave with a different status. So I suppose the H-bomb (dropping the Harvard name) works very very very well, but not well enough when I also tell them I'm flying out tomorrow. In hindsight I should have left that part out. The other difference between Malaysian clubs and American ones is the dance floor - people don't grind here... except for one or two couples here and there and a few of the ex-pats. One would certainly never think about approaching a stranger on the dance floor and hitting it off. Although Kristel's friend Kan entreated me to 'show us the way.'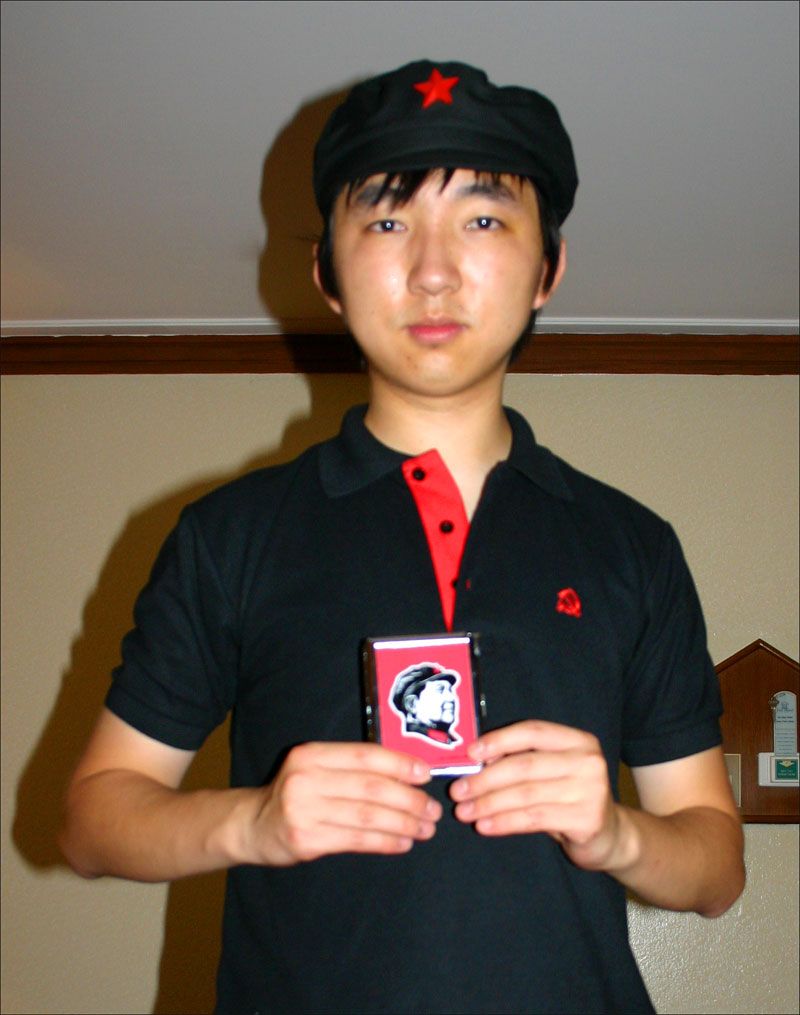 Posted by rxu at 10:11 AM | Comments (0)
R&R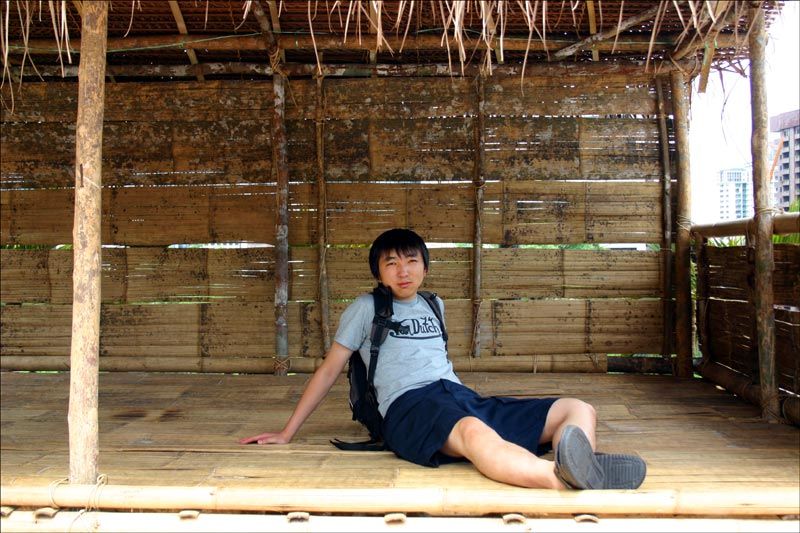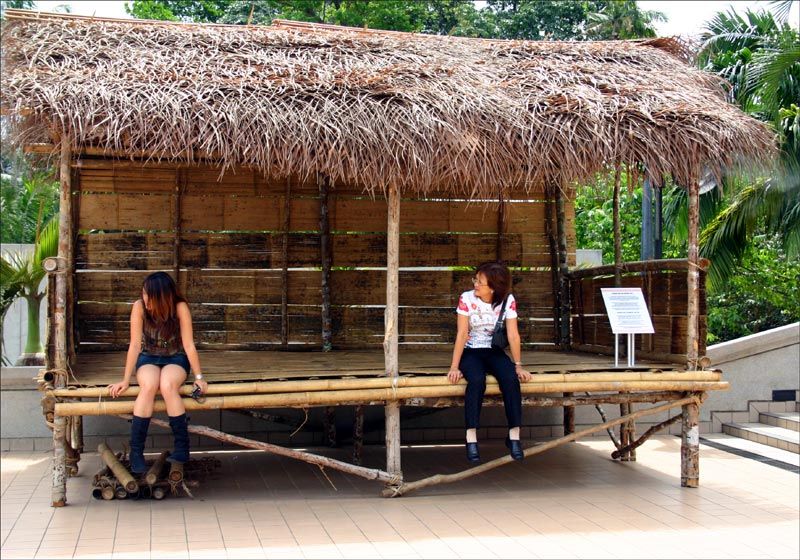 Posted by rxu at 03:45 AM | Comments (0)
July 01, 2004
Afternoon prayers
As the mosque outside broadcasts its last prayers for the day, I think I'll post some more photos. There are from KL Tower: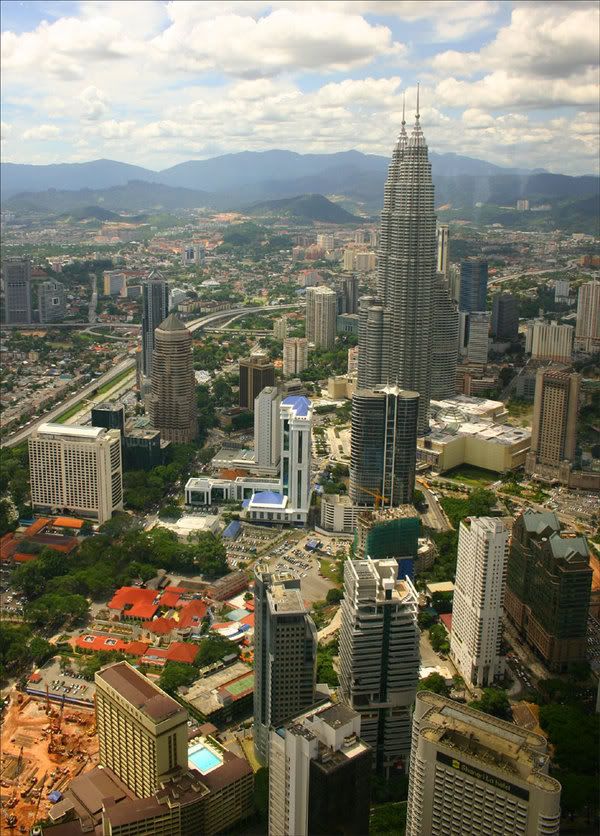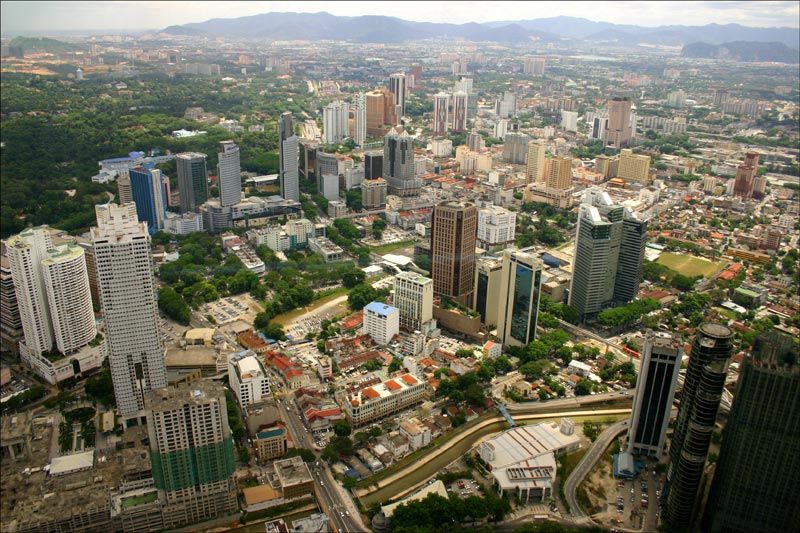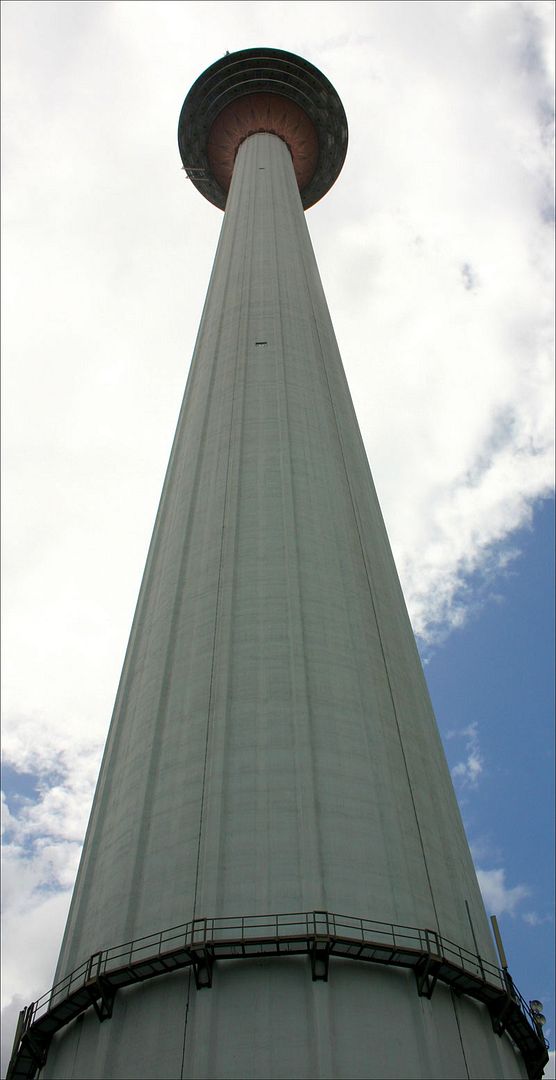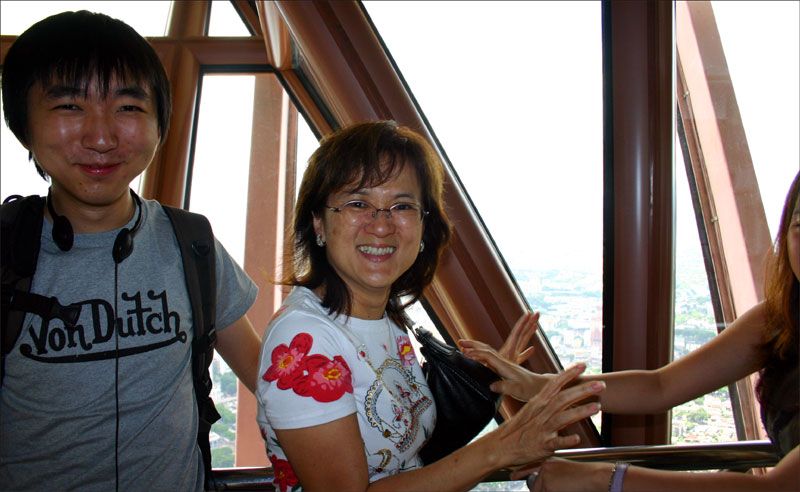 Posted by rxu at 08:26 PM | Comments (0)
envy
Kristel and I went to meet up with a somewhat random girl I met on Friendster. She had listed Malaysia as one of her 'interests' and lo and behold she's in Malaysia right now on a Fulbright. She graduated two years ago from Yale and spent the past year in Egypt working for a human rights group.
We got back not too long ago - Kristel is playing tennis right now and I just took a dip in the really nice swimming pool amongst all the 'club' facilities for this apartment complex, which includes squash courts, saunas, tennis courts and some kidn of hairdresser.
Enjoy the pictures from a couple of days ago: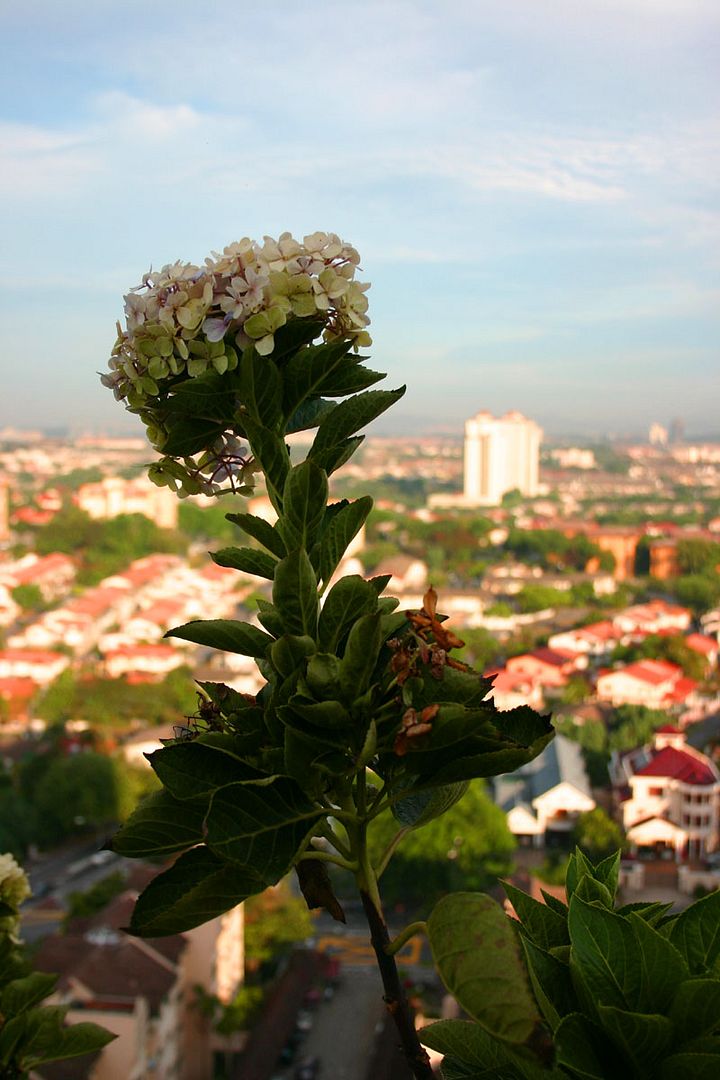 Posted by rxu at 08:06 PM | Comments (0)
My kingdom for a baht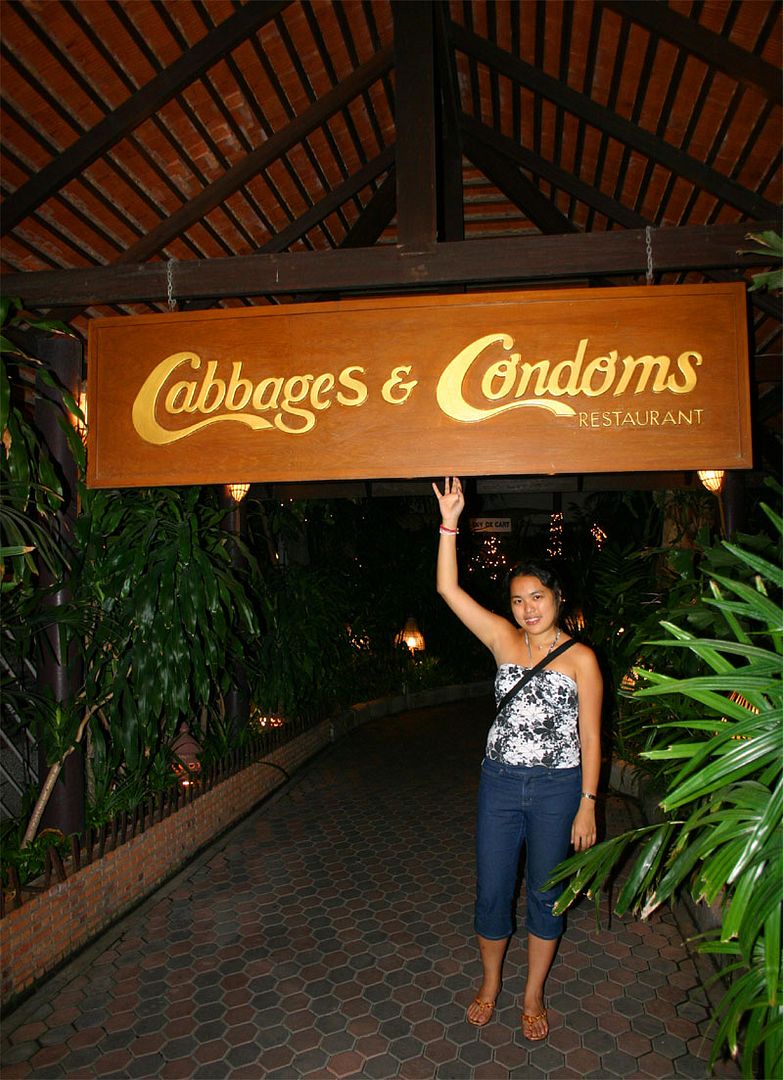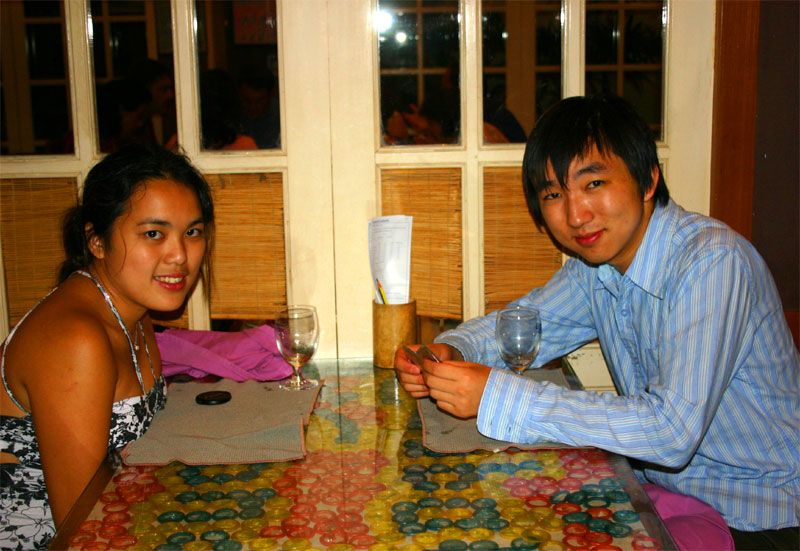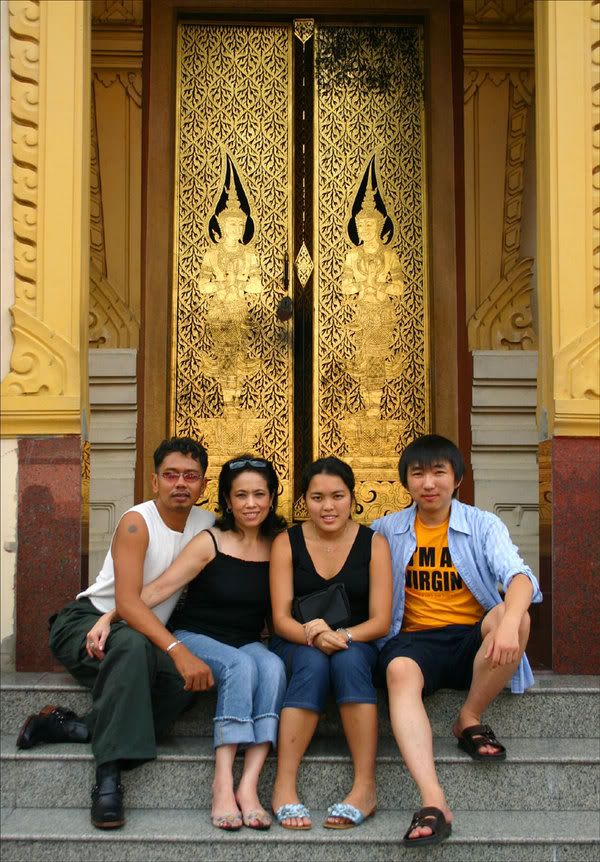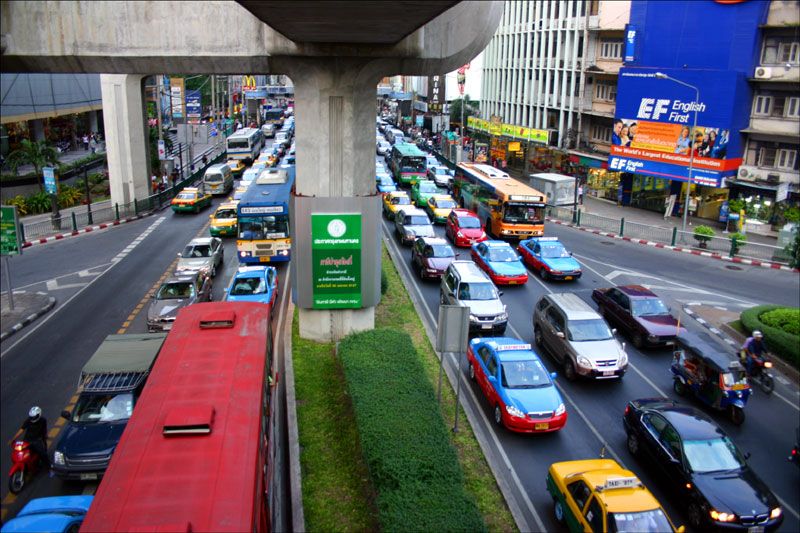 Posted by rxu at 04:00 AM | Comments (0)