« July 2004 | Main | September 2004 »
August 30, 2004
Blowin' in the Wind
I love living in a city where I can start off an evening not knowing what to do and end up singing classic folk tunes with Peter (from Peter, Paul and Mary) in Union Square.

Peter, Ali, Aya, me.

Peter, Cameron Diaz.
Posted by rxu at 11:17 PM | Comments (0)
Am I Left or Wrong?
Posted by rxu at 01:03 AM | Comments (0)
August 24, 2004
My loss of you will be a minor thing,
unnoticing, the seasons yet will flow
continue waltzing proud with beauty
through the myriad months they know.
And still will seeds long since been sown,
give birth to buds of billowing spring
for you remain unknown
to the waking sun and the April rain.
Your quiet passing will go unobserved
by the boisterous birds and bees of May,
and so will wide-eyed infant squirrels
clamber around through our backyard tree.
June will not cease, nor will July,
blithely unaware you don't exist.
Ambered autumn bows to winter's bride
as if nothing significant is amiss.
Oh, there will perish with your passing
little of beauty that is not your own,
only the grace of common flowers,
only the lilt of morning's song.
Posted by rxu at 02:10 AM | Comments (1)
August 23, 2004
the city
It's a port of call - home away from home for diplomats, hustlers, entrepreneurs, and wanderers. Humans wrapped in two million, five hundred thousand tons of spinning metal, all alone in the night. It can be a dangerous place, but it's our last best hope for...
for what?
Posted by rxu at 05:36 PM | Comments (0)
my first one of these
R
Realistic
A
Altruistic
N
Neat
D
Dysfunctional
Y
Yum
X
X-Rated
U
Unusual
Name Acronym Generator
From
Go-Quiz.com
Posted by rxu at 10:15 AM | Comments (0)
August 22, 2004
Sunday in the Park with George W.
Thompkins Square Park is a shining example of Metro vs Retro politics, as outlined here. Black Panthers and all...

Right next to our booth - the writers from The Onion promote their new book, Citizen You!

The Charlie Parker jazz festival.
Posted by rxu at 10:54 PM | Comments (0)
August 21, 2004
Manual labor
It was a very blue day at work on Friday... I topped it off at CBGB for a celebration of L.E.S. classics. I'm going to read about Magnetic Fields now... ta-ta.
Posted by rxu at 02:08 PM | Comments (1)
August 20, 2004
It takes a(n) (East) Village (hackneyed heading, but I'm tired)...
Laura Perry's birthday. 7th and Avenue A. HOWL! for her, won't you?
Posted by rxu at 01:04 PM | Comments (0)
August 19, 2004
Puck Fair
Methinks it's time for the co-worker pictures. This is us at Puck Fair (on Lafayette St just south of Houston). You'll really really really really really have to forgive me for looking like that. I'm still living out of suitcases until I find a permanent place (hopefully by this weekend). Though I suppose it may be a dismal cycle - who wants to live with someone that looks like that?
Posted by rxu at 04:06 PM | Comments (0)
August 17, 2004
One big happy [hippie] family.
Posted by rxu at 11:16 PM | Comments (0)
Spare no expense
I just promised someone the retail equivalent of $1000 for three of their friends... And all along, I thought I was kidding... I really need to treat life as less like a sitcom.
Posted by rxu at 02:07 AM | Comments (0)
August 13, 2004
One of those Manhattan Moments...
I was heading back to the office from an apartment visit today when I stopped over at my favorite 1st Ave Indian restaurant for their $6.95 Dinner Special. I'm sitting at my table reading my newly acquired Village Voice occasionally eavesdropping on the conversation of the couple by the window - the woman is talking about something to do with nuclear waste cleanup, the Phillipines and the Bataan Death March when lo and behold they see someone walking down the street with B4B signs. They start talking about it, catching my attention. I approach them with my "Dick Cheney is Innocent" pin... As it turns out a few minutes into our conversation, she just graduated from the Kennedy School. It was truly Manhattan at its best!
Posted by rxu at 12:06 AM | Comments (1)
Corporate Casual
Minor update: my billionaire name is now DeForest Slashen Bernn. My billionaire email address is deforest at billionairesforbush.com I am one of the coordinators for the Billionaires Limo Tour. Huzzah!
Major update: Joe Jackson and I went to see Harold and Kumar last night. Somehow, Joe and Randy just doesn't exactly make the cut. In fact, while heading back to Brooklyn on the R Train I decided we looked so Dilbert-esque I needed to get a photo (Joe works for JP Morgan):
Posted by rxu at 12:04 AM | Comments (0)
August 10, 2004
Meeting the Phil T. Rich
My Billionaire name is Deforest Slashenburn
Posted by rxu at 05:13 PM | Comments (0)
August 07, 2004
the city she loves me... the city of Angels...
A little not too sober right now so explainations will have to wait...

Slumming it in the Upper West Side (after Lion's Head):

Laura and Julia's apartment (in the slums):
Posted by rxu at 03:51 AM | Comments (0)
August 06, 2004
are we there yet?!
I had lunch in Bryant Park today with Chael, Jason and Laura. The important lesson from today is that New York is insanely awesome when you live and work really close to major subway lines, especially ones with timely express trains. My workplace is in Soho right between the Prince Street stop (yellow line) and the Broadway-Lafayett stop (orange and green). Broadway is an express stop, so today it took me less than 15 minutes to get out to Bryant Park and about 10 to get back. Booyah!

In fact, it takes me roughly the same amount of time to get to work now from South Brooklyn to Soho as last summer, when I lived in the LES and worked downtown.
Changing subjects, let's play a game. It's like Where's Waldo but with Chael and Jason:

(click on the picture to see the solution)
Posted by rxu at 05:18 PM | Comments (0)
August 05, 2004
the end of an era...
I just got back from seeing Beulah, this band from San Francisco. They played one of those free summer concerts at Castle Clinton in Battery Park (a la Spoon last year). I went with Laura, who is a big fan. As it turned out, this was Beulah's last concert. I'm back at work now. I figure I should put in a bit more time since I didn't manage to get in until 11:30 this morning. Last night, we had a company trip to an NYU-area bar for drinks and appetizers. Following that, I went with two of my co-workers to another bar to hear a band. I didn't stay for the show and I got home reasonably early (around midnight), but woke up for no good reason around 4 tossing and turning.
Posted by rxu at 10:54 PM | Comments (0)
August 04, 2004
spring forward, summer back
Administrativia - I just changed the time zone on this system from China/Malaysia (GMT +8) to RealTime (GMT -5). That is all.
-Randy
Posted by rxu at 10:31 PM | Comments (0)
And that brings us to the present
So here I am, at the best damn company on 594 Broadway... except for the AIDS Prevention Fund.
Posted by rxu at 09:58 AM | Comments (0)
What would Confucius say...
August 1st - I introduced Catherine to Korean BBQ on, but she didn't know how to use chopsticks...
Posted by rxu at 09:53 AM | Comments (0)
an all-American diner outside of the great state of Japan
August 1st - Ladies and Gentlemen, may I present New Rochelle, NY: the city that brought you Dick Van Dyke...

Emily's and Jessica's cars, respectively.

The Doug.
Posted by rxu at 09:47 AM | Comments (2)
Never been in a riot...
July 31st - August 1st - Travelled to New Rochelle to celebrate the blue moon at the Fragolas. Jessica and her brother bought a keg. Nothing much happened... until the "riot". Kids, baseball bats and brass knuckles don't mix. Shit went down, the cops were called, people were arrested and I ended up crashing the night, finally next to an air conditioner in Jessica's [cat-free] room. The bugs got to me though...

They call her Emily

Trampoline...

The 'Riot'.
Posted by rxu at 09:32 AM | Comments (0)
Purple Haze
July 31st - Met up with Debra for lunch in Chinatown, then explored:

The seats outside the federal building.
Posted by rxu at 09:31 AM | Comments (0)
no place like home...
July 29th - My last day in California. Lunch at Baja Fresh, which actually is on the East Coast now...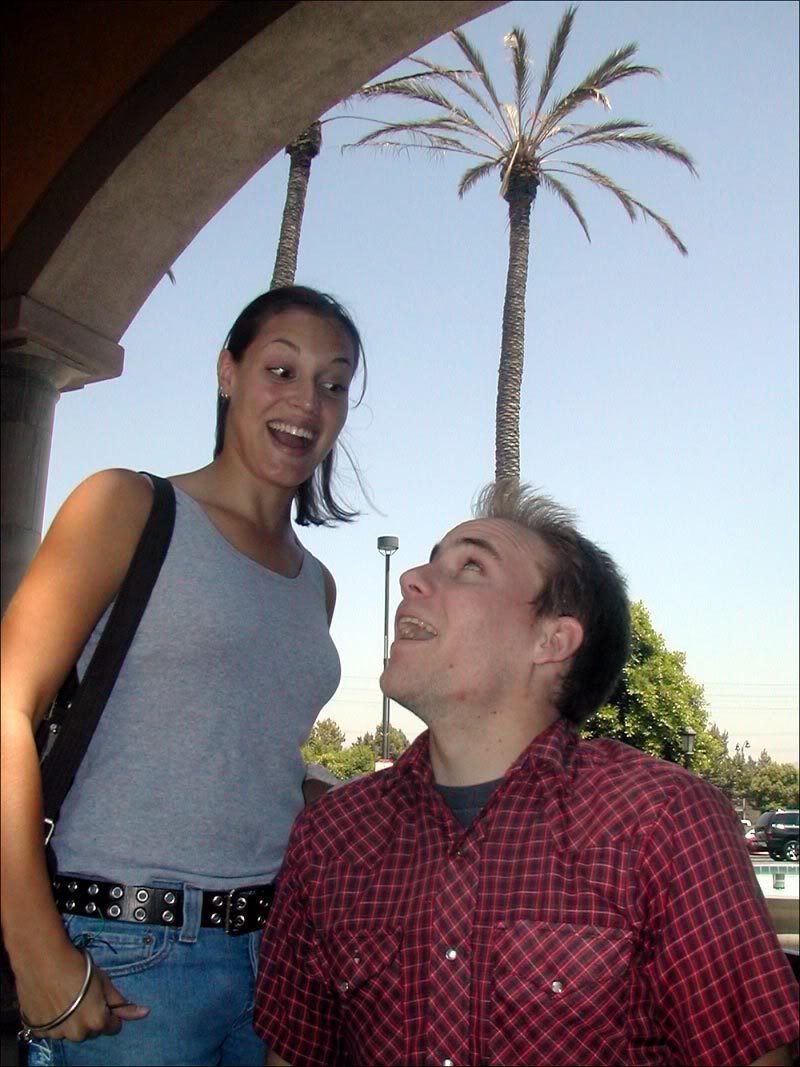 Posted by rxu at 09:31 AM | Comments (0)
The Onion and I
I've been waiting years for this:
http://www.theonion.com/news/index.php?issue=4031
Posted by rxu at 07:53 AM | Comments (0)
August 03, 2004
Today is the first day of the rest of my life...
Meet Randy Xu, the newest and also the youngest employee of one Sakonnet Technology LLC. Yes, visit me in New York, NY.
Posted by rxu at 05:15 AM | Comments (0)